Coalitions to combat the climate crisis
Global energy partnerships with Germany are to help secure our future energy supply.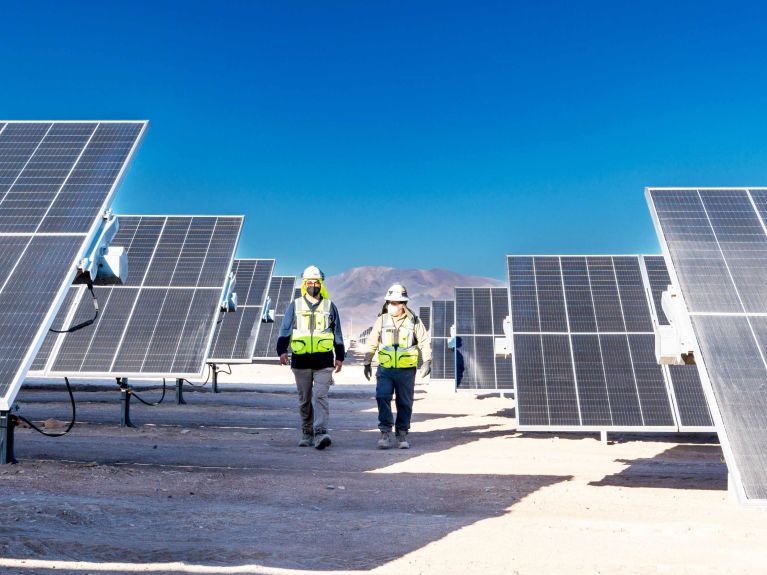 More than ten years ago, Germany began setting up a global network of energy partnerships with individual countries. It all started in 2006 with India and China, and German companies and universities are meanwhile cooperating with more than 20 countries. The overriding objective of these bilateral energy cooperation agreements is to achieve a climate-friendly, safe and affordable energy supply. It is no longer only about promoting energy efficiency and renewable energies in the countries in question. Establishing a hydrogen infrastructure, supporting the mining of rare earths, and even the issue of cybersecurity are playing an increasingly important role. 
Australia
Germany and Australia have been cooperating closely in the energy sector since 2017. Australia is seen as an important partner when it comes to producing and using green hydrogen. Wind power can be used in coastal regions, while photovoltaic energy can be used in the country's sunny interior. Obviously, the gas then also needs to be transported to Germany. To this end, the HySupply study has been underway since November 2020. Coordinated by the Federation of German Industries (BDI), Germany's National Academy of Science and Engineering (acatech) and the University of New South Wales, it is exploring whether a supply chain could be set up – and its findings have been positive so far. The German-Australian TransHyDE project, which was launched in 2022, is researching the extent to which hydrogen can bond with ammonia for transport and subsequently be extracted again. In late January 2023, German Economics Minister Robert Habeck met with his Australian colleague Chris Bowen to decide on further cooperative ventures.
Chile
The German-Chilean energy partnership has been in place since 2019. In signing up to the Paris Agreement, Chile undertook to reduce its carbon emissions by a third by 2030, as compared with the 2007 level. Fortunately, the country has great potential in terms of renewable energies. The Atacama Desert boasts the highest direct solar radiation in the world – twice as high on average as in Spain. Germany is supporting Chile with a number of dialogue and funding programmes, including the "Energy Challenge Germany 2023: German Start-ups for the Energy Transition in Chile", which involves innovative new companies from Germany developing solutions for the Chilean market. German-Chilean collaboration is set to be stepped up even further with a partnership in the area of natural resources that Federal Chancellor Scholz announced at the end of January 2023. Chile is regarded as one of the leading countries for lithium mining, which is needed for batteries. As Scholz explained, Germany with its high standards is an ideal partner in view of the environmental, labour and social problems in mining, which have caused resentment and thwarted projects in this sector. 
Israel
In March 2022, Germany and Israel signed a joint declaration to cooperate in the energy sector. In the last decade, Israel had begun drilling for offshore natural gas to make the country self-sufficient. Nonetheless, Israel has set itself ambitious climate targets: by 2050, greenhouse gas emissions are to be slashed by 85 per cent compared to 2015. To achieve this, the expansion of renewable energies, partly with the help of German expertise, is to be driven forward. By 2030, just under a third of electricity is to be generated using photovoltaic panels and by extracting kinetic energy from marine currents and ocean waves. Considerable potential for cooperation is also evident in the field of cybersecurity. Attacks on critical energy infrastructure pose a serious threat. Targeted steps are to be taken within the framework of the partnership to improve the resilience of energy systems. Germany also plans to work closely with Israel when it comes to water management in future. Efforts are currently underway to build a pipeline in the Eastern Mediterranean that could link Israel to the rest of Europe via Cyprus and Greece.
Morocco
Morocco is one of the trailblazers in the area of renewable energies – and not only on the African continent. The country ranks eighth in the 2022 Climate Change Performance Index, just narrowly behind countries such as Sweden and Norway. Morocco already meets 20 per cent of its energy consumption with green hydroelectric, wind and solar power. The country's declared objective is to increase this proportion to 52 per cent – and in the best-case scenario to 86 per cent – by 2030. An energy partnership with Germany has been underway since 2012 and was recently intensified as part of the German government's National Hydrogen Strategy, which was adopted in 2021. On the initiative of Germany's Federal Ministry for Economic Cooperation and Development, an "Alliance for the development of the Power-to-X sector" was agreed, which also includes converting green electricity into hydrogen. One of the challenges in this context is the need for water, which is in short supply in Morocco and has to be produced by means of marine water desalination. Such facilities are currently being built all over the country, in some cases with the support of the Gesellschaft für Internationale Zusammenarbeit (GIZ) and Germany's KfW Development Bank. 
You would like to receive regular information about Germany? Subscribe here: