Working on the energy mix of the future
Focus on climate protection and security: how Germany is transforming its energy supply.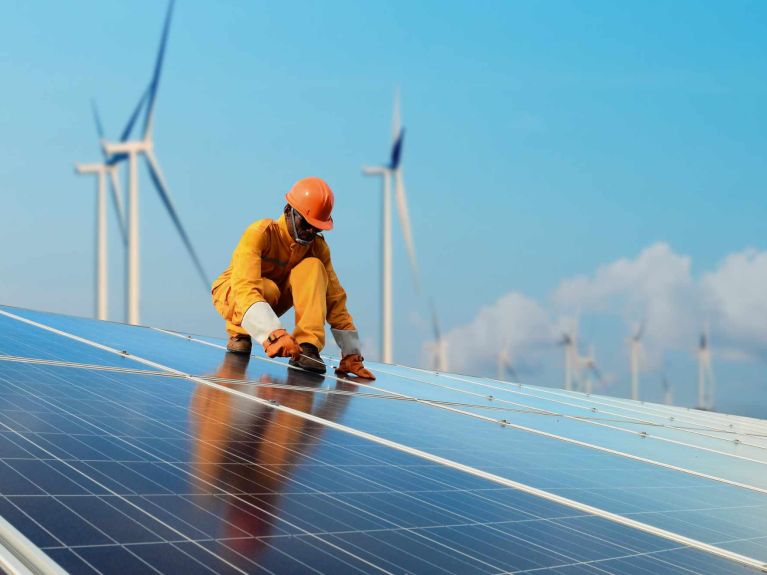 Energy security is a crucial issue for the future, from the goal of climate protection to preventing the abuse of power: the Russian attack on Ukraine has shown Germany how important independence from aggressors can be. The German energy supply should no longer be dependent on Russian gas. But then what energy mix will Germany rely on in future? An overview.
What energy sources are losing importance in Germany?
Nuclear power is to be abandoned for good in the near future. In view of the current situation, in which Russian gas supplies can no longer be relied upon, it has been decided to keep the last three nuclear power plants in operation until April 2023 at the latest. The fossil fuels coal and oil continue to lose importance. The goal of phasing out coal in Germany, ideally by 2030, remains unchanged. The future belongs to renewable energies.
What goals is Germany pursuing with its energy transition?
By 2030, Germany's greenhouse gas emissions are to be reduced by 65 per cent compared with 1990 levels, and to achieve this, at least 80 per cent of Germany's gross electricity consumption is to come from renewables. The 80 per cent target means a massive acceleration in the expansion of renewables. In 2021, their share of gross electricity consumption was about 42 per cent, so the share will have to almost double within less than a decade. Electricity consumption is also expected to rise, in part owing to increasing electrification of industrial processes, heat, and transportation. Accelerated expansion of renewables and electrification will bring about faster reductions in the need to import fossil fuels, thereby reducing dependence on natural gas imports in particular.
You would like to receive regular information about Germany? Subscribe here: