Mobile by bike, train and electric car
Germany is striving for a transport turnaround. Find out here how electric cars, a modern rail network and car-sharing models will contribute to this.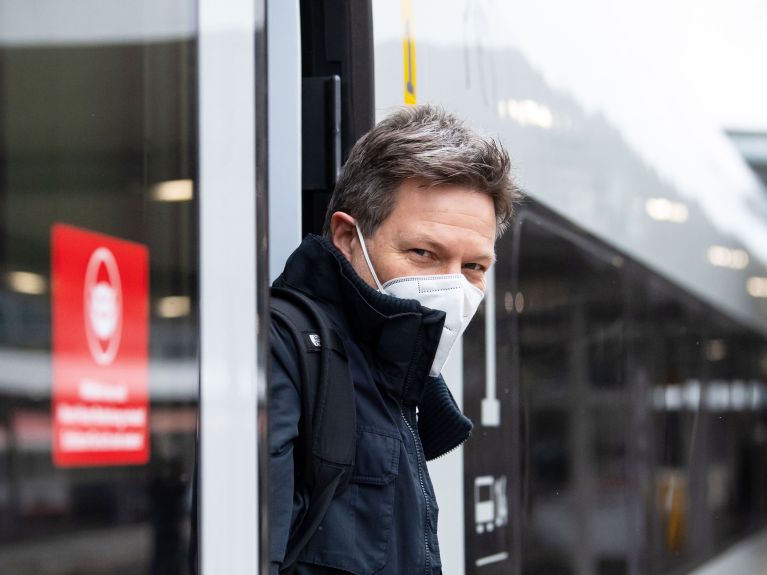 For Chancellor Olaf Scholz, the transport turnaround is a "central pillar" of climate policy. "In the coming years, we will ensure that mobility becomes easier, more comfortable and more climate-friendly, while remaining affordable for everyone", the Chancellor promised in mid-December 2021 in the first government statement after his election as head of government. The Federal Government has set itself a number of goals, ranging from expanding rail transport in Germany to promoting electromobility and concepts for autonomous driving.
More electric cars on Germany's roads
The Federal Government wants to make Germany the "leading market for electromobility". By 2030, it envisages at least 15 million electric cars. At the same time, the network of charging stations is to be massively expanded nationwide; the goal: one million publicly accessible charging points by 2030. Another focus is on research into new sustainable batteries, which are vital to the success of the transport transition. There is at any rate a great willingness among German citizens to switch to electric mobility: according to a study by the state development bank KfW, almost half of all households in Germany can imagine driving an electric car in the next ten years.
Strengthening rail transport
The expansion of rail transport and local public transport is considered an important prerequisite for making mobility more sustainable. For example, by 2030 rail freight transport in Germany is to be increased to 25 per cent. Rail travel is also to become more attractive and more comfortable for people. One key to this is the development of a "Deutschlandtakt": a timetable that is coordinated for the entire country, with trains always leaving at the same time.
From modern bike paths to car-sharing services
Whether on the way to work, to shops or for a weekend excursion: cycling is popular and environmentally friendly. That is why the Federal Government wants to expand the network of bike paths in Germany, and many municipalities also want to encourage cycle traffic. More and more people are also using car-sharing services. According to the German CarSharing Association, at the beginning of 2022 around 3.4 million customers were registered with almost 250 providers in Germany, 18 per cent more than the previous year. The government specifically supports the expansion of new and modern mobility services; in the words of the coalition agreement of the three governing parties, SPD, Greens and FDP: "We will support digital mobility services, innovative mobility solutions and car sharing and integrate them into a long-term strategy for the autonomous and networked driving of public transport".
You would like to receive regular information about Germany? Subscribe here: