"There has never been a better chance"
State Climate Secretary Jennifer Morgan: The G7 must be the driving force and a trailblazer in the fight against the climate crisis.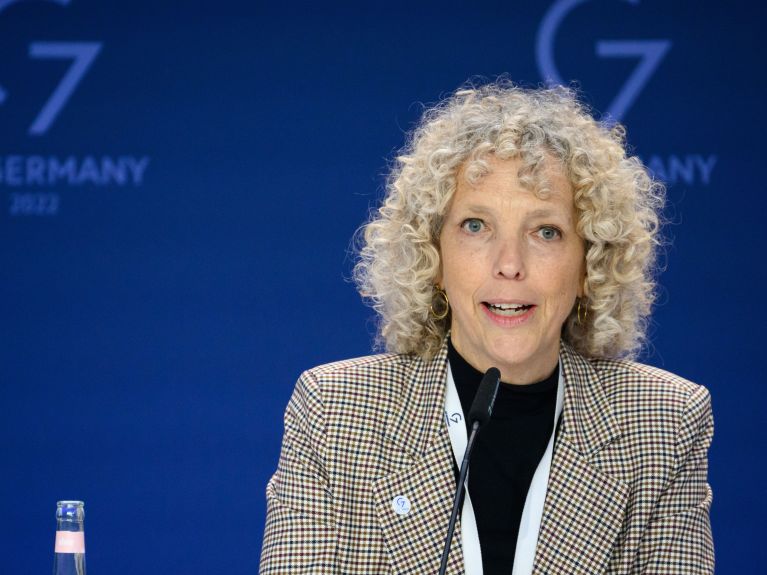 Ms Morgan, in the fight against the climate crisis, Germany is pinning its hopes among other things on its foreign climate policy. What does this mean?
Never before have the correlations between peace, energy independence, the climate and biodiversity crisis and the need to phase out fossil fuels been as clearly visible as they are today. It is only logical therefore that the climate crisis should have moved into the focus of foreign policy. With its new foreign climate policy, Germany is pulling out all the diplomatic stops in order to achieve progress on climate action and on combating the climate crisis. Our objective is to become the driving force in Europe and worldwide for a global energy transition and greater climate justice. I believe it is especially important for us to show solidarity with and support those who are particularly affected by the climate crisis.
Your position as special envoy for international climate action was created precisely for this purpose. What is your remit?
Among other things, to initiate new partnerships and alliances for more climate protection. A few weeks ago I was in Indonesia to talk with the government about expanding renewable energies more quickly and decommissioning coal-fired power plants sooner. Our aim is to enter into climate partnerships with countries such as Indonesia with a view to accelerating the pace of climate action. At the same time, we are keen to support those people who are already hard hit by the climate crisis. I have spoken to people in the Sahel region and in Bangladesh who have been forced by the climate crisis to leave their homes. We must adapt more rapidly to the consequences of climate change and we need new solutions when it comes to dealing with the damage and losses caused by the climate crisis – both will be key topics at the UN Climate Change Conference (COP27) in Egypt.
What opportunities do you have as a climate diplomat to convince partner countries?
It is very important for Germany and Europe to set a good example and demonstrate that investments in sustainable technologies can pave the way for a just and prosperous future. Particularly now, as we witness a terrible war in our direct proximity, we must accelerate the energy transition and become independent as quickly as possible of fossil energy imports, not only from Russia. At the same time, we are expanding our global partnerships. Through programmes such as the German government's International Climate Initiative, we can provide very concrete support for greater climate protection.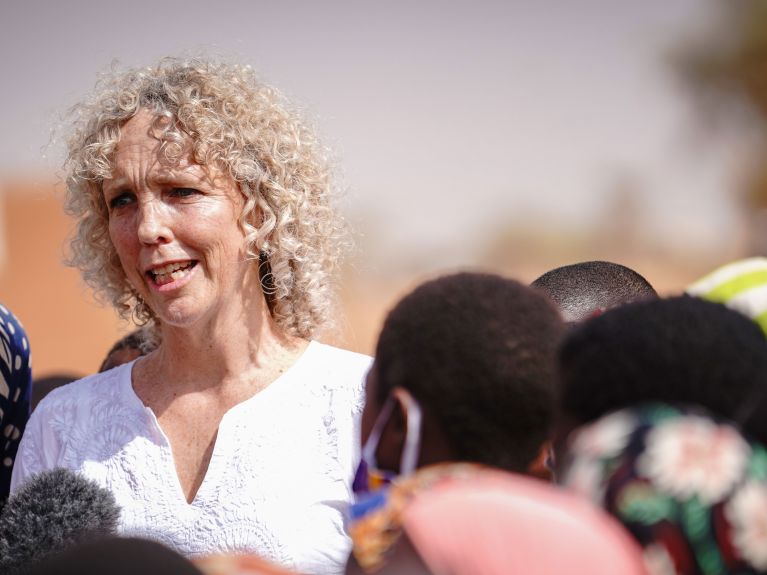 As executive director of Greenpeace, your main focus was to spur on the industrialised countries. After six months in office, how would you say your role and perspective have changed?
My role has changed but my perspective has not. I still stand for the same goals and values and encourage others to do more to protect the climate, drawing on my own networks. It is important to me that we should finally understand that the climate crisis is an existential crisis that demands decisive responses and solutions from all of us. And by all of us, I mean that we need policymakers, civil society, business leaders and all other stakeholders to stand shoulder to shoulder.
What role in climate action is played by the G7 states?
The G7 must be the driving force and a trailblazer for more climate protection worldwide. As the G7, our aim is to make joint efforts to reduce emissions as quickly as possible in the energy sector, transport and industry, and to phase out coal. It is a question of working together to generate a wave of increased climate ambitions and of also getting other states on board. Simultaneously, we need impetus for more climate justice and clear progress on climate funding.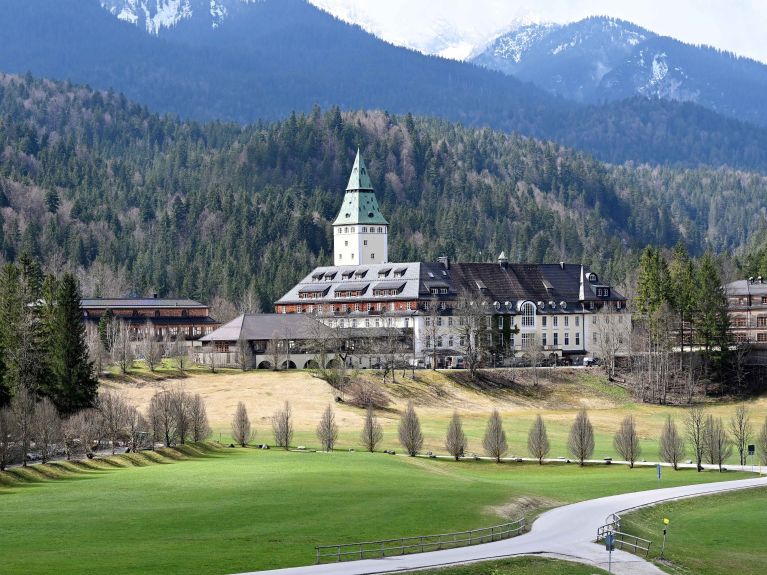 What progress in terms of climate action will be achieved by Germany's G7 presidency?
At the end of May, the G7 climate, energy and environment ministers committed themselves for the first time to supporting countries that experience damage and losses as a result of climate change. This is a huge step forward, and shows that we are reaching out to particularly vulnerable states. The climate club and future climate partnerships supported by G7 partners are also important advances. The G7 is sending an important message to the world, and especially to poorer countries: you are not alone, we will support you in dealing with the dramatic consequences of climate change and in taking advantage of new opportunities for development.
Is Russia's war of aggression against Ukraine also having an impact on foreign climate policy?
The Russian war of aggression also marks a turning point for climate policy, though different forces are pulling in different directions. We want our ambitious efforts to accelerate the energy transition in Germany to be applied also at the international level. The Russian war of aggression has given rise to a new dynamic around the world, as it is now clear to everyone how climate, energy, security and peace are interconnected. Many states are pushing to expand renewable energies. However, there are also those that are exploiting the war to build up their oil, gas and fossil infrastructures under the pretext of energy security. This makes it all the more important for us to use all diplomatic channels to set the course for more climate protection and faster progress on the global energy transition.
Can the world still achieve the 1.5 degree target?
Scientists tell us that the 1.5 degree target can still be achieved. What we need now are major and rapid changes. Changes that respond to the disruptive impetus of the war and prepare us for a climate-neutral future. The potential for greater climate action is huge. I have just been to Jordan, where an entire region is embarking on a path to more renewable energies. Renewable energies are cheaper than ever before. Never has there been a better chance of achieving a sustainable and just system of energy supply and more climate protection.
Until switching to the Federal Foreign Office, Jennifer Morgan headed the environmental protection organisation Greenpeace International together with Bunny McDiarmid. Since March 2022, she has been state secretary and special envoy for international climate action at Germany's Federal Foreign Office.
You would like to receive regular information about Germany? Subscribe here: