Electricity from the island
An artificial island is to be created in the North Sea – for a wind power colony in midst of the ocean. The plan has many advantages.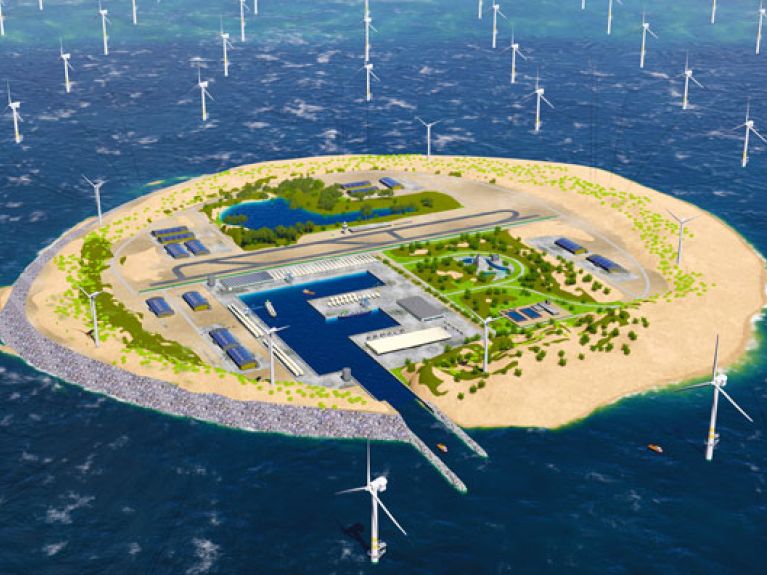 Germany. Off the North Sea coast, more and more wind turbines are growing out of the ocean. But the farther away from the coast the wind parks are, the more expensive and complicated their operation. The transmission service provider Tennet (Germany / Netherlands) and Energienet.dk (Denmark) are planning to build an artificial island in the North Sea for the construction and operation of thousands of wind turbines. It will be able to supply up to a hundred million households in the North Sea littoral states with electricity at a low cost.
(Video without sound)
In 2016 the EU already called for closer cooperation in the North Sea. Tennet's and Energienet.dk's vision has many advantages. The planned location at Doggerbank, between Great Britain and Denmark, has reliably high wind strengths and lies centrally in shallow waters. This reduces construction costs. A harbour, airport, warehouses, workshops and accommodations for personnel and materials fit on the island of about six square kilometres. This facilitates the hitherto highly complex offshore logistics. A further advantage is that it will not be necessary to install converter stations on the offshore platforms. This also diminishes costs. Finally, the island could serves as a "wind connector" for the electricity trade amongst Germany, the Netherlands, Belgium, Great Britain, Norway and Denmark.
If everything goes according to plan, this vision will be realized between 2030 and 2050. A feasibility study is currently being conducted, to which various environmental organizations are contributors.