Know-how against climate change
Germany supports the training of climate experts with two unique research centres in Western and Southern Africa.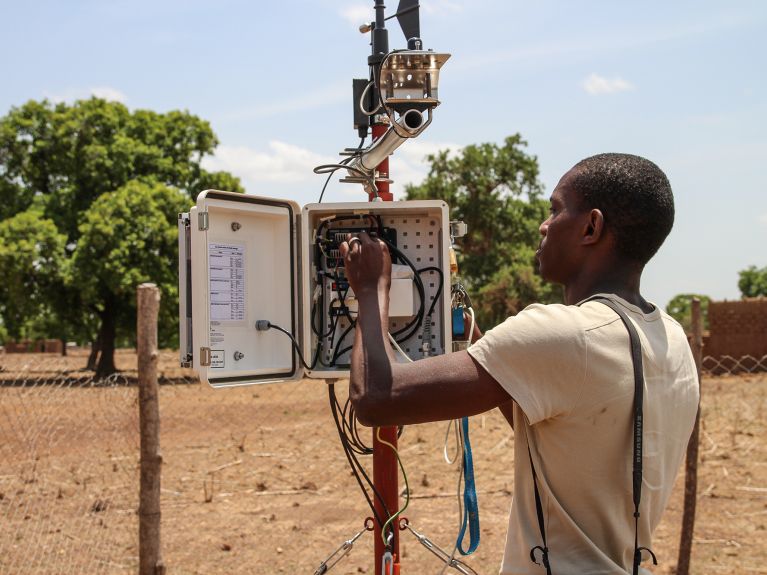 "We have a moral duty to help African countries, because they emit much less greenhouse gas emissions per capita and so are certainly not the main cause of climate change", says Anja Karliczek, the German Federal Minister of Education and Research. That is why her ministry, the BMBF, launched two climate change and land use priority centres in Africa in 2010: WASCAL (West African Science Service Centre for Climate Change and Adaptive Land Management), based in Accra, Ghana, and SASSCAL (Service Centre for Climate Change and Adaptive Land Management) in Windhoek, Namibia. There are eleven West African countries in WASCAL and five South African countries in SASSCAL. According to its own information, the BMBF has so far invested 130 million euros in the two facilities, with millions more to follow.
At the core of the two research centres are freely accessible, comprehensive data collections on soil, climate and the environment. These are useful for model calculations. For example, the BMBF reports, the centres investigated how much extra water would be required were the climate to rise by two degrees. Olaf Pollmann cites another example: "In southern Africa, a network of weather measuring stations has been set up that significantly supports the local weather services in forecasting". Pollmann is a scientific advisor in the Department of Environment and Sustainability at the German Aerospace Centre (DLR), which was commissioned by the BMBF to implement the WASCAL and SASSCAL projects. Thanks to the new weather stations, accurate forecasts can now be made. In Namibia, researchers have designed an interactive rainfall app for farmers. If it rains heavily, the mobile signal gets weaker. This allows precipitation to be measured over long distances, and farmers can better plan their sowing.
By the end of 2018, the WASCAL graduate schools, located in ten West African universities, had more than 350 graduates. Students selected for a master's or doctoral scholarship are also funded for a research stay in Germany. In Accra a new alumni programme has just started: Climate Research Alumni and Postdocs in Africa (CLAPafrica). It integrates scholarship holders into a growing network of climate scientists from a wide range of disciplines and helps them get invited to international conferences and research stays in Europe. The first participants are being selected, and the next application round will start in early 2020.
All of WASCAL's and SASSCAL's programmes have one goal: to train more African climate experts in their homelands and enable them to pass on their knowledge. "The scientists trained at WASCAL and SASSCAL are sought-after experts", says DLR advisor Pollmann. "They later work in the governments of their countries, at universities, or even at the World Bank." Thus those most strongly affected by global warming can themselves engage in international negotiations on behalf of their homelands.
You would like to receive regular information about Germany? Subscribe here: