A key stage of the climate negotiations
Important groundwork for the UN Climate Change Conference COP28 is also laid at the Petersberg Climate Dialogue. We explain what sets the dialogue apart.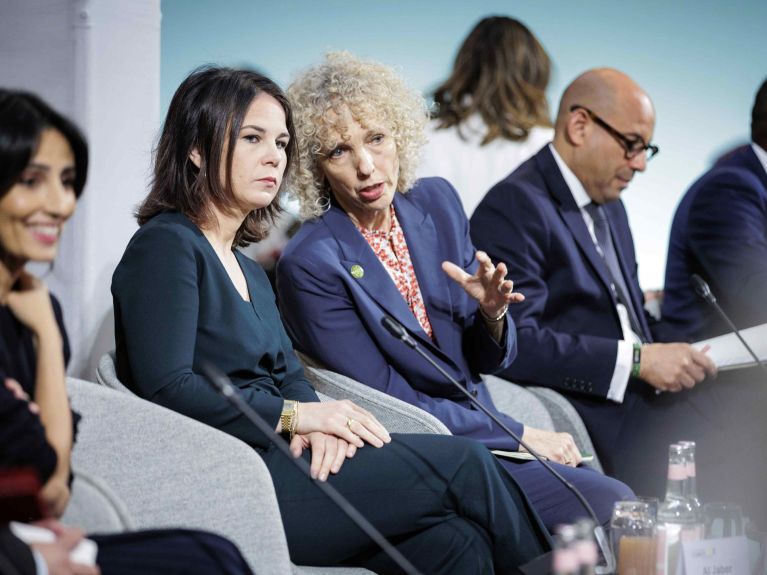 The Petersberg Climate Dialogue has been an integral part of international climate negotiations since 2010. Each year, the event is attended by high-level representatives of selected countries who come to Germany to lay the groundwork for a successful COP UN Climate Change Conferences. In early May 2023, the Climate Dialogue will be all about preparing for COP28, which is taking place in Dubai in the United Arab Emirates in December 2023.
Representatives of more than 40 countries will discuss at the Federal Foreign Office which concrete steps could be taken to combat climate change. Besides Germany's Chancellor Olaf Scholz and Foreign Minister Annalena Baerbock, participants will include United Nations Secretary-General António Guterres. The United Arab Emirates, as the organiser of the UN Climate Change Conference COP28, will be co-hosting the dialogue.
The Climate Dialogue was initiated by Germany's former Chancellor Angela Merkel. It was first held in 2010 on the eponymous Petersberg in Bonn, but these days the participants gather in the German capital Berlin. Until 2021, the German Environment Ministry hosted the Climate Dialogue; since 2022 it has been organised by the Federal Foreign Office, which is responsible for international climate policy. Climate policy is one focus of German foreign policy and also encompasses the international climate negotiations.
On the agenda of the 14th Petersberg Climate Dialogue, apart from negotiations on the global expansion of renewable energies, will also be financial support for those states particularly affected by the climate crisis. One issue will be to ensure that the decisions taken at COP27 are actually implemented.
The Petersberg Climate Dialogue will be overshadowed by the Russian war of aggression against Ukraine, which has also sparked a global energy and food crisis. Against this backdrop, the international community needs to reduce its dependencies on fossil energy sources and accelerate the energy transition. The Federal Foreign Office has emphasised once again: "The climate crisis and global security issues are closely intertwined."