Commitment to species protection
Biodiversity conservation is a global challenge. In Germany the Federal Agency for Conservation is in charge of this field of work.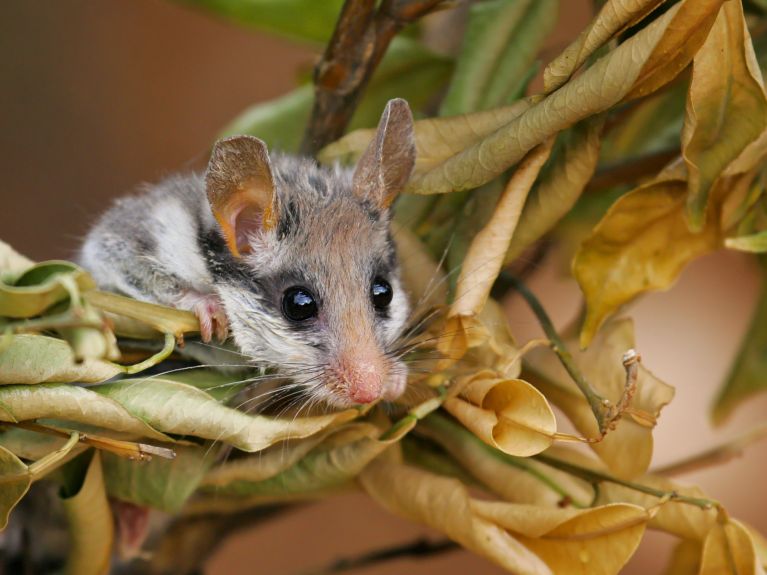 What does the garden dormouse have in common with the Devil's Claw, a plant, and the hygrophorus penarius, a mushroom? They are only, or mainly, found in Germany. Consequently, they are so-called National Responsibility Species (NRS), or species for which Germany is especially responsible. Alongside numerous individuals, nature conservation organizations and groups, the Federal Agency for Conservation takes care of species protection and biodiversity. We are showcasing just three of the hundreds of projects that the Federal Agency is supporting.
Targeted insect protection
In conventional agriculture, insects are normally combatted with poisonous substances. But this project aims to prevent precisely that, in order to preserve biodiversity, while preventing damage to crop plants at the same time. Research is being carried out into combinations of plants for flower strips running between areas of arable land to provide favourable food and habitats for useful insects. Here, "useful" means insects such as ichneumon flies, or predatory bugs that eat the insects that damage the crop plants.
Quick facts
9
percent
of agricultural operations in Germany are organic farms.
7.5
percent
of the total land area used for farming is used for organic farming.
20
percent organic farming
is the target the Federal government's Strategy for the Future – Organic Farming has set.
9.9
percent
more sales of organic foods were recorded by retailers in 2016.
41
percent of Germans
buy organic food as often as it is possible for them to do so.
10
percent
of the eggs produced in Germany come from hens on organic farms.
5
percent
of all livestock in 2016 was bred in line with ecological guidelines.
Near-natural designs for company grounds
Huge areas in Germany are covered by company grounds. A large proportion of these consist of unused rooftops, wasteland and areas affected by soil sealing. A pilot project in Hanover is supporting companies that are promoting biodiversity on their premises. They are receiving advice about which rooftops and areas can be planted to help insects. Another point is about installing insect-friendly lighting in the company grounds. And company colleagues are also being familiarized with topics surrounding insect protection and biodiversity. The aim is to get private enterprise involved in transforming sterile areas in a positive way to promote species protection.
Saving the European sea sturgeon
The sturgeon is a fish and it is a source of caviar, as wealthy connoisseurs can doubtless confirm. But it is not well known generally, even though this giant fish can grow to 3.5 metres in length and weigh up to 300 kilos. In Germany it has become almost extinct, and great efforts are being made to re-establish the fish in the Oder and Elbe. Just see for yourselves: