Multimedia insights into the Stasi Archives
The Stasi Museum offers a media library with insights into the intrigues of the GDR secret police.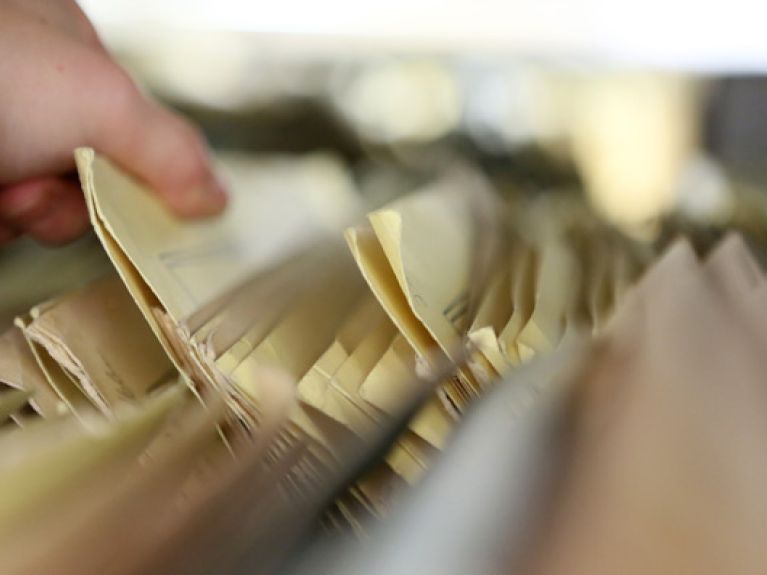 Twenty-five years ago, citizens of the GDR sealed the end of the country's infamous secret police. Angry demonstrators stormed the headquarters of the State Security Service (Stasi) in East Berlin in January 1990. They occupied this huge complex of the Ministry for State Security as well as other Stasi buildings and rescued many documents from destruction. The new media library of the Federal Commissioner for the Records of the State Security Service is now offering a selection of documents, videos, sound recordings and photos at www.stasi-mediathek.de.  Interested persons can now engage in online research via a search engine on the internet. The "small window into the Stasi Archives," as the Federal Commissioner Roland Jahn calls it, provides insights into the operations of the GDR secret police. For almost forty years the Stasi operated on behalf of the state party, the SED, by keeping people under close surveillance, monitoring their movements and contacts, persecuting so-called 'enemies of socialism' and oppressing them. The new media library addresses both young people without much previous knowledge as well as experts. The material includes such things as grim Stasi film footage of clashes between citizens and the People's Police in front of Dresden's main railway station. Reports covering the strictly monitored performance of the 'West German' musician Udo Lindenberg on 25 October 1983 in East Berlin's Palace of the Republic seem almost absurd. All of the original documents are certainly gripping.
New exhibition in the former Stasi headquarters
To mark the anniversary of the storming of the Stasi, today's Stasi Museum will be opening a new permanent exhibition entitled 'State Security in the SED Dictatorship' at 'Haus 1' of the former Ministry for State Security. Surrounding the desk of security service chief Erich Mielke, the exhibition shows why the people in the GDR felt it was so important to disempower the Stasi during the peaceful revolution of 1989/90.Federal Commissioner for Culture and the Media, Monika Grütters, stressed that the GDR is nowadays often trivialised on the city streets by Trabi safaris, People's Police caps and other nostalgic souvenirs, but that the exhibition exposes its true nature as a state of tyranny and injustice.
www.stasimuseum.de, english: www.stasimuseum.de/en/enindex.htm
www.bstu.bund.de, english: www.bstu.bund.de/EN
© www.deutschland.de