One year in Germany, 
lots of new business ideas
The Afrika kommt! initiative enables young African managers to undertake further training in German firms – and these companies benefit from the knowledge of the Africans.
07.07.2016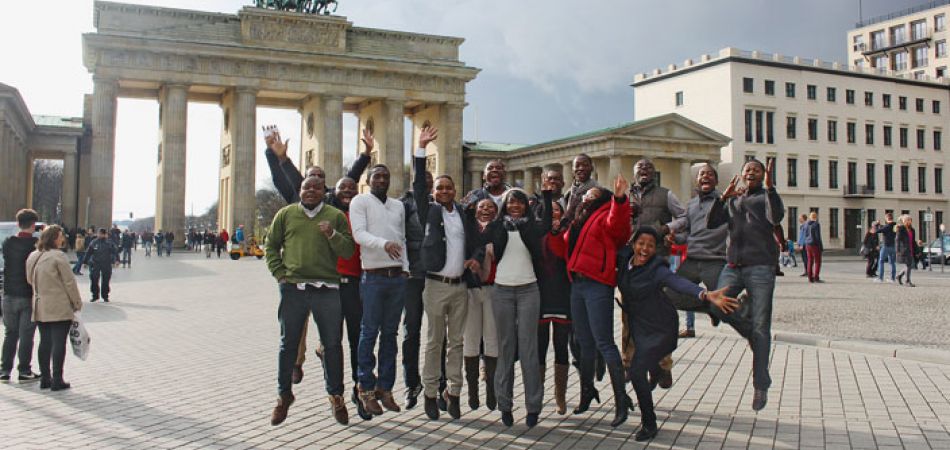 Making money with waste water? Since her stay in Germany, Lucy Mutinda knows how to do precisely that. The young Kenyan woman is managing director of Ecocycle Ltd, a company that installs small sewage treatment plants. She came upon this business idea while participating in Afrika kommt! – a training initiative for young executives from the countries of sub-Saharan Africa. In Germany she visited many technology parks and plants. "I was very curious to see how waste water management functions in Germany," says Mutinda. "And voilà, my business idea was born."
Lucy Mutinda is one of a total of meanwhile 76 young managers who have 
taken part in the Afrika kommt! programme since 2008. The initiative was founded by 19 leading German compan­ies. They take in successful candidates and offer them training as executives. "As a result, the participants gain international experience and can advance their careers," says Lydia Jebauer-Nirschl, project manager at the Deutsche Gesellschaft für Internationale Zusammenarbeit (GIZ). The GIZ organises the scholarship programme.
On the other hand, German firms are able to gain new partners in Africa. "The companies benefit from the participants' knowledge and experience of the culture and markets in Africa. The initiative therefore helps to build additional bridges between German and African econ­omies." The fifth round of the programme is currently running.
The participants are university graduates with several years of work experience. Before their journey to Europe they attend a German course and then increase their knowledge of the language in the country itself. During the one-year stay in Germany they take part in several management training courses for executives. These focus on subjects like project and change management or intercultural communication. They later apply this knowledge in their home countries. "The management training courses were excellent," says Lucy Mutinda. "I carried out the same courses in Kenya with our employees. That made our teamwork 
really very efficient and effective."
Practical placements with companies form the most important element of the Afrika kommt! programme. The young managers work in a large German business for eight months. One of the firms participating in the initiative is Merck. At the science and technology company the young Africans first learn how the processes in their specialist area – for example, sales – are organised in Europe. Then they work independently on a project. Thus, for example, a Kenyan worked on a market entry strategy for a food supplement in her country. In order to exchange views and experiences, in addition to the project work, meetings are also held with senior management or 
colleagues from other departments.
On the one hand, the cooperation benefits the young African managers: "They get to know work in a multinational company, as well as new processes and technologies," reports Anja Heinrich, who is responsible for the talent development programme at Merck. On the other hand, the companies benefit too: after all, 
the young Africans know the markets 
of their native countries. They know which special cultural norms need to be taken into consideration, for example, 
in winning over cooperation partners – and they frequently also contribute unconventional ideas. "The impact they have in a few months is outstanding," says Ralf König, who is responsible for Performance Materials International Sales. It is therefore no surprise that 
almost all alumni have remained with the company and now work in or for business with Africa.
During their year in Germany they also participate in weekend seminars organised by the Robert Bosch Foundation and the ZEIT Foundation. They complete a study tour that focuses, for example, on regional economic development. The programme also includes excursions on the Rhine or a visit to the Berlin Philharmonic. "It is important during this time not only to work, but also to get to know Germany," says project manager Jebauer-Nirschl.
In mid-February 2016, Federal Foreign Minister Frank-Walter Steinmeier received the up-and-coming managers at the Federal Foreign Office. During the visit, following a two-hour meeting, they received their final certificates. Federal President Joachim Gauck also received the Africans. During the visit he emphasised: "Last but not least, you have been and continue to be an asset to your partner companies. Your German colleagues have learned a great deal from you about African working methods and African markets. In short, you, esteemed fellows, are learning from Germany – and Germany is learning from you," said Gauck.
And cooperation continues after the 
stay in Germany. Following their return home to Africa, the young managers remain in touch with one another through the GIZ alumni network. In addition, they help to select future participants from among the applicants. In the meantime, over 3,000 candidates apply to take part in Afrika kommt! programme.
Lucy Mutinda developed her business idea during her time in Germany. After her stay she wanted to enable others to receive new opportunities. Working with German partners, she supports needy child from her home village and, for example, pays their school fees. As a result, the new opportunities that Lucy Mutinda received have also created new pro­spects for others. ▪
Hendrik Bensch