Learning German in the pandemic
No face-to-face exchanges and no travel? Discover here how you can still learn German successfully in the pandemic.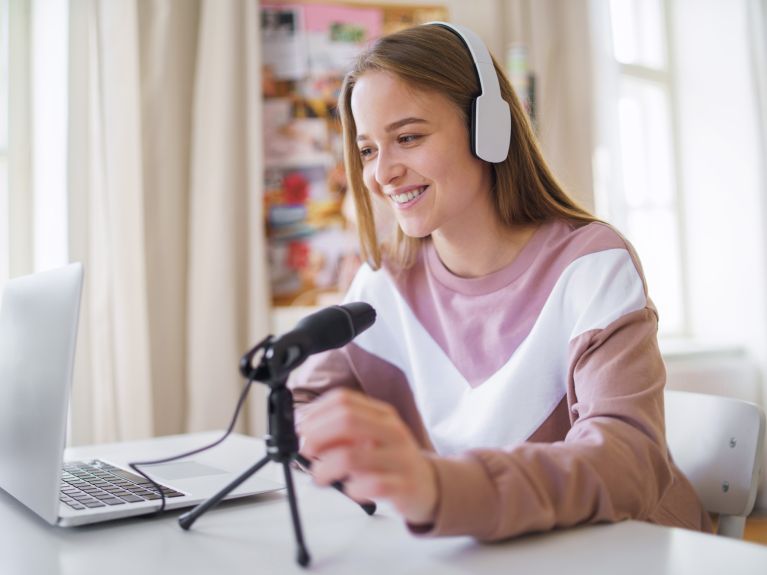 Are you afraid that you'll fall behind with your German learning, because of the Covid-19 pandemic?
There's no need to worry. These five tips can help you with efficient distance learning, so that you'll be well-prepared as soon as travel is possible again.
1. Learning with apps & YouTube
The short exercises provided by the Goethe Institute's Deutschtrainer App can be done easily during a quick coffee break. Beginners in particular can learn things like numbers, time and names of foods, more or less on the side. And if you already understand German a bit better, it's a good idea to subscribe to various German learning options on YouTube. Click here for a useful selection.
2. Learning with songs
Music helps you to absorb words almost without noticing that your vocabulary is growing. There are a few websites that help you to use the song texts as exercises. For instance, you can do cloze tests, comprehension or grammar exercises with the Deutschlernerblog. And at the same time you can learn something about the German language as well as getting to know hip bands in Germany, such as AnnenMayKantereit.
3. Learning in tandem
Are you sitting at home feeling bored? You're not the only one! So why not take the opportunity and join forces virtually?  Tandem language learning not only helps you to make quick progress with the language itself, you also discover more about present-day young people and their lives in Germany. You can find a tandem partner via social media groups or via the free website TandemPartners. Simply enter your mother tongue and German as the target language, and off you go.
4. Learning with German TV series
How do fancy the idea of immersing yourself in 1920s Berlin for an entire weekend? Or giving yourself the creeps by watching the sci-fi thriller series Dark? You can do your German knowledge some good by watching the original version of the series with the German soundtrack. By activating the subtitles you can either read the parallel German text or choose another language for support. This is a great help for everyone who is not yet very fluent in German. It certainly tunes your ears to the language automatically, and it's a far more authentic experience as well.
5. Online classes at home
There was never a better time for online learning. The majority of language schools offer one-on-one or group teaching in virtual sessions. So you can take part no matter where you happen to be in the world. You can even learn German for free with the Goethe Institute and Deutsche Welle. You can exchange news and chat with others, and learn German with exercises and educational games ─ all at your own individual level.