Learning German free of charge
Listening, seeing, speaking and understanding: here you can find online courses, videos, apps and tandem partners for the German language.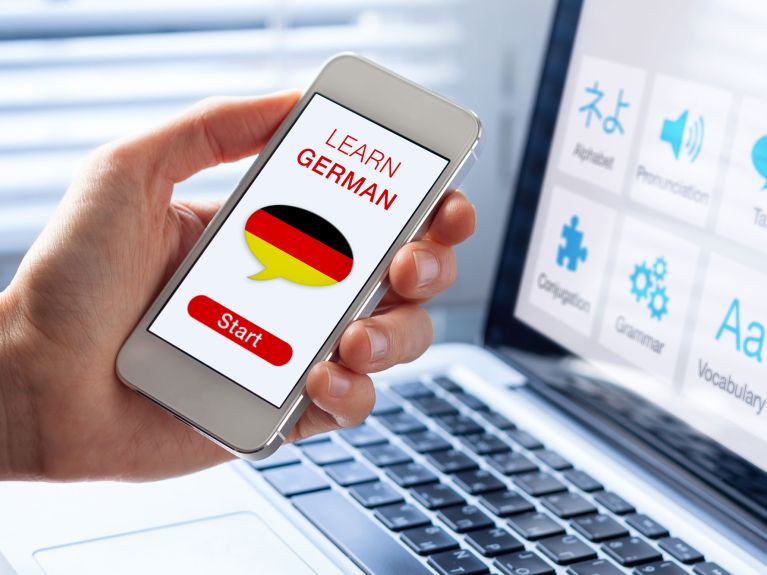 Deutsch für dich – learning German together
Would you like to learn German together with others? Then register free of charge with the Deutsch für dich community. All users can exchange experiences and learn together via personal messages and chats. The Goethe-Institut provides 190 exercises and learning games for beginners and advanced learners.
24h Deutsch – learning German with Ida
Ida is new in Munich and shows you what her everyday life is like. In short videos on her YouTube channel 24h Deutsch, she explains the grammar, vocabulary and some peculiarities of the German language and culture. Whether it's on her first date or in the beer garden – Ida explains German etiquette in a humorous way for everyday use. She also addresses questions from users.
Radio D
Paula and Philipp work as editors for a fictional Berlin radio station called Radio D, researching exciting stories and mysterious events in Germany. In two series, each with 26 episodes, the audio language course trains German beginners' listening comprehension. Background noises and an English-speaking presenter help you follow what Paula and Philipp experience.
Learning German with Deutsche Welle
Deutsche Welle (DW), Germany's state-run international broadcaster, offers a wide range of German language-learning services free of charge: with slowly spoken news, a telenovela and a new course programme called 'Deutsch mobil' for your smartphone or tablet.
The best way to learn a new language is by speaking, whether in a face-to-face meeting or on Skype. You can find German language partners on the TandemPartners website. Just type in your native language and German as the target language.
The Goethe-Institut's Deutschtrainier app teaches a basic knowledge of the German language. In ten chapters, it trains your German vocabulary and structure with games, puzzles and audio dialogues. The short exercises are great for use in the train or during a coffee break.
Free Apps for German
You want more? Check these eight free apps to teach you German.
+++
Everything you need to know about learning German online or studying for a degree in Germany online:
https://www.deutschland.de/en/online-learning-in-germany
You would like to receive regular information about Germany? Subscribe here: