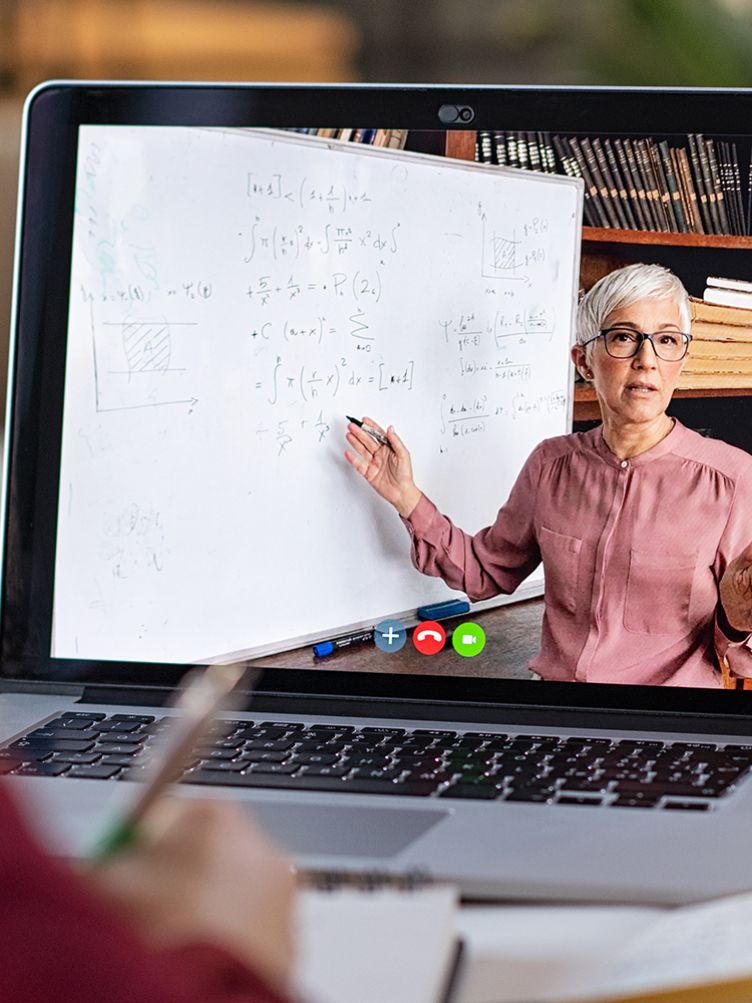 Online learning in Germany
Digital learning in Germany – how it works
Learning German online, studying online at a German university or completing virtual training courses: e-learning and distance-learning programmes enable you to do all this anywhere in the world. Education is becoming global. Digitalisation has changed how we learn. Interactive, innovative and flexible formats have emerged on the Internet – and we aim to show you how to make the best use of them.
Here we will explain what e-learning and MOOCs are as well as the pros and cons of digital learning. In addition, we will introduce you to the different forms of e-learning, such as blended learning, and outline the latest e-learning trends. You can also discover who offers distance-learning and online classes, what online German courses are available and which options there are for digital training.
Different forms of e-learning
There are many forms of e-learning and distance learning. We explain the three most important types here.
Synchronous e-learning All course participants take part in a learning event at the same time, interacting among themselves and with educators in real time. Examples include virtual classrooms and live-streamed lectures.
Asynchronous e-learning This means all participants study at different times and at their own pace without live interaction with the educator.
Blended learning This is a popular form of e-learning. It "blends" e-learning and learning in the classroom, combining the advantages of classroom teaching and digital study programmes.
Advantages and disadvantages
What are the benefits of e-learning and what are its limits? Let us explain.
Advantages:
Flexible learning not tied to a particular place or time
Learn at your own pace
Repetition is possible any number of times
Content can be easily updated
Multimedia formats for every learning style
Easier to reconcile with work or family
Disadvantages:
Technological equipment and good Internet connection are a must
Little personal interaction with other course participants
Lack of real study experiences
Demands great deal of self-initiative and discipline
Trends in distance learning and e-learning
Games-based learning Digital learning is often very multimedia-based – videos and podcasts are used to make the learning process more interesting and more appealing. Games-based learning is gaining in popularity as a means of providing new access to educational content.
Artificial intelligence AI is being used more and more often in e-learning courses. Many programmes can already use personal learning history data to ascertain whether content has been understood, progress is being made or when participants best learn and understand course content. This makes it possible to adjust the learning process to meet the needs of individual participants.
Augmented reality If e-learning content needs to be presented in a form that most closely resembles practical reality, then augmented reality can be used. It enables course participants to, for example, explore the inside of an electric motor, stand in the engine room of a submarine or fly through the solar system.
Learning German whenever and wherever you want: online German courses or virtual classrooms can make you proficient in the German language in a short space of time. Of course, there are also many ways of practising German and increasing your knowledge online free of charge.
Why not learn German? There are many reasons for you to learn German online: roughly 15.4 million people worldwide are learning German as a foreign language. The German language can describe things for which other languages have no words; it also has a unique letter, reliable rules and three genders.
Explore our dossier on the German language to discover interesting facts about German, advice on learning the language with apps as well as YouTube videos and interesting personal reports.
Facts about the German language, learning tips, free language courses and important links for people learning or teaching German.
The most important course providers
Learn German easily and online: whether it's Goethe-Institut, Deutsche Welle or Deutsch-Uni Online, different organisations offer programmes on their websites that will enable you to learn German very easily or develop your existing language skills.
Deutsche Welle
Among other things, Deutsche Welle offers useful hints for beginners, vocabulary trainers for on the go and its Deutschtrainer with ten lessons. Here, for example, you can learn German with Alexa or access over 300 video lessons and 14,000 exercises. The language courses are available in German and English. 
You will find the right programme and appropriate course offering for your skill level here:
Goethe-Institut
The Goethe-Institut also provides many online offerings to help you learn German the way you want. Speech exercises, videos, information on dealing with authorities to master everyday life or find a job – the many offerings in German and English can be used at any time at home or on the move. Deutsch Online is a range of online courses covering Levels A1 to A2 that is just right for beginners. You can test it free of charge here. There are digital courses for different skill levels. Whether you're a beginner or an expert, you can learn German online flexibly, on the move and at your own speed.
Deutsch-Uni Online
You can also learn German at Deutsch-Uni Online (DUO) where you will practise your language skills in a virtual course to prepare yourself for studying or working in Germany. DUO offers courses for beginners and advanced students, to prepare for the TestDaF exam and to learn sector-specific vocabulary. The courses last three months and cost between 150 and 355 euros.
Here you will find the right course for your language level and your department. If you're not sure how you should rate your language skills, you can test your knowledge here.
There are various providers of online higher education in Germany: many German universities now offer international degree programmes online. For example, you can complete many Bachelor and Master programmes with WINGS Professional Studies, the online branch of Wismar University of Applied Sciences. The highest number of online students is currently enrolled at FernUniversität in Hagen. The strategy of this distance-learning university is based on a blended-learning approach that combines printed, multimedia and online study materials with optional personal seminars and events.
The German Academic Exchange Service (DAAD) offers information about the different kinds of higher education programmes for international students. You can find the right online degree course for you in the DAAD database of International Programmes in Germany. Simply make sure you select "Study online" under Course Type. The DAAD is the world's largest funding organisation for the international exchange of students and researchers.
Your contact partners
We explain how you can study in Germany online from anywhere in the world.
Can you study in Germany from home and complete a German Bachelor or Master degree free of charge? Yes, the Internet makes this possible. Above all, online degree courses are a real alternative to conventional study programmes for people who work.
Online skills development
You can not only learn the German language or study in Germany online; there are also many other training courses available free of charge.
Learning online with MOOCs
If you want to learn a new programming language to improve your job opportunities or simply have a thirst for knowledge, Germany offers numerous specialised Massive Open Online Courses (MOOCs). As a rule, MOOCs consist of video lessons, lectures, tests and discussion forums. If you successfully complete such a course, you can usually receive a certificate (which is sometimes associated with a fee). The best-known course providers in Germany are Coursera, edX, FutureLearn and Udacity.
Experiencing German culture online
There are also a large number of museums you can visit online and get to know better using free virtual tours. The Städel Museum in Frankfurt am Main, for example, offers so-called digitorials with background stories and visual storytelling. You can even complete a free study course there: available in German and English, Art History Online – The Städel Course on Modern Art enables you to deepen your knowledge of art history and image studies in a varied and interesting way. Many German galleries and theatres provide similar digital and multimedia offerings.
Opportunities also exist for the bookworms among you to borrow German books online even when the library or bookstores are closed. Contributors to the Onleihe platform include, for example, many public libraries in Germany. In addition to e-books, you can also borrow videos, music and audio books here. If you do not live in Germany, you can simply register for Onleihe through Goethe-Institut. You will find more information on how to register here.