Classical music to enjoy and play along
Whether it's ballet lessons or concerts, classical music fans can enjoy exciting entertainment during the quarantine.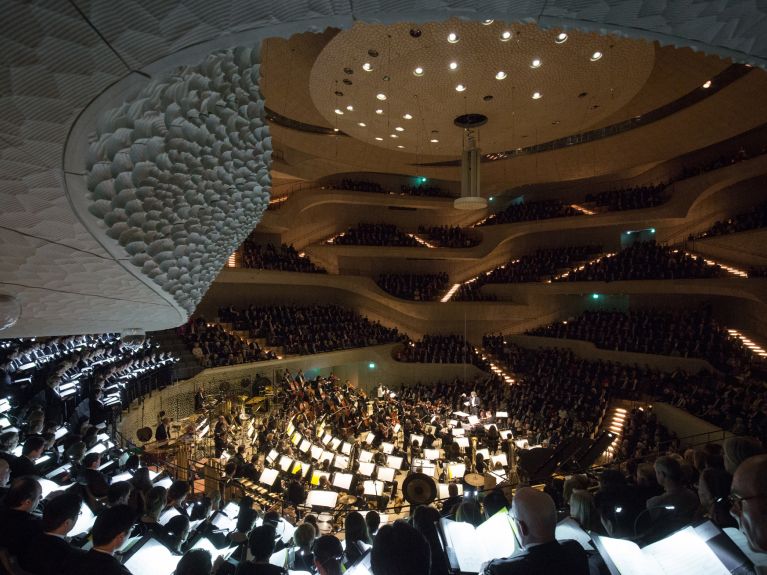 #ElphiAtHome
Virtual tours, concerts, clips of selected musicians: in the wake of the Corona crisis, the Hamburg Elbe Philharmonic has moved its musical offerings onto the internet. And the programme is very impressive. Almost every lunchtime there is a guided tour through the individual halls of the opera house; and in the evenings the audience can enjoy streams of a wide variety of concerts, including half-hour performances that are recorded in the currently empty Great Hall. Classical music fans will certainly not be disappointed.
Join in the ballet training
If you want to get some exercise at home, try visiting the Hamburg Ballet's homepage, where the dancers keep their audience on their toes with virtual ballet and fitness training sessions. In this way they combine classical dance and music with challenging work-out sessions at home.
Music lessons at home
Fancy passing the time at home with some music lessons? In 2020, Germany and the world will celebrate the 250th birthday of the composer Ludwig van Beethoven. Lots of events were to take place in Germany to mark the anniversary, but these have now been cancelled. However, Beethovenfest Bonn have come up with new ways to supply classical music fans with music, even in Corona times. In cooperation with the STEGREIF.orchester they have created a music series called play@home. In lots of brief videos, the orchestra's musicians share their inspirations and experiences and explain how classical music works. The videos are not only meant for watching, but also encourage you to participate!
If you would like to learn more about the composer, you can visit the virtual exhibition 'Beethoven-Welt.Bürger.Musik' (Beethoven's World. Citizen. Music) at the digitale Kunsthalle (digital art gallery), a project organized jointly by the Bundeskunsthalle in Bonn and ZDFkultur.
Enjoy Europe's opera houses internationally
29 opera houses and festivals from 17 European countries: this can only be found on the EU-funded video platform 'Opera Vision'. 21 operas from all over Europe can currently be found on this German-, French- and English-language website. The selection ranges from Erich Wolfgang Korngold's 'Violanta' from Turin to Stanisław Moniuszko's Polish National Opera 'Halka' from Warsaw.
You would like to receive regular information about Germany? Subscribe here: