Let's go to the theatre – online
The theatres are closed, but the performances continue: we can show you where you can experience German theatre digitally.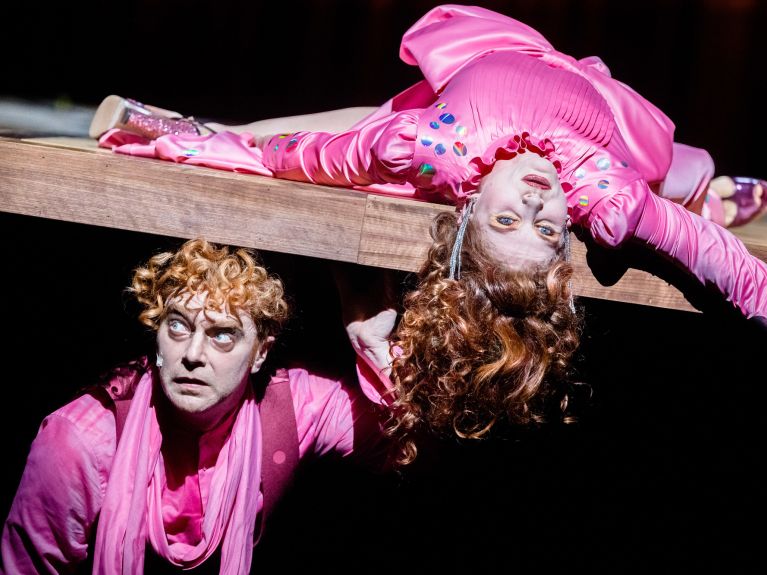 Because of the Corona crisis, more and more theatres and opera houses are making their programmes available online – either in livestreams or as video recordings of past performances. Here is an overview of what is on offer – a good knowledge of German would be an advantage for understanding most of them. At the end there is an English language bonus.
Streaming plays on Dramazon Prime
Here is a different take on the streaming service idea: the Schauspiel Köln theatre in Cologne has set up a new streaming portal for theatre fans. The project is called Dramazon Prime; it is made up of selected theatre productions, a podcast and many radio plays and features with the ensemble. Just pay a them visit and stream plays for free!
Poetry therapy for people in need
Every evening at 7pm, the Thalia Theatre Hamburg publishes a production from its repertoire of the past decades. They include such classics as Goethe's Faust, but also documentaries about the theatre in times of Corona. Some plays are now even celebrating their première online.
The Thalia Theatre's actors are also offering poetry for people in need. To do so, they are delving deep into their bookshelves and reading poems and short texts by people ranging from Goethe to Ror Wolf.
Theatre for the little ones
The Junges Ensemble Stuttgart has put together a programme for children and young people. For two days at a time, the theatre presents a mix ranging from intercultural productions to dance theatre.
Special Corona show
The BKA Theatre in Berlin offers a colourful mix of comedy, tragedy and glamour on its website with its Corona Special Show, featuring everything from stand-up comedy to talks with authors and a panel discussion with drag queen Jurassica Parka. Anyone who wants can support the theatre by buying an 'antivirus livestream ticket'.
With English subtitles
Every evening at 6pm the Schaubühne Berlin theatre shows recordings of productions of their plays. These include classics like Shakespeare's Hamlet, but also modern performances such as For The Disconnected Child, which premièred in 2008 and is about the longing for closeness. Some plays also have English subtitles.
A bonus: English spoken
For all those who do not yet speak German very well, but understand English well, the National Theatre in London streams a new production every Thursday at 7pm, which is then available online for seven days.
Night review – an overview
The Nachtkritik website offers an overview of the numerous online plays available from all over Germany. You can either check out the online schedule or search directly for the programmes of the individual theatres. This way you'll never miss a performance!
You would like to receive regular information about Germany? Subscribe here: