Cutting-edge brain research
Five facts about the NeuroCure Cluster of Excellence in Berlin: experts here are researching how the brain works and developing groundbreaking therapies.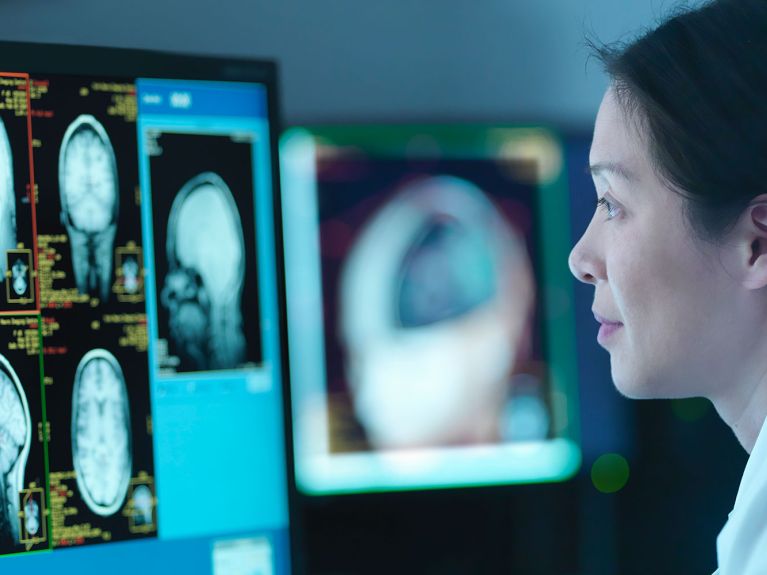 Excellent research in Berlin: seven interdisciplinary research projects involving Berlin universities are being funded as part of the Excellence Strategy of the Federal Government and the German states. NeuroCure is one of them.
What is the goal of the NeuroCure Cluster of Excellence in Berlin?
As its name suggests, the NeuroCure Cluster of Excellence aims to heal the nervous system in various ways. It is conducting research in projects that cover all phases of life – from embryonic development to old age – and focus on neurological and psychiatric diseases.
How is NeuroCure investigating diseases?
"We want to contribute to a better understanding of brain function with the aid of basic research," says Dietmar Schmitz, Director of the Neuroscience Research Center at the Charité Universitätsmedizin Berlin, and NeuroCure Coordinator. "Furthermore, basic researchers are collaborating closely with doctors in the respective clinics to gain a better understanding of diseases of the brain." Researchers from the Cluster of Excellence are not only researching developmental disorders of the nervous system, but also multiple sclerosis, epilepsy, Alzheimer's dementia and strokes. The development of new therapies is one of NeuroCure's main tasks.
What else does NeuroCure do?
The NeuroCure Clinical Research Center gives patients faster access to new diagnostic techniques and new therapies. At the Center the results of basic research are immediately transferred to the clinic and made available to patients. The SPARK-Berlin mentoring programme brings researchers together to accelerate the application of research findings in clinically relevant medicines. "Berlin is steadily developing as a neuroscience centre due to the networking of ongoing research activities and the recruitment of excellent junior researchers," says NeuroCure Coordinator Dietmar Schmitz.
Which Berlin institutions belong to NeuroCure?
Humboldt-Universität, Freie Universität and Universitätsmedizin Charité, the famous teaching hospital, are all participating in NeuroCure. The Max Planck Institute for Infection Biology and the Leibniz-Forschungsinstitut für Molekulare Pharmakologie (FMP) also belong to the NeuroCure project. And the Helmholtz Association, Germany's largest research organisation, is also involved through the German Center for Neurodegenerative Diseases and the Max Delbrück Center for Molecular Medicine.
Which scientists are working for NeuroCure?
We have 24 of the best German and international researchers in the neurosciences. One of them is Michael Brecht, who received Germany's highest endowed research award, the Leibniz Prize, for his pioneering work on the neuronal basis of behaviour in 2012. Then there is the French researcher, Emmanuelle Charpentier, Leibniz Prize winner in 2016 and one of the discoverers of the CRISPR/Cas9 gene-editing tool. And the basic scientists Stephan Sigrist and Dietmar Schmitz, in cooperation with clinical researchers, are investigating how people form new memories, i.e. how they can store what they have learned, and how this memory capacity changes with age.