Study online at German universities
Gain international experience without travelling: we show you how you can study in Germany from home.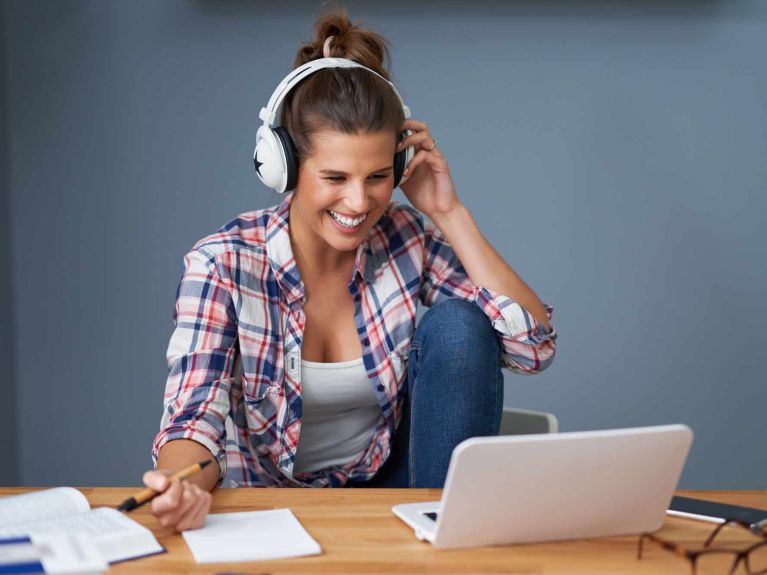 Studying digitally in Germany
"Online" is the magic word: whether it's Agricultural Management at IU - International University of Applied Sciences, Civil Engineering at TU Dresden or Intercultural Leadership and Technology at TU Clausthal - many universities in Germany offer degree programmes in online format.
Where can I find online degree programmes?
The Higher Education Compass, the database of the German Rectors' Conference, lists almost 1,000 distance learning programmes. Many of them take place entirely online or are combined with short phases of attendance in Germany (blended learning). Some of these programmes can also be completed part-time or while working.
Detailed information can be found on the Distance Learning Portal.
Sometimes high fees for online studies
Preparing study content for virtual learning is time-consuming and studying digitally is therefore not necessarily cheap: tuition fees are usually charged for online degree programmes with certified qualifications. The amount depends on the degree programme and the university offering it. Fees can range from 100 euros per semester to a five-figure sum for the entire degree programme.
Are there scholarships?
There are numerous scholarship programmes in Germany that also support international students. The Research in Germany portal and the DAAD scholarship database provide an overview of the most important programmes and links to other funding databases. Often the support is tied to attendance study, but there are also programmes specifically designed for certain virtual degree programmes. Information on funding opportunities for your specific online degree programme is available from the university of your choice.
Recognised degrees
Of course, it is important to know whether your degree is recognised in your home country. Germany has recognition agreements with many countries around the world. The universities in your home country are usually responsible for recognition. If you need assistance, you can contact the Central Office for Foreign Education (ZAB), which can issue certificates on the process and value of qualifications acquired in Germany.
You would like to receive regular information about Germany? Subscribe here: