Hummus and hope
A Palestinian and an Israeli run a restaurant together in Berlin. They talk about friendship, reconciliation and the power of good food to bring us together.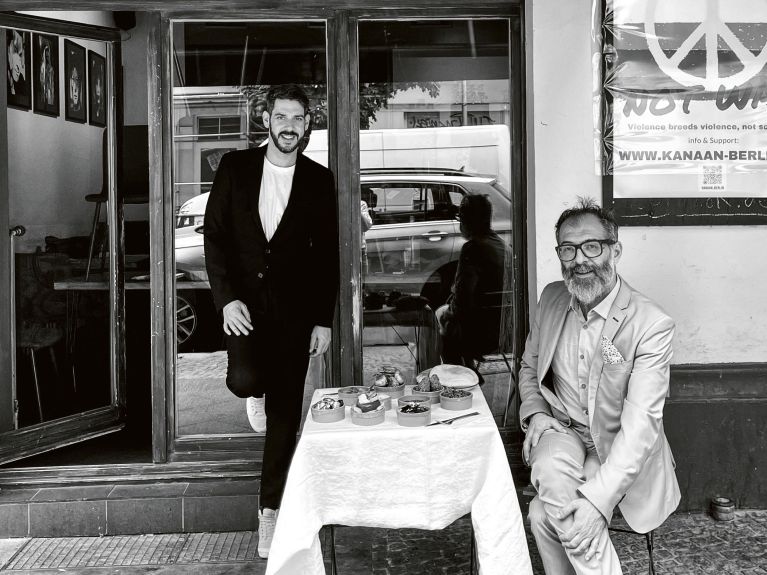 "Make hummus, not war" is written on a rainbow-coloured sign near the entrance to the Canaan restaurant. This is where you would normally find the vegan and vegetarian menu of the restaurant in Schliemannstrasse in Berlin. But since 7 October, when Hamas fighters attacked Israel, much has changed, as the people who run Canaan are the Israeli Oz Ben David and the Palestinian Jalil Dabit. They told us about what gives them cause for hope during dark times and why hummus brings people together.
Oz Ben David and Jalil Dabit, let's start with the most important question. How are you doing?
Ben David: That's a simple question with a difficult answer. I feel a mixture of rage, fear and despair. In the days immediately after the attack I had reached the end of my tether and wanted to close the restaurant for some time. But then I talked to Jalil and he reminded me why we do it: we give people hope. Hope, that things can be different, that we can live together, work together and laugh together. Jalil let me express my pain and fear, but then we reflected on why what we're doing is so important.
Where did you find this strength, Jalil?
Dabit: It was hard for me too. On 7 October I was with my family in Ramla, and I'm still here now. I got up at 6 a.m. to open my father's restaurant, and then I heard the sirens. Everything that happened after that was horrific. I have friends and relatives in Gaza, and I've lost some of them already. If we give up, the terrorists have won. We can't let that happen. We must go on hoping.
What gives you cause for hope in these difficult times?
Ben David: My partnership with Jalil gives me hope. When a Jewish Israel and an Israeli Palestinian can open a restaurant together in Germany and work together in a peaceful and friendly way, we could do that elsewhere, too.
How did you meet?
Dabit: I came to Berlin nine years ago. It was the perfect city for me. Back then it was still pretty cheap. There was a lot of culture and people from all over the world and religions of all kinds were living here together. That's why I looked for a partner here so we could sell tahini and hummus together and maybe open a restaurant at some point. That's how I found Oz.
Did you know back then what kind of political statement you would make with your partnership?
Ben David: Not at first, to be honest. I promised Jalil that the focus would be on our vegetarian and vegan food, not on political statements. But that happened by itself. We automatically became a symbol for people – right from the outset our work stood for something bigger, whether we wanted that or not. We weren't connected by our political views or a message of kind. What connected us was working together, frequently complicated trips to German officialdom (laughs) and our friendship.
Dabit: If we prepared to accept this kind of relationship more often and more people could have these experiences, it would become clear that everyday things, the little things we share and the lives we share, the big picture (which appears to separate us), predominate.
Why do you think so many people come to your restaurant?
Ben David: They come for our message, and because they think we have a great story ...
Dabit:... and above all because they love our food!
Ben David: Yeah – most of them come because of our story but they stay for the great food. What's special about our food is that we unite the best from different worlds. Our hummus is a mixture of Israeli and Palestinian recipes. We make our falafel using a method from Jalil father's method and with my grandmother's spice mixture. When they visit our restaurant, they see themselves in the dishes. We're not taking anything away from anyone. We're connecting it into something even better. Sometimes we even serve potatoes with it – after all, we are in Germany and we want to live up to German tastes and traditions. A little while ago we published our recipe book which links our two worlds.
Why did you open your restaurant in Germany and not elsewhere?
Ben David: For me Germany is an important symbol of our history. My grandmother fled Romania from the Nazis. Now her grandson lives in the capital of Germany. We're trying to heal wounds together so we can live as neighbours and communities again. For me that's a sign that Israel and Palestine can achieve the same, that the relationship can be healed. After any tragedy you're faced with a decision: are we going to be led by fear, or are we going to believe in goodness and trust in humanity? The second path is always the more difficult and the more risk of the two, but it's worth it.