Almost forgotten poet: Selma Merbaum
When the poet Selma Merbaum died in a Nazi labour camp at the age of 18, she left behind a volume of impressive texts.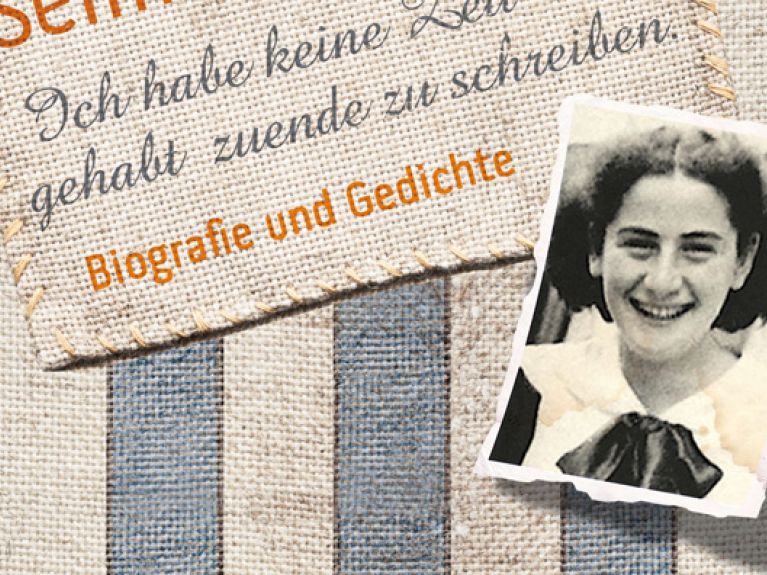 For a long time people were not even certain whether her name had been handed down correctly. Up until 2014 it was believed that the young poet's name was Selma Meerbaum-Eisinger, with the second part of her name coming from her stepfather. Her biographer Marion Tauschwitz finally proved that she had always been called Selma Merbaum. Little else was known about the Jewish girl who was born in 1924 in Bukovina, then in Romania, who died of typhoid fever in a Nazi labour camp at the age of 18. Yet her poems have been preserved, and they are being increasingly appreciated, not only because of a talent who was silenced much too soon, but also because they are really good.
Almost 60 poems by Ms Merbaum are known; most were written in 1940 and 1941. The young woman had written them in an album, called the collection "Harvest of Blossoms", and sent them to her friend Leiser Fichmann shortly before her deportation with the words "I have not had time to complete it." The couple had met in a Zionist youth group in Merbaum's home town of Czernowitz in today's Ukraine. At that time, Czernowitz was an important centre of European, Jewish-influenced culture. This was also where Paul Celan, a cousin of Merbaum's, grew up, whose role models also included Rainer Maria Rilke and Heinrich Heine.
Set to music by Herbert Grönemeyer
Merbaum's little book miraculously survived. Fichmann gave it to a girlfriend before he fled towards Israel in 1944. He did not survive the journey, but was drowned in an accident. Selma's girlfriend took the book in her backpack to Israel, where she arrived in 1948. Nevertheless, many years would pass before the German-speaking poems were printed for the first time. Merbaum's former class teacher finally had 400 copies of the "Harvest of Blossoms" produced. In 1980 a copy found its way to Germany, where a journalist from "Stern" magazine publicized it. Since then, musicians like Herbert Grönemeyer have set Merbaum's poems to music, and well-known actresses like Iris Berben have given them public readings. One of these works that Merbaum wrote in July 1941, just a few months before her family was forced to move into a ghetto, is called "Poem":
I want to live / I want to laugh and give comfort / fight battles, love and hate / hold heaven in my hand / be free to breathe and shout: / I don't want to die. No / No / Life is red / life is mine / Mine and yours / Mine.
World Poetry Day on 21 March