26.04.2018 Kim Berg
Why Berliners are wearing skull caps
In Berlin and other German cities, people have taken a clear symbolic stance against anti-Semitism. We explain the context.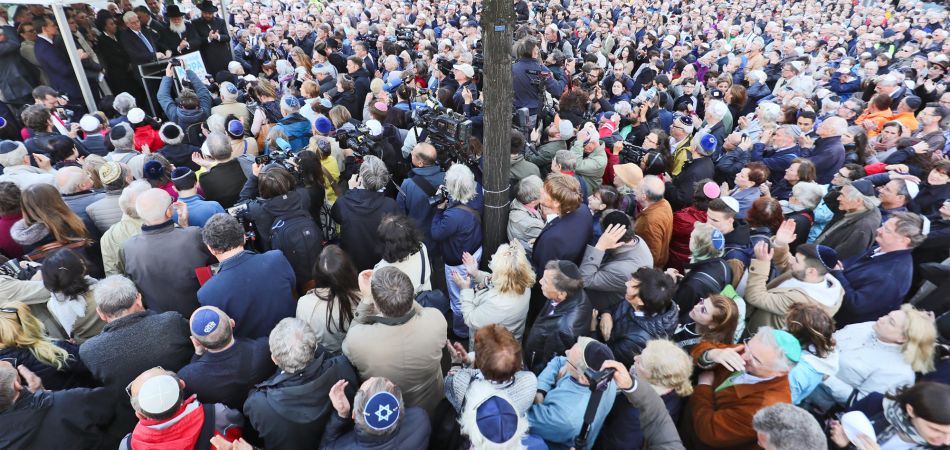 Germany. Out of solidarity with fellow citizens who are Jewish and to protest against anti-Semitism, on 25 April many people in Germany donned kippas or skull caps, the small round caps worn by Orthodox Jews. The reason: anti-Semitic felonies, such as most recently a young Syrian's attack on two Israelis wearing skull caps in Berlin.
Taking as it motto "Berlin wears the kippa", the Jewish Community in Berlin announced a protest rally against anti-Semitism outside the Jewish Community Centre in the Charlottenburg district. Jews and non-Jews assembled, amongst other places, in Berlin, Cologne, Erfurt, Magdeburg and Potsdam in solidarity rallies. The President of the Central Council of Jews in Germany, Josef Schuster, warned against dismissing hatred of Jews in Germany. Many Jews, he said, were frightened of publicly professing their faith.
"Enough is enough," the President of the Central Council insisted, adding that there can be no return to business as usual. "A little bit of anti-Semitism, a little bit of racism, a little bit of hatred of Islam – isn't that not all bad enough? Yes, it is bad," said Schuster. "Which is why I call for 100 percent respect." Beforehand, Schuster had also called for a clear statement by the Muslims against anti-Semitism in their own ranks.
Berlin imam Kadir Sanci, a member of the planned teaching and prayer hall for Muslims, Christians and Jews, the "House of One", welcomed the solidarity rallies with the skull caps. "Covering one's head is also part of our Islamic tradition," Sanci said. "We, Judaism and Islam, have so much in common," he explained.
How frequently are anti-Semitic felonies committed in Germany?
Nationwide, in 2017 the police registered some 1,500 anti-Semitic felonies, including 32 acts of violence, 160 instances of damage to property, and 898 cases of hate speeches. In 2016, the total had been 1,468 felonies, with the figure slightly lower in 2015 at 1,366.
In Berlin alone, the Research and Information Office on Anti-Semitism (RIAS) recorded 947 felonies in 2017. It also documents occurrences that do not constitute a felony, such as injurious behaviour on the Internet.
What is the reason for the rise?
Anti-Semitic felonies were in the past mainly committed by German right-wing extremists. Since the influx of migrants from the Arab world in recent years, the number of attacks on Jews in Germany has risen. Federal Chancellor Angela Merkel has spoken of anti-Semitism taking on new forms. Many immigrants come from countries where for several generations there have been deeply-rooted reservations toward Jews, something strengthened by the Middle East conflict.
How is the Federal Government counteracting anti-Semitism?
In April 2018, the Federal Government appointed former diplomat Felix Klein as its Anti-Semitism Commissioner. He will coordinate measures at the federal and state levels designed to dampen anti-Semitism. Moreover, he will try to improve the monitoring and documenting of anti-Semitic felonies by the security services.
A critical inquiry into Nazism and combatting anti-Semitism are both part of the very fabric of the German state. Integration courses also seek to convey this to migrants.
How many Jews live in Germany?
According to the Central Council of Jews in Germany, the Jewish communities have about 100,000 members at present.