Where you meet celebrities
These cafés and bars in Berlin are popular not only with artists and Hollywood stars, but also leading politicians and business magnates. The five best locations.
Café Einstein Unter den Linden
Many a political deal has been prepared over breakfast in Café Einstein. Especially during the weeks of parliamentary sessions in the nearby Bundestag, deputies and ministers come and go here all the time. True connoisseurs prefer the main café at Kurfürstenstrasse 58 – especially when the Einstein in Unter den Linden gets too crowded. There you will also find Viennese coffeehouse atmosphere and Austrian culinary specialities.
Unter den Linden 42, 10117 Berlin
Borchardt
It is very rare that Federal Chancellor Angela Merkel appears in private situations with her husband Joachim Sauer in public. But they do sometimes go to the Borchardt. This institution at the Gendarmenmarkt is the VIP meeting place in Berlin: Obama was here, Jack Nicolson and Nicole Kidman too. Borchardt is like a canteen for politicians, Hollywood stars and business tycoons. The Michelin Guide recommends: Wiener Schnitzel with potato and cucumber salad.
Französische Strasse 47, 10117 Berlin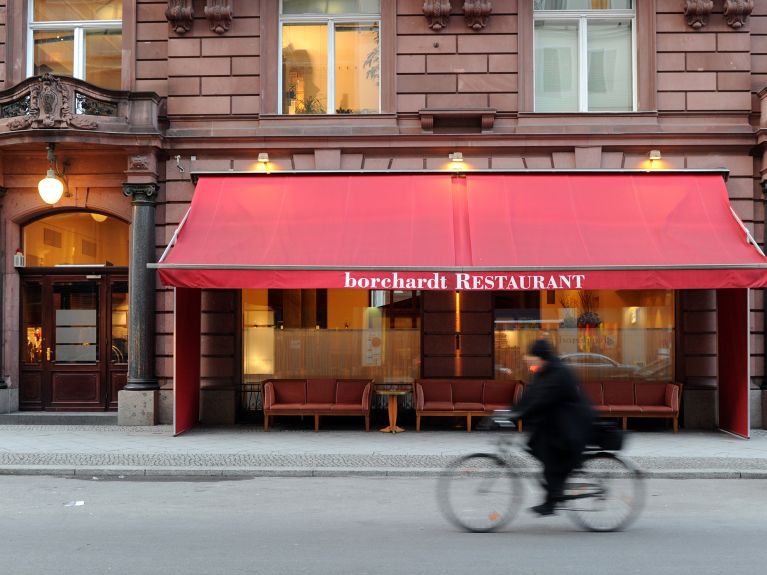 Ständige Vertretung
Ständige Vertretung is above all the first port of call for those who still commute between the former capital Bonn and Berlin. The walls of this "cult politico bar", as it describes itself, are full of pictures of celebrities and politicians. It serves (almost) exclusively Rhineland specialities – and as beer naturally Kölsch from Cologne.
Schiffbauerdamm 8, 10117 Berlin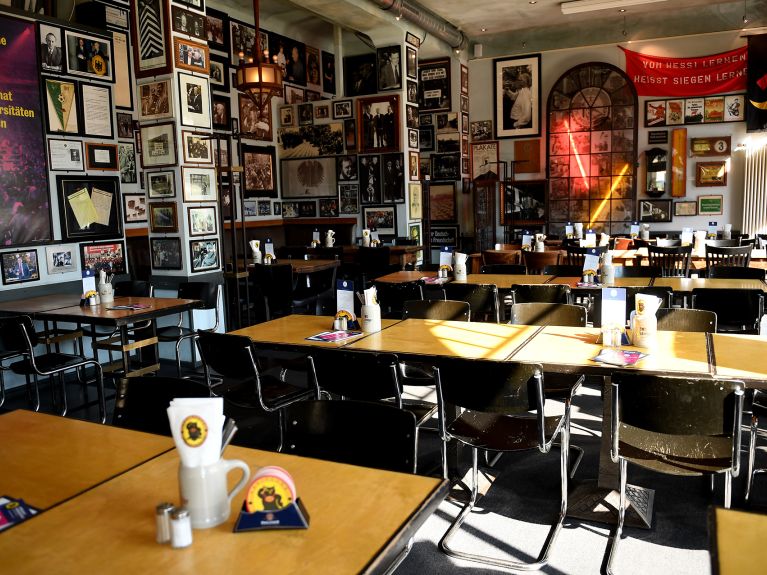 Paris Bar
In 1991, Martin Kippenberger was a young artist who painted the Paris Bar (or as we now know: had someone else paint it), presented the picture to the proprietor and thus acquired the right to eat and drink there free of charge for the rest of his life. The now world famous artist died in 1997 and the painting was sold for millions, but Berlin's oldest celebrity watering hole is still going strong. Today the art and film scene celebrates there with wine and bistro cuisine – above all, during major events like the Berlin International Film Festival.
Kantstrasse 152, 10623 Berlin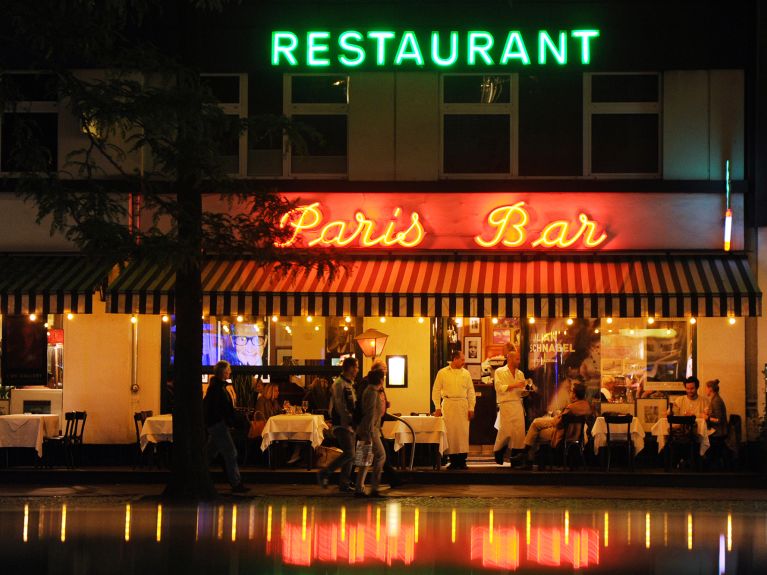 Grill Royal
The Grill Royal is a newcomer that has shot to the top of the celebrity popularity list in the last ten years. George Clooney & Co appreciate the Kobe beef, the porterhouse or Wagyu steaks and, of course, the location directly on the Spree with a view of the Cathedral. Gault Millau, the most influential restaurant guide alongside the Michelin Guide, honoured proprietors Stephan Landwehr and Boris Radczun as Restaurateurs of the Year 2018.
Friedrichstrasse 105b, 10117 Berlin