#SeeYouInGer: These are our favorites
We wanted to know what Germany means to you – and you delivered! Here are some of our favorite posts you submitted to our competition.
Christina Iglhaut / 02.07.2019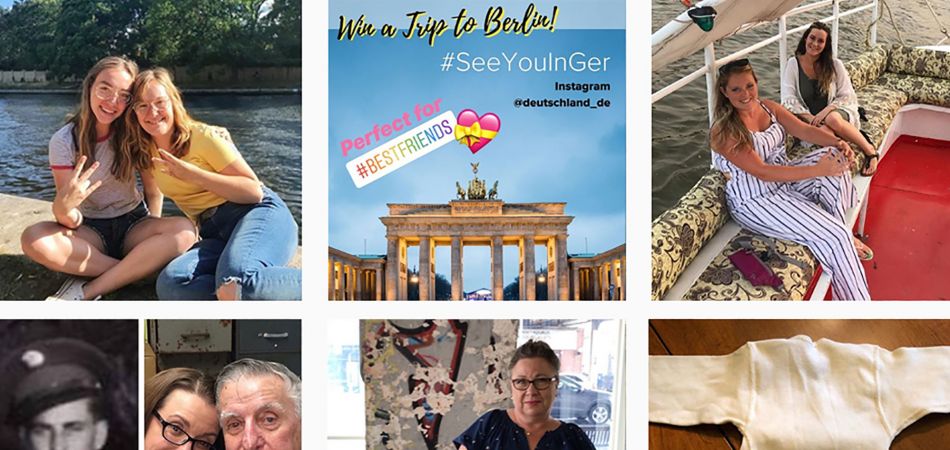 Within our #SeeYouInGer-Competition, we received emotional stories about your families, fun pictures of you and your German friends and amazing anecdotes from your travels. You showed us a new side of Germany, and above all what an amazing community we have. Here are some of our favorite posts. The winner of our competition wins an awesome trip to Berlin with a friend. Our jury will decide in the coming week who the lucky winner will be. Follow us on Instagram to find out who takes the prize.
Meena Noel (@meena.noel) from California made lifelong friends during her student exchange in Germany:
"Germany means a whole lot to me. Not only is half of my family directly from Germany, but two of the closest friends I've ever made are in Germany. Karla is my exchange partner and easily one of the best people I've ever met. I would give so much to have more time with them. Vermisse dich! Hab euch lieb"
Lee Ann (@murphykatt) from North Carolina heard a lot of stories about Germany from her dad. Now, she wants to experience the country herself:
"As a young GI, my dad was stationed in Germany during the Korean War. He always had a tale to spin about the friendliness of the people, the beauty of the country, the deliciousness of the food, and the amazing German beers that always made me want to visit. Now that he's gone I miss him and want to feel connected to him through the things and places he experienced during his lifetime. A bucket-list trip in memory of my dad!!!"
Melody Stowe (@dancergirlmelody) told us about the magical time she had while living in Germany:
"What does Germany mean to me? Germany is adventure and excitement and newness, but it also represents growth and development and rebirth. When I moved to Berlin in 2016, I had no idea what I was getting into. Two years later, it was time for me to go home and I left a different person. When things were hard, it pushed me to grow in my confidence and in my beliefs. When things were good, it felt almost magical. I miss so many things about Berlin, but mostly I miss my friends and the person I became there. I'm still the same person here in the States, but a tiny piece of me will always live in Berlin, just waiting for me to come back and be my full "Berlin self" again, even if only for a few days. #seeyouinger"
Bill Mullaney (@billmjr1) is the son of a US soldier. He showed us his German newborn robe and talked about his roots:
"I was born in Germany while my dad was stationed there. We left when I was 9 months old. My dad always said he would take me back to see where I was born and to show me the country he loved. He passed away in February. I would love to visit Germany to see not only where I was born but to see some of the places he told me about."
Natalie Littell Simmons and Pajaro Kankucho (@kankuchito) created a video from the Berlin Wall Memorial in Chicago:
"With Natalie being a German teacher herself, and me being an avid student since the time of the Wiedervereinigung in 1989, it would be a nice way to celebrate how #WunderbarTogether we both feel. Tschüssikowski!"
Dacia Zimmer (@zimmer_traveler) and her sister Brachelle (@zimmer_bk) from Pennsylvania want to learn more about their German roots:
"Postive vibes are needed for me and my BFF/sister! We would love to win a trip to Berlin to learn about our  roots. We also hear the men are quite handsome!"
Cheryl Burchett (@cherylburchett) is an art teacher from Tennessee and shared a video about her German relatives:
"When I think of Germany I think of distant relatives and new friends and I want to spend time learning more about both! I'm hoping @pjburchett and I get the chance to #SeeYouinGER."
If you want to see all the submitted posts – check out #SeeYouInGer.