Wunderbar together
The Year of German-American Friendship aims to encourage exchange and encounter – especially at a time of political differences.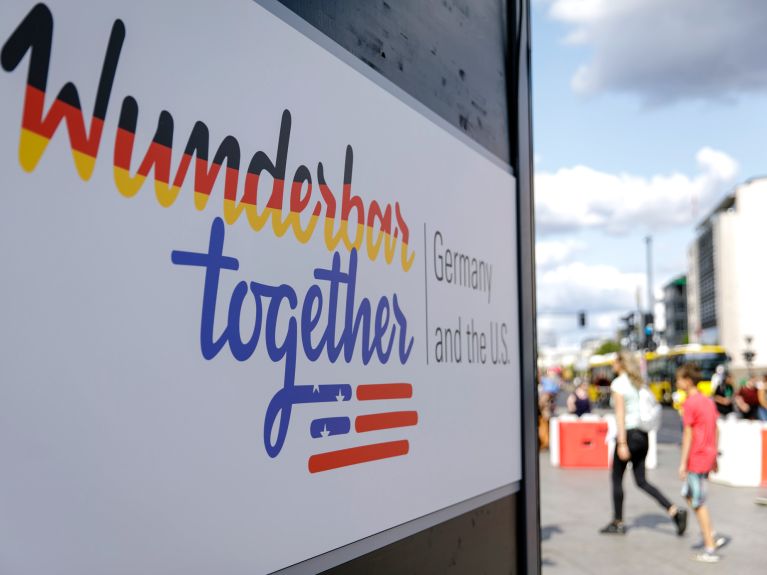 "Wunderbar together" is the motto of the Year of German-American Friendship. From October 2018 until the end of 2019, over 1,000 events between the East and West coasts of the USA will show that the two countries are close and share many values and experiences. This certainly does not mean that the current tensions in transatlantic relations are being swept under the carpet, as the motto might suggest. However, differences at the political level have less influence on civil society than many think, says Germany's ambassador to the USA, Emily Haber: "As current studies show, Germany continues to be perceived favourably in the United States, in fact to a growing extent – as an economic engine, a technology hub, and as a modern, tolerant, open-minded country."
Find out more about the Year of German-American Friendship on the Wunderbar together website.
The two civil societies should engage in discussion and continue their long tradition of dialogue, especially in the face of current political differences. And this should not only take place in the big cities, but also in the so-called heartland, the rural regions in the centre of the United States. That is the core idea behind the large-scale initiative that the Federal Foreign Office is organising in conjunction with the Goethe-Institut and the Federation of German Industries (BDI).
Meet a German in 50 states
The Goethe-Institut, which is responsible for programme planning, has put together an impressive series of events with 300 project partners. They include, for example, four pop-up institutes that the Goethe-Institut will open in vacant buildings and stores in the cities of Minneapolis, Houston, Kansas City and Seattle. "We want to improvise," explains Christoph Mücher, who is coordinating Year of German-American Friendship on behalf of the Goethe-Institut. "We're fascinated by the question of what we can achieve in these cities with nothing other than an upbeat mindset, a little money and a lot of enthusiasm." To be as present in as many places as possible, a so-called WanderbUS will tour about 60 cities throughout the country and the Fulbright Commission's Meet-a-German programme will take young German "ambassadors" to schools in all 50 states of the Union.
The BDI is participating with a pop-up tour called Straight to Heart(land), which will give German businesses an opportunity to present themselves. It will also make clear how close the economic ties between the United States and Germany are. Insights into the digital future are being provided by the re:publica conference, which is taking part in the initiative with a digital road show in Los Angeles, Austin, New York, Portland and Detroit.