What do Germans laugh about?
Can Germans be humorous? Seriously? A quick look at the evidence.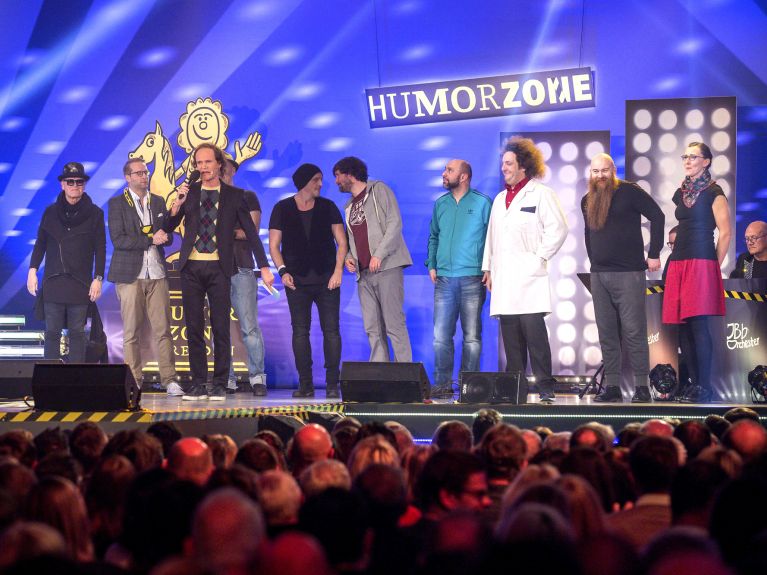 Germany. "The shortest book in the world? The book of German jokes!" A young woman told this corny joke in a street survey. It was about German humour which a lot of people reckon is an unconfirmed rumour. Mark Twain supposedly once said: "A German joke is no laughing matter." And ever since then, criticism of German humour has never ceased. In 2016, for instance, the British magazine The Economist received much approval for a lengthy article that played on Twain's one-time observation: "Being German is no laughing matter".
One of the key messages in Mark Twain's article is that Germans do not understand irony. That is not true of course. For instance, a German Institute for Humour  was founded in 2005, and it assures us that we definitely know how to use irony. No, seriously, we really are able to laugh at a lot of things.
Jokes
There is a huge wealth of jokes. The German love of order has ensured that jokes have been neatly categorized for decades. Drivers of the Manta car, which is now no longer produced, were the object of many a joke, as were the people of East Friesland. And some really classic jokes target German civil servants who supposedly belong to a very lethargic professional body. How about an example? Civil service Mikado: anyone who moves has lost.
Comedy
Corny jokes are on the way out in Germany. Comedy is in. Comedians, such as Mario Barth with his Berlin dialect, or German-Turkish Bülent Ceylan from Mannheim, fill whole arenas. And there are some very funny women too: Carolin Kebekus, who likes to provoke with cheeky, incredibly dry humour; Monika Gruber from Bavaria with her cuttingly smart commentaries and Tina Hill, who is an excellent slapstick artist and enjoys parodying Angela Merkel. And there are many more. Many successful comedians in Germany come from families who came from overseas. For instance, Abdelkarim, who rose to fame with his TV programme StandUpMigranten and likes to introduce himself as "your favourite Moroccan", or the RebellComedy team whose members have roots in Iran, Egypt and Switzerland.
Satire
The German satirist Kurt Tucholsky (1890–1935) is regularly quoted with his famous saying: Satire is allowed to do anything. Television shows such as "extra 3" or the "heute-show" are successful news-format productions that lampoon German and international politics. No statesman is spared from this sarcasm. The background is often serious and spotlights explosive topics in German society. In his show Neo Magazin Royale, the satirist Jan Böhmermann likes to push the boundaries of artistic freedom and bad taste. His success even earned him a guest appearance in the show by his American colleague Seth Meyers. One of Böhmermann's best quips: "In Germany we're allowed to say anything at all – as long as we don't use irony or humour."