Weddings in Germany
Celebrating weddings is still very popular in Germany. We present an overview of traditional customs and some surprising facts.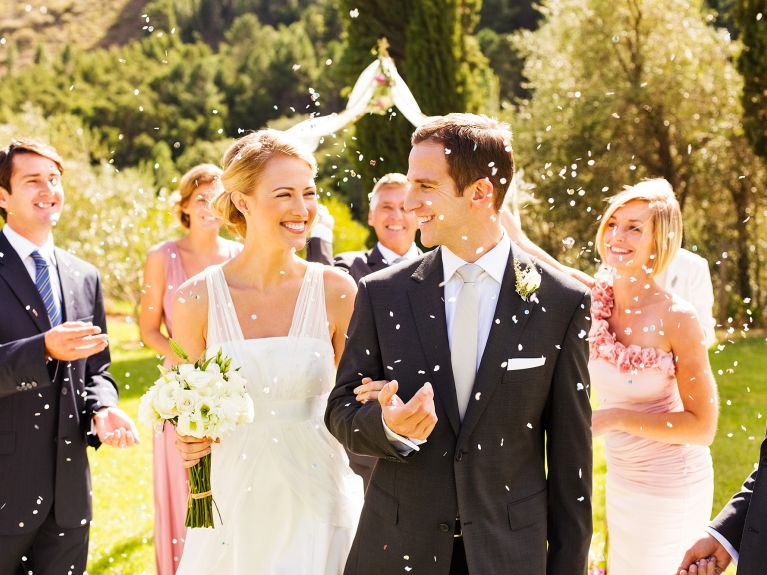 Is there such a thing as a typical German wedding? Many charming rituals continue to exist, even if most couples arrange their wedding day as a very special and individual event: some dream of a very traditional wedding with a romantic carriage ride, rose petals along the route and a magnificent reception. Others prefer more flamboyant festivities and plan a parachute jump or an underwater wedding – almost everything is possible.
How many couples marry in Germany?
Some 407,000 couples tied the knot in Germany in 2017. They were roughly five years older than wedding couples 25 years ago: on average, women now marry at 31.5 years of age, men at 34.
How many couples marry in church?
In Germany, a marriage is only legally valid after a civil wedding ceremony. In addition, couples can also walk down the aisle as part of a church ceremony. In 2016, only 88,000 couples married with God's blessing, roughly one in five of all wedding couples.
Which is the most popular month for weddings?
A champagne reception in the open and a wedding table on the lawn are naturally best in the warm sunny months. That is why most people marry between May and September. Many couples choose wedding days with special dates – for example, 8/8/2018 or 9/9/2019.
 
What do the bride and groom wear to the wedding?
Bridal fashion is timeless and usually classically white. However, more and more brides want to marry in colour – even combinations of black and bright red are allowed. The groom wears his wedding suit, usually in muted colours, but he chooses accessories to match the bride.
What kind of wedding presents do bridal couples receive?
Since many couples in Germany already live together before they marry, today gifts of money are more likely to be on a couple's wish list than china or bed linen. Newly weds often use these cash gifts as contributions towards the cost of the wedding celebrations or the honeymoon.
Which rituals belong to a German wedding?
Traditionally, the father walks the bride down the aisle to the altar. Popular customs during the festivities include the happy couple opening up the dance floor by taking the first dance, cutting the wedding cake at midnight and the bride throwing the wedding bouquet. It is said that the person who catches the bouquet will be the next to marry. At the end of the wedding day the groom carries his bride over the threshold – and will hopefully support her for the rest of their lives.