Mini-apartment for 100 euros a month
Good ideas from Germany: Berlin-based architect Van Bo Le-Mentzel has developed an innovative concept for low-cost urban housing.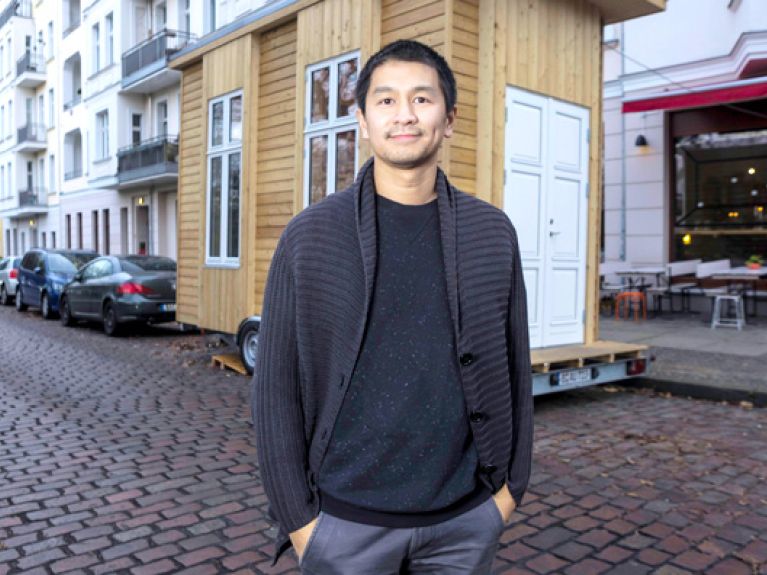 A bed, table, armchair, toilet and cooking area is all you need to make a 1-room apartment on six-and-a-half square metres and two levels. Everything is functionally planned and ingeniously designed. The highlight: the rent for this apartment should not cost more than 100 euros a month, including heating and Internet connection. There has been nothing like this in Germany before. On the contrary, rents in major cities keep rising and cost many times that amount. With this concept, architect Van Bo Le-Mentzel from Berlin aims to send a very clear message and demonstrate that affordable housing is feasible in big cities. "We don't lack living space, but imagination," he says. The innovative idea was developed at the Tinyhouse University in Berlin, which was founded by Le-Mentzel in cooperation with the Bauhaus-Archiv / Museum für Gestaltung. Among other things, the project supports ecological building and social neighbourhood.
Model apartment in Berlin-Kreuzberg
You can take a look round an example of the mini-apartment at Carl-Herz Ufer 9 in Berlin-Kreuzberg until 17 March. It is not empty: the architect invited Amelie, a homeless woman, to test it. "Why should it be left empty?" asks Le-Mentzel. The only thing is that the small model apartment is on wheels and therefore looks a little like a mobile home. If the idea were realised, it would involve a solid building with several apartments of different sizes. The mini-apartment has been designed as a module that can be expanded sideways and upwards to a height of five floors. "We have designed 'Harry Potter walls' that you can simply take out, thereby making the apartment bigger," says the architect. Of course, a larger area would then also mean a slightly higher rent, but it would still be very moderate by comparison.
High quality in a very small space
Combining several modules would give rise to a "cobeing" house with areas of shared use, although each tenant would have their own bathroom and kitchen. Why hasn't anyone else had the idea of building in this way? "We infringe a number of standards and regulations," admits Le-Mentzel. "But if we are serious about creating affordable housing, we have to start simply and not consider all the rules," believes the architect. That's why, for example, the ceiling height is 3.60 metres, the same as in Berlin's popular old buildings dating from the end of the 19th century. That is higher that today's "standard" – the ceilings in new buildings are normally about 2.50 metres – "because we want high quality in a very small space".
From idea to reality?
"We really want to put this idea into practice," says Le-Mentzel. And perhaps the design has a chance of achieving that. A church housing association has already shown interest and is looking at sites, says the architect. "We have done all the calculations, and an investor would achieve a profit of up to 7%." Le-Mentzel does not intend to build castles in the air.
Van Bo Le-Mentzel was born in 1977 and came to Berlin from Laos with his parents as a child. He grew up and studied in the German capital and has often attracted attention with good ideas for affordable housing. For example, he has come up with construction plans for furniture that anyone can build easily and cheaply.