Leipzig is different
City of music, commerce, education: Leipzig is celebrating 1,000 years of history in 2015.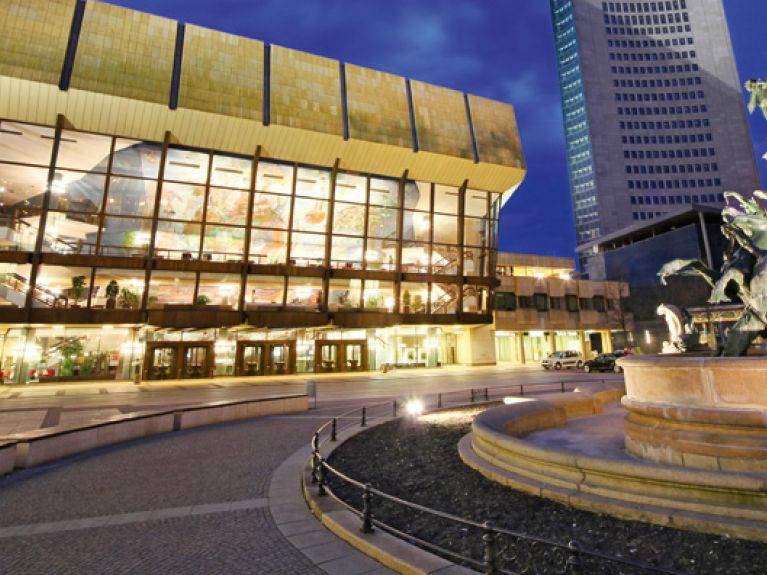 Leipzig is different. Different from Berlin and Dresden, for instance, with which it forms 
a triangle on the map and has exciting links. It is a university city and a city of commerce, the largest city in the state of Saxony. Its people are proud that its population of 550,000 is slightly larger than that of the state capital, Dresden. Leipzig is growing by about 10,000 inhabitants per year, and the city authorities have long since begun anticipating its 
population passing the 600,000 mark.
Leipzig is old. In 2015 it is celebrating 
the 1,000th anniversary of its first mention in historical records. Leipzig is young, as can be seen in the city centre, where many young people are out and about, walking or cycling. The reason is the university with its institutes dotted around the city centre, often concealed behind late nineteenth century facades. The university refectory lies on the central square, Augustusplatz.
Ancient trade routes intersect in Leipzig which has always been a centre of commerce. The old trade fair courtyards 
and arcades in the city centre illustrate this. The trade fair has long since moved to modern premises on the edge of 
town, continuing a tradition and securing a place once again among Germany's major trade fair venues. The exhibition halls lie close to new production plants. BMW and Porsche have built factories and attracted suppliers. Leipzig is also a 
motor city.
But there is much more to Leipzig. Its many ingredients go hand-in-hand with a special spirit. The people of Leipzig have no doubt at all that the peaceful revolution leading to German unification could only have started here. Citizens regard 9 October 1989 as a particularly important day 
to commemorate: it was the day 70,000 demonstrators moved along Leipziger Ring and heralded a new era. The political scene in Leipzig is livelier than in other parts of Saxony. Autonomous left-wing groups take to the streets with their demands several times a year. Right-wingers also chant their slogans. But at the beginning of 2015, Leipzig took a very determined stance. When protesters expressed their opposition to the "Islamisation of the West", the counter-demonstrators always outnumbered them.
Yet politics are not the first thing to enter people's minds when they think of Leipzig. Leipzig is a place to live and work. And 
life includes music. This is the birthplace of Richard Wagner and Hanns Eisler. 
Johann Sebastian Bach worked in Leipzig for many years, as did Felix Mendelssohn Bartholdy, Edvard Grieg, Gustav Mahler, Clara and Robert Schumann. They have all left their traces. Johann Sebastian Bach led the St Thomas Boys Choir for 27 years. The choir has an 800-year tradition and 
is one of the oldest and best in the world. Its choir boys perform every Saturday at St Thomas Church. In addition to this, the Leipzig Gewandhaus Orchestra plays in the same league as the Berlin Philharmonic or the Staatskapelle Dresden.
Such sophisticated culture is not all the city has to offer. Leipzig's music scene is highly diversified with classical and new music, rock, pop, jazz and more. The city has at least 13 musical ensembles. Then there are festivals, like the annual Wave Gothic Festival at Whitsuntide with more than 20,000 visitors. Leipzig also has a remarkable number of free theatres. Strangers sometimes have to ask in order to find them. The Schaubühne, for instance, resides in an old ballroom, where it combines a variety of things: theatre, modern dance, cinema and a bar. There is always something happening. Alongside artists and artisans, the famous contemporary German artist Neo Rauch has his studio at the Baumwollspinnerei, the old cotton-spinning mill. Visitors are welcome to the studios at this industrial heritage site.
Leipzig is changing. Whole districts, like Plagwitz, which were once almost derelict, are being transformed. The so-called Wächterhäuser are playing an important role. An association is developing plans to save the old buildings, especially on the approach roads. The blocks, which often resemble ruins, are being preserved for homes and businesses. The buildings are changing and so are the neighbourhoods, as new cafés, shops and affordable housing are created.
Leipzig is a shopping centre for many 
people from the surrounding area. The suburban trains stop immediately beneath the city centre, an area of just 800 x 800 metres. Small shops and boutiques have established themselves in the restored trade fair buildings. If you feel like taking a break from shopping, you can relax in the extensive Clara Zetkin Park or go boating on the lake at Cospudener See. It is part of the New Lakeland to the south of Leipzig, where a recreational district is emerging on the site of the former opencast lignite mine.
It takes just an hour by train from Berlin to Leipzig, and a little longer from Dresden. But Leipzig is not only good for a day trip. It is well worth staying longer, simply because Leipzig is different. ▪