Who am I?
Out of Place is a German-Israeli project that brings together filmmakers from the two countries and asks questions about identity and integration.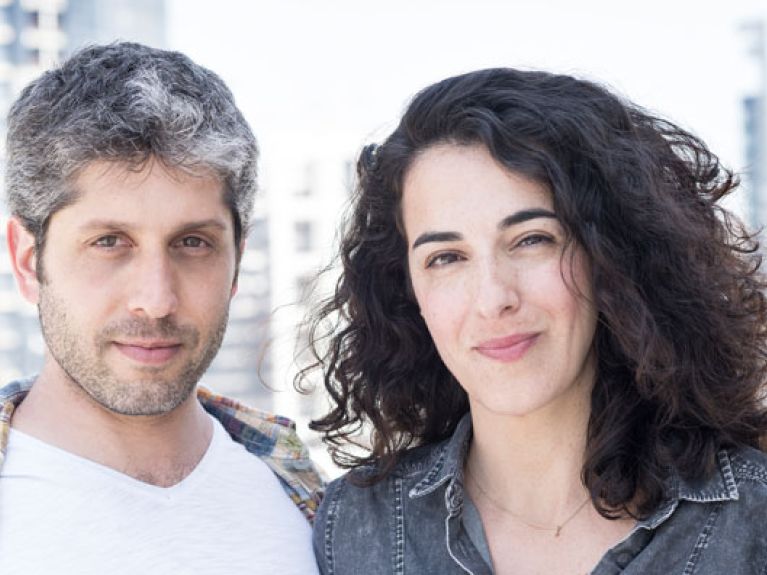 Everyone has felt out of place at some time or another. But what do you do when this feeling doesn't end? What do people do when they think there isn't any room for them because they are outsiders, have fled their homes or are excluded because of their gender, religion or their status? Twenty young filmmakers in Germany and Israel are examining this profoundly human feeling for a project called Out of Place (list of sponsors at the end of the text). Although there is diversity and freedom of opinion in both countries, forms of exclusion are also part of everyday life. Migratory movements, ethnic and religious conflicts and gender inequalities are part of daily reality: people everywhere can feel "out of place".
Working in teams and supported by mentors from the industry, the filmmakers have examined what identity means in their countries and where integration can succeed. After development phases in Berlin and Tel Aviv, seminars in Israel and filming in both countries, ten short documentaries have been created that are being compiled into a film record: a mosaic of images and voices from both countries that will be presented at German and Israeli film festivals – among others, at the Docaviv 2017 festival in May.
Participants in the Out of Place project talk about their projects and German-Israeli cooperation: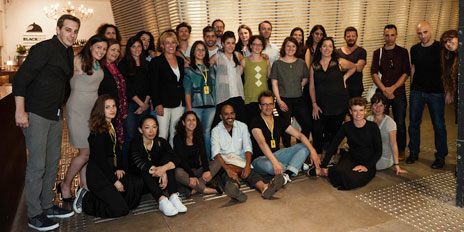 Ittai Meyer and Carmit Shlomi on Hamza (photo above)
"Working in the Out of Place project also offered us an opportunity to examine our own beliefs and prejudices. We are not only partners in filmmaking. We got to know each other as students at the Bezalel Academy of Arts and Design in Jerusalem and have worked together a lot since then. We met Hamza for the first time during a visit to a school for the deaf. It was our first personal encounter with the world of deaf people. Hamza is a filmmaker himself; we share a passion. He develops comic videos that have made a name for him in the deaf community. So we began to experiment with a single-lens reflex camera in the classroom. Interviews and comic contributions emerged while our friendship grew. Initially, communication was not easy, but when Hamza realised what we were planning, he did not only become a very natural actor, but also made a creative contribution to the project. In other words, we were able to rely on Hamza's performance in front of the camera. That gave us an unusually large amount of freedom for a documentary film. His dramatic interpretation of his own subjective experience steered our production. At the same time, the characters, the places and the events were all authentic and real. Although experiencing exclusion is painful, it forces those involved to come closer to their true selves and to pursue their own rules. Sometimes, as in Hamza's case, this gives rise to something unique."
More information about Hamza
Elke Margarete Lehrenkrauss on Moonlight Princess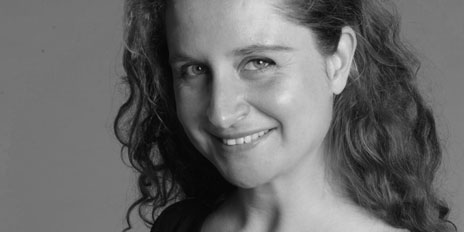 "Moonlight Princess is about a young woman with albinism who dreams of becoming an actress. We accompany her through her daily routine and experience the difficulties that she has to face. We shot the film in black-and-white infrared to give an impression of her everyday reality with only 8% vision and an extreme sensitivity to light. As a result, light attains a special quality, just as it does in the life of the protagonist: areas in the sunlight become extremely bright, almost dazzling. Moonlight Princess is experimental and not an educational film. It attempts to emotionally interest the onlooker in the protagonist's reality through its audiovisual realisation. Against all expectations, Nadine eventually succeeds in gaining a place at drama school, thereby coming one step closer to her dream. In my works I have focused a lot on the search for identity by people in unusual life circumstances and those who live on the "margins" of society – either voluntarily or involuntarily. They have to develop a kind of strength that I find fascinating. I often profile women here. Production work for Out of Place began last May in Israel, where my cameraman Christoph Rohrscheidt and I met with the other participants and planned our projects. We were given complete freedom. Our mentors, the directors Uli Gaulke and Bettina Blumner, supported us in developing our project. I hope that the film will not only be shown at festivals, but also on platforms in the social domain. It is meant to provide access to the subject of albinism."
More information about Moonlight Princess
Jamal Khalaile on Ebrahem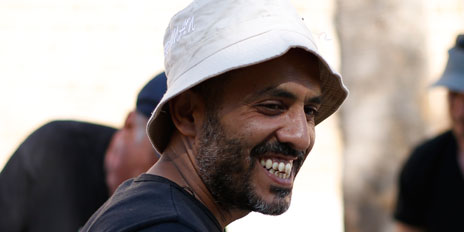 "Identity is something you are born into. But you can influence it. I grew up in an environment of cultural differences, with a communist father and a very devout Muslim mother, in Akko, a town full of Christians, Muslims and Jews. I attended a Jewish kindergarten and a Christian convent school and have spent a lot of time in Europe. That would be enough for many different identities. Who am I then? Muslim, Arab, Palestinian, Israeli, European? I wanted to tell the story of an outsider with whom I could identify. My acquaintance with Ibrahim, a former successful bodybuilder who is now muezzin of the town, gave me an idea. He has lived a strictly religious life since an accident twelve years ago. He calls to prayer in Akko four or five times a day. His voice is more musical, more soulful than that of the other muezzin. At the same time he continues to train; he wants to take part in competitions again. This contradiction between his work, his religious faith and the urge for physical perfection was what I wanted to show. Recording Ibrahim's motivation was the greatest challenge. He had to open up for that. I didn't know whether he would achieve his goal or whether his religion would prevent him from doing that."
More information about Ebrahem
Tamar Kay on The Dreamer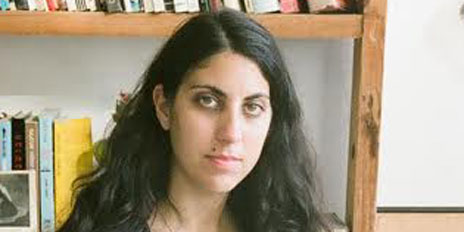 "The Dreamer is a journey through the dreams of different Arab and Jewish children: a mosaic of the region. My colleague Orit Fouks and I allowed ourselves to be inspired by The Yellow Wind, the novel by the Israeli author David Grossmann, and asked ourselves the question: 'How does a child from Palestine today dream about the inhabitants of Israel – and vice versa?' The idea was to make a film that would be based on reality, but have a poetic note. While we dream, we are 'out of place' in a special way. We are open to truths about our identity. We questioned children for a month. We visited them, got to know their families and found out more about the Arab world of experience. Sometimes the process of filming is almost even more fascinating than the result. The dreams of the children in Jerusalem were influenced by the acts of violence that were taking place in the city at that time. The children in Tel Aviv had very different dreams. One girl, one of the youngest, told us an especially interesting dream: she was on the way from an unnamed clan of people to another. Half way there stood a large gateway. Nobody had the courage to go through, and nobody knew what was on the other side. But she decided to risk it and discover the unknown. Dreams are always related to our experiences. But they also contain absurd, unreal elements. We tried to combine both these aspects using cinematic means."
Tamar Kay's film The Mute's House was shortlisted for the Short Subject Documentary Oscar in 2017
More information about The Dreamer
Tama Tobias Macht on Blending In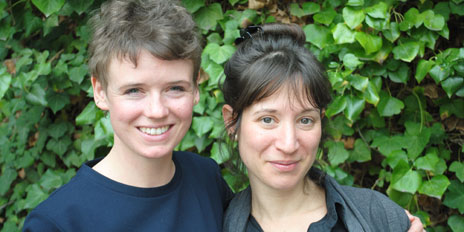 "When I came to Germany from Jerusalem at the age of 19, I learned what it means to be 'out of place'. The new country, the language, German customs and behaviours filled me with a deep longing for home, for family and the familiar, the places I remembered. I have lived in Germany for over a decade now. I am a film director and have worked with the German documentary film director Johanna Sunder-Plassmann for a long time. It was therefore an obvious decision to develop a joint contribution for the project. We decided to focus on the homeless in Cologne. The story revolves around Ionel, a Romanian who earns more money collecting bottles, selling newspapers and begging than he would earn in a permanent job in his native country. His dream is to one day bring his family to live here with him. There is deep irony in the fact that people live in a public place and are nevertheless outside society."
Johanna Sunder-Plassmann on Blending In
"Before our joint project I had considered 'collecting' as the subject for a film and had wondered about the information and emotions that objects can contain. Together with Tama, I then spent almost two years doing research among the homeless. The personal objects of people without a place to live genuinely represent what it means to be excluded. During this time we noticed that there are also homeless at the airport. They are less visible than in towns and have to behave inconspicuously to be left in peace. They often only get a few hours of sleep per night. Our protagonist Ionel lives at Cologne Airport. There is something incredibly gentle about him. We wanted to show this side of him. It contradicts the established notions we have of the homeless. Blending In uses an element of alienation. We embedded still images in the film that constantly appear. They represent the contrast between the inner stasis of the protagonist and the airport as a place of transit. Everyone has a destination, a direction, and knows where he or she wants to go. Ionel does not have this prospect."
The Out of Place project is sponsored by the European Union, the Gesher Multicultural Film Fund in Jerusalem, Medienboard Berlin-Brandenburg, the Foundation Remembrance, Responsibility and Future and the German-Israeli Future Forum. The German partner and production company for the German films is One Two Films GmbH in Berlin. The films made in Israel were produced by Green Productions, the company that coordinates the whole project on behalf of the Gesher Fund. The Israeli platform ANU – Making Change is responsible for social media presentation.