Winter sports in Germany's low mountain ranges
Away from the well known pistes in the Bavarian Alps and the Black Forest, Germany's low mountain ranges also offer wonderful winter landscapes.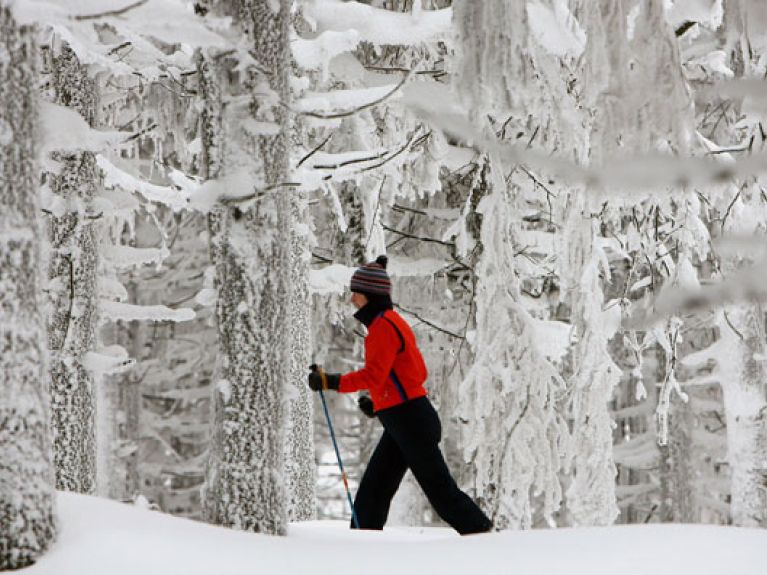 Sauerland
Situated in West Germany, this region offers the best snow conditions north of the Alps. The Wintersport Arena Sauerland with some 300 kilometres of cross-country skiing trails is considered an El Dorado for cross-country skiers. One highlight is the 54-kilometre-long Rothaarloipe. When it comes to downhill skiing, the Winterberg skilift carousel and the Willingen skiing area have a great deal to offer. The trademark of the winter sports area is the Mühlenkopfschanze, the ski jumping hill where International Ski Federation World Cup events have been held since 1995.
Harz
Winter sports have a long tradition in Schierke, a small community at the southern foot of the Brocken in North Germany. As early as 1777, the poet Johann Wolfgang von Goethe enthused about the "boundless snow" he was amazed to find here. Today cross-country skiers find ideal conditions in the Hochharz nature reserve. Sledging tracks and winter hiking trails also attract visitors to the wild and romantic natural setting of the Harz.
Thuringian Forest
In summer, the Rennsteig, the historical border path in the Thuringian Forest, is a hiker's paradise. In winter, the path is transformed into a cross-country skiing trail along a length of 168 kilometres. The region also offers downhill skiing and a fun park for snowboarders and snowtubing. The Wintersportzentrum Oberhof is part of the Olympic sports centre in Thuringia, where top athletes train in winter sports disciplines, including biathlon, bob, luge and skeleton.
Bavarian Forest
If you want to build an igloo, undertake a husky trip or try a biathlon, the Bavarian Forest in southeastern Germany offers winter adventures away from the normal downhill pistes. But you will find plenty of those too around the 1,456-metre Grosser Arber, the highest peak in the Bavarian-Bohemian mountain range.