Herbert Grönemeyer – the indestructible
The German music scene cannot be imagined without him: Herbert Grönemeyer. Popular singer, record holder and political thinker.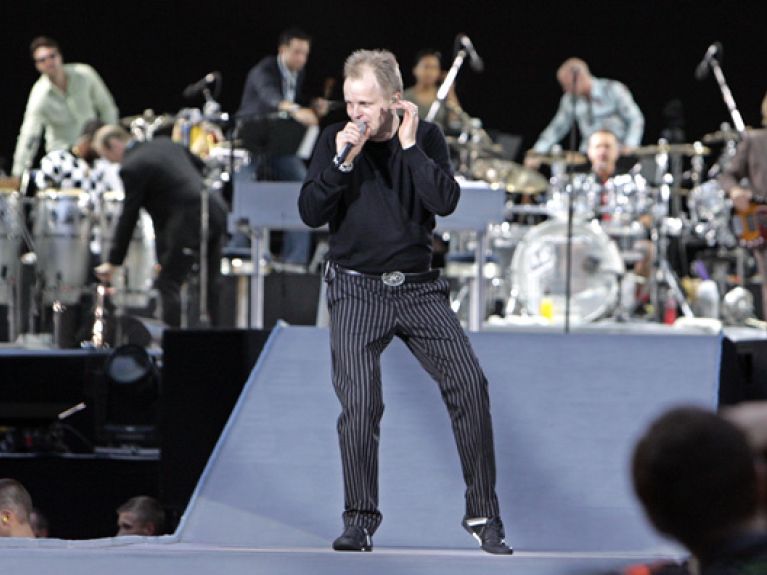 Whatever flows from his song-writing pen has the stuff to move the masses: Herbert Grönemeyer wrote the hymn to a city (Bochum), the hymn for half the population (Manner [i.e. Men]), the hymn to a food (Currywurst) and the hymn for the whole country (Zeit, dass sich was dreht [Time to get things moving]). What the popular moderator Günther Jauch is for German television, Grönemeyer seems to be for the German music scene: even those don't know what do with his music do not really have anything against him. He is the most popular contemporary musician in Germany. Since 1984, all his German-language albums have placed first on the German music charts.
Grönemeyer takes a stand for open-mindedness
His hitherto most successful album Mensch (i.e. Man) (2002) sold 3.7 million copies and is the best selling album in German music history. With a total of over 13 million records sold in Germany, Grönemeyer is one of the most commercially successful musicians in the German-speaking world. His concerts have so far been visited by more than three million fans. There were 100,000 listeners in 1991 at Berlin-Ahrensfelde alone – the biggest concert ever performed by a German rock musician.
Grönemeyer, who lives in London and Berlin, has also long been socially and politically committed. At the mass rally "Open and Diverse – Dresden for Everyone", held before the Frauenkirche in January 2015, he was one of the artists who took a clear stand for tolerance, humanity and open-mindedness.
Grönemeyer's newest album Dauernd Jetzt (i.e., Continually Now) has already won platinum and earned him a nomination at the German Music Award Echo. In May 2015, after his performance in Berlin, he goes on tour and will play it again – his music for the masses, which, however, appeals to each individual.
Presentation of the Echo Award, 26 March 2015 in Berlin
©www.deutschland.de