What people share in Germany
Car, bike, apartment – sharing instead of owning is in. Here are the most popular sharing models.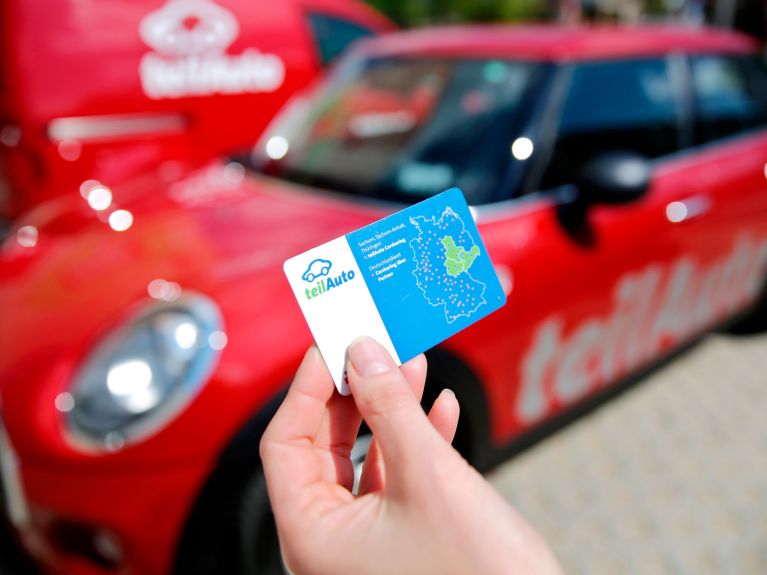 Germany. Cycling on a rented bike to the next car sharing station where you book a car for three hours to do some serious shopping. Getting rid of that much-too-tight dress via a clothes swapping platform. Borrowing a drill via a neighbourhood network. Why should we buy things that we rarely use? Many young people in Germany are thinking like this. The sharing mentality is most pronounced amongst 14 to 39 year-olds.
The technical possibilities offered by the Internet have led to a boom in the Sharing Economy. Services and items are easily available with a few clicks on your smartphone. Every second person in Germany has already made use of such offers at some time or other. This was shown in a study by Harald Heinrichs, Professor of Sustainability at the Leuphana University in Lüneburg.
In a consumer advice centre survey carried out in May 2015, Germans said which sharing opportunities interested them. But the number of regular users is actually much smaller.
Carpooling (72 %)
Tool lending (70 %)
Car sharing (66 %)
Cycle hire (62 %)
Apartment sharing (40 %)
Clothes swapping (26 %)
The majority of offers are carried out by enterprises. That is why some critics say that the Sharing Economy is not sharing in the classic sense, but a new business model. Car sharing is a good example: only very few people would lend their own car to strangers, but as a professional service it works very well.
Three reasons for car sharing
Germany is among the car sharing pioneers. One of the world's first enterprises was founded in Berlin in 1990: the Stattauto company. Car sharing is gaining an increasing number of supporters mainly in big cities. Gunnar Nehrke, spokesman for the Federal Car Sharing Association gives three reasons:
Comfort: in contrast to owning their own vehicle, users do not need to worry about regular tests, tyre changes and repairs. In cities looking for parking spaces is time consuming and annoying, whereas the car share vehicles usually have fixed parking spaces.
Saving money: car sharing is more economical for people who drive less than 10,000 kilometres each year.
Environmental protection: in inner cities one car sharing vehicle replaces up to 20 private cars.
Data for car sharing in Germany (as of 1.1.2017)
1.7 million users
597 towns and cities
17,200 vehicles
The typical users are 35 to 50 years old and academics. They have often tried out this mobility model as students because many universities cooperate with car sharing companies. Nehrke says a change in consciousness is taking place: "For young people, having their own car is no longer a status symbol. Many think that a smartphone is more important."