"Words are not enough"
46 heads of state, a clear signal: At the 5th World Holocaust Forum politicians from around the world launch an urgent call to fight anti-Semitism.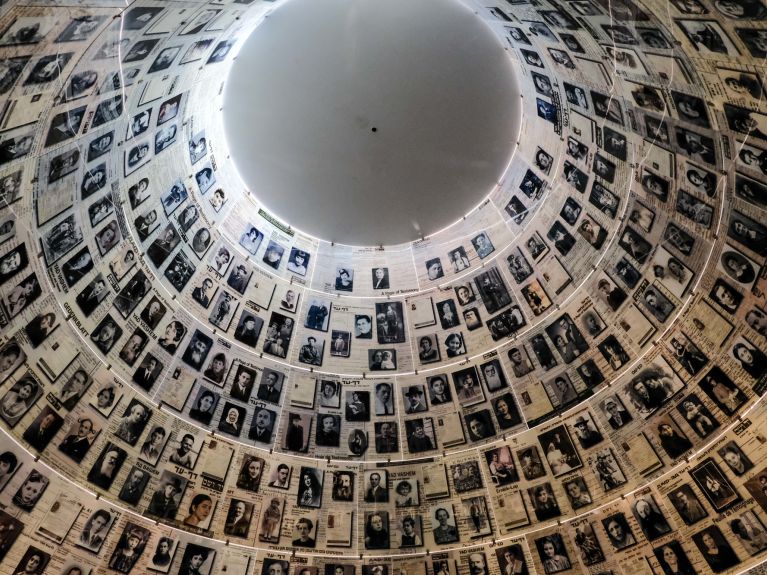 Seventy-five years. It sounds like a long time, a whole lifetime. But it is not. Not when you try to erase from people's minds the anti-Semitism that has persisted there for centuries. The numbers confirm what many Jews sense: Since 2018 the number of anti-Semitic incidents has been on the rise worldwide. Which explains why on 23 January, 2020 Israel's President Reuven Rivlin is setting an example with the 5th World Holocaust Forum. It is being attended by 46 heads of state from around the world who are traveling to the Shoah Remembrance Centre Yad Vashem in Jerusalem.
Shortly before the 75th anniversary marking the liberation of the Auschwitz death camp on 27 January the heads of state of France, Great Britain, Russia and the United States are coming together to talk about "Remembering the Holocaust and fighting anti-Semitism." German Foreign Minister Frank-Walter Steinmeier will also speak at the Forum. Simmy Allen, Head of the International Media section at Yad Vashem, who spent the last 18 months preparing this gathering, summarizes the goal as follows: "We want to sensitize people to the Holocaust and its consequences. And we hope that through the Forum, whose great significance is underscored by the various heads of state who are attending it, we can raise awareness worldwide."
"Stand up and act"
The President of the Forum, Moshe Kantor, emphasizes that humanity as a whole should embrace the idea of "remembering and never forgetting": "Jewish life in Europe is once more under attack. It is being threatened by everyday insults and attacks on the street, in schools, universities, on the Web and even in people's own homes." This is a decisive moment when the heads of nations "must stand up and act. Words are not enough."
Mike Delberg, Representative of the Jewish Community, Berlin, shares his view: "Seventy-five years after Auschwitz it would seem that Holocaust has almost been forgotten in some places. People's awareness of what we can learn from the past seems to be fading. This is why I think the Forum is an important signal. However, stopping there would not be enough. Politicians admittedly often find the right words on such occasions, but we need to have the mainstream of society supporting these words. And that is not the case at the moment."
The number of anti-Semitic incidents has also been on the increase in Germany in recent years, and Jewish institutions need to be protected by the police. For this reason, the German government has appointed a national anti-Semitism officer, while several states have followed suit and appointed regional officers.
Israel's President Rivlin also points out that the numbers of Jews who witnessed the past horrors and are able to support the remembrance work today is dwindling fast: "We are gathered here to discuss ways of tackling anti-Semitism and passing on the culture of remembrance to the next generation, which will grow up in a world without Shoah survivors. We urgently need to act to ensure the safety of Jews around the world." Forum organizer Simmy Allen is also aware of the significance of the situation: "We know what kind of effect knowledge and ignorance about the Holocaust has on the scope of anti-Semitism. Which makes it especially important now to identify the problems and reach a broader audience. Many people are no longer aware of the devastating consequences, have forgotten the lessons history has taught us."