Places of remembrance
The Second World War ended in Europe 75 years ago. Visitors can now also travel online to the arenas of the War.
Kim Berg / 03.05.2020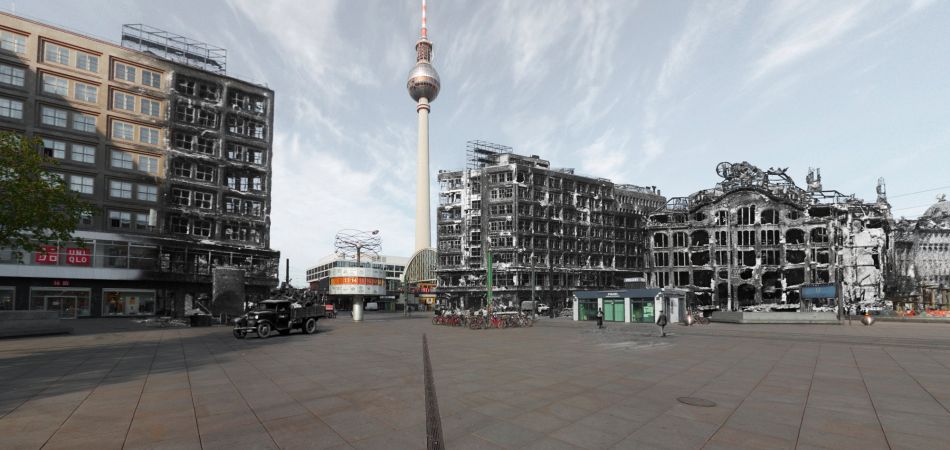 On 8 May 1945, the German Wehrmacht capitulated unconditionally to the Allies. In Germany, this date went down in history as the day of liberation from National Socialism. To this day, it is commemorated in many European countries as a day of remembrance and a holiday. To mark the 75th anniversary,  numerous German memorial sites are offering virtual tours so that we can experience history at close quarters, even during the Corona pandemic.
Walking through the streets of war-torn Berlin
From 2 May – the surrender of Berlin – to 2 September, the international day of the end of the War, Kulturprojekte Berlin is taking visitors on a digital journey back in time to the spring of 1945. Virtual exhibitions, a series of podcasts and an augmented-reality app take viewers and listeners to important Berlin arenas of the Second World War. The exhibition 'To Berlin' is at the heart of the project. Using multimedia elements, it takes you on a tour of the destroyed city of Berlin in 1945, from the Reichstag through the Brandenburg Gate to the former concentration camp at Sachsenhausen.
An appeal to commemorate the Sandbostel camp
On April 29, the Sandbostel prisoner-of-war camp memorial commemorated the camp's liberation 75 years earlier. During the War, 50,000 captured allied soldiers died there from epidemics or malnutrition, or were murdered. In the first two weeks after liberation, 3,000 former prisoners died as a result of their inhumane treatment. Because of the Covid 19 pandemic, the camp memorial in northern Germany is also temporarily closed. However, this need not stop visitors from experiencing the history of the camp on a virtual tour. The digital tour of the site is supplemented by films, texts and audio files.
Experience the liberation of the Dachau concentration camp
At the Dachau concentration camp, SS teams were trained as guards for other camps. 41,500 prisoners were murdered there and many thousands transported from Dachau to extermination camps. An augmented reality app of the memorial site was made to give visitors to the Dachau concentration camp deeper insight into its history. A virtual tour was intended to add pictures of the past to the memorial as seen today. But the Corona crisis has thwarted these plans. Now the Dachau Concentration Camp Memorial Site has put the virtual tour online. Complementing the digital impressions of the camp, eyewitnesses recount their experiences on the day of the camp's liberation.
The project is supplemented by a podcast from the German radio station Bayern 2. It describes the last hours in the Flossenbürg and Dachau concentration camps and includes personal stories.
You would like to receive regular information about Germany? Subscribe here: