"Making dreams shareable"
Düzen Tekkal encourages young people in Germany to follow their own path – and fights internationally for human rights.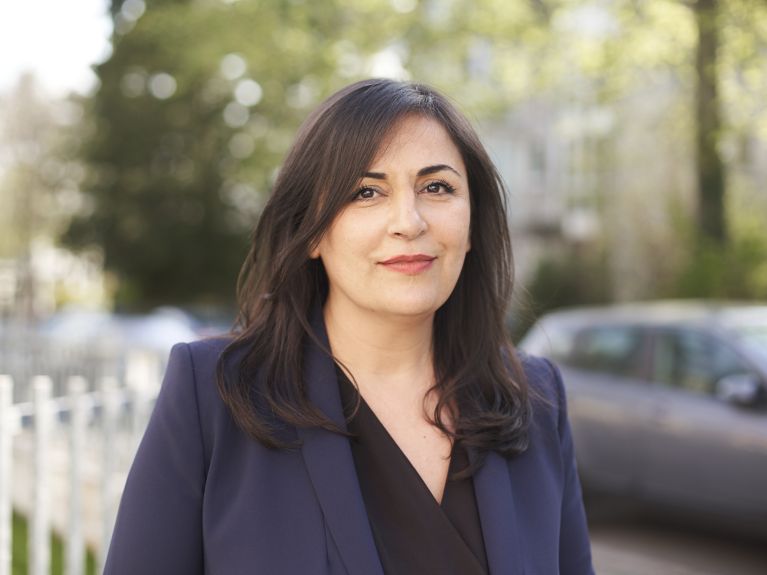 Ms Tekkal, you are committed to supporting women and other at-risk people in Afghanistan. How exactly do you help them, and what initially motivated you?
The images we saw from Afghanistan gave me a sense of déjà vu – it was similar to the desperate situation in which Yazidis found themselves in Iraq in 2014. I immediately felt great empathy for the people in Afghanistan. Through HÁWAR.help – the organisation that my siblings and I set up in 2015 following the genocide committed against our Yazidi religious community – we had the structures, agility, voice and competence to do something quickly. So we launched a campaign and raised 160,000 euros in donations within less than two weeks, primarily with a view to providing immediate humanitarian aid. And we continue to support people in the country together with Afghan partner organisations and individual female activists.
As a civil society organisation HÁWAR.help also works together with the German government. What role do you think politics should play in situations such as at that time in Iraq?
When crimes against humanity are committed, we must rush to help. In my opinion, Germany did not react quickly enough at the time. This is why we took our film "HÁWAR – My Journey to Genocide" to the Bundestag – and our cry for help provoked the desired response. Chancellor Angela Merkel supported us and we achieved special contingents for taking in Yazidis. One of the women who found refuge in Germany at the time was the later Nobel Peace laureate Nadia Murad. Now it is a question of critically examining the crimes, and this is an area in which Germany really shines: in 2020, in the world's first trial of its kind, an Iraqi was indicted in Frankfurt for genocide against the Yazidis.
You engage not only internationally, but also in Germany, for example with your educational initiative "German Dream". Can you tell us more about that?
We want to encourage young people to live their "German dream", just as I am living mine. In my case, this involves combining the culture from which I come and Germany, the land of boundless possibilities which I love. I attempt to make this dream shareable because many young people are still facing similar challenges to those I did in my youth, when I often had to assert my desire for freedom against the resistance of my parents. The Germany that I had the good fortune to experience, for example in the form of highly committed teachers, was always something that I felt was lacking in our narrative: Who will tell people about this Germany of opportunities? In 2019, I decided to do it myself, and founded "German Dream". I want to remind people of who they can be if only they dare.
---
Düzen Tekkal, born in Hanover in 1978 to Kurdish-Yazidi parents, is a television journalist and filmmaker and has reported from war and crisis regions on many occasions. In 2014, she experienced in Northern Iraq how the Islamic State (IS) terror organisation murdered and kidnapped thousands of Yazidis.
---