"A great opportunity for both sides"
A project is preparing refugees for training in healthcare. Visit to a hospital in Essen.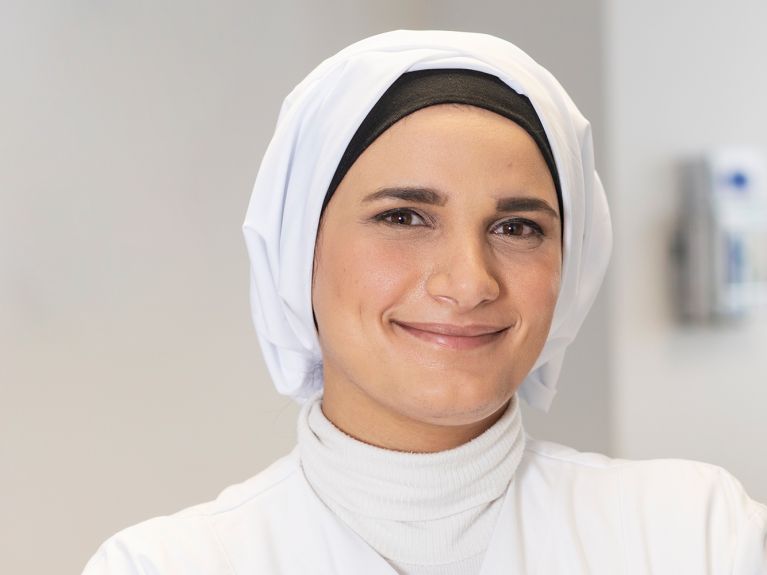 Souaad Al-Samra is beaming: "I have a great opportunity here and I want to make the most of it," says the 28-year-old Syrian. "I love helping people." She has been living in Germany for five years, and for a good six months she has again been able to do what she loves: working in healthcare, helping people. She is doing an internship at the Alfried Krupp Hospital in Essen. Her aim is to train as a medical assistant. She is already taking on some tasks independently: "I measure patients' blood pressure, take blood samples and do lots of other things." She would rather be working at a bedside than in an office – that's her wish, and it's fulfilled at her work in the hospital's vascular surgery and angiology department.
Her boss Dr Thomas Nowak says: "It's a great opportunity for both sides and also an enrichment to have Ms Al-Samra on the team. She learns very quickly and is a good reinforcement." He likes the young woman's strong practical orientation. This way, the project, which is called 'An opportunity for refugees', becomes a 'win-win situation', emphasizes Dr Nowak's colleague Dr Winfried Hohenhorst, senior consultant at the Department of Otorhinolaryngology, Head and Neck Surgery.
Many vacant positions
The project was initiated by the Medical Association in Essen. Back in 2017, medical professionals were wondering how it might be possible to reduce the shortage of staff in the medical professions and give refugees a chance at the same time. "We very quickly had some excellent talks with the job centre in Essen," says Dr Matthias Benn from the Medical Association. The first 'speed dating' session was held in autumn 2017 – with doctors from clinics and medical practices meeting interested refugees for introductory talks. According to Dr Benn, the classic kind of applications, especially online ones, are rather difficult for most refugees to master. He believes there is no substitute for a personal conversation and direct contact.
Since 2017, 20 to 30 young people have been starting the initial qualification course each year. This internship lasts nine months. By now, almost 100 women and men have completed it and most of them began full vocational training afterwards. The first graduates already have a job. Now, the project is also open to people with a migration background who did not come to Germany as refugees.
Four days working in the clinic, one day at vocational school
The project enables the young people to familiarize themselves with the profession of a medical assistant, and also overcome language barriers and other inhibitions. This is no problem for Souaad Al-Samra. "She only had to watch a couple of times when the blood sample was taken – then she could already do it herself," Thomas Nowak tells us. Dealing with patients comes easy to her. During these first nine months, she works four days a week in the clinic and attends vocational school on one day, where she learns the theoretical basics.
This is also part of the history of the project: despite the initial meeting to get to know each other, it doesn't work out in every clinic or every doctor's practice. "It always depends on the people – how do the doctors or senior medical professionals represent their profession?" says Matthias Benn of the medical association. And, of course, there are applicants who are so good they can choose their employer, thanks to their language talents and charisma – and others who find it a little more difficult to find the right medical trainer. In addition: the range of possibilities is huge – from the clinic to the doctor's practice, from obstetrics to gerontology. Sometimes it turns out that someone is better off working with an ophthalmologist than with a psychotherapist. What is clear, however, is that medical assistants are sought after everywhere, there are about 5,800 jobs in this field in the city of Essen alone – and many of them are vacant.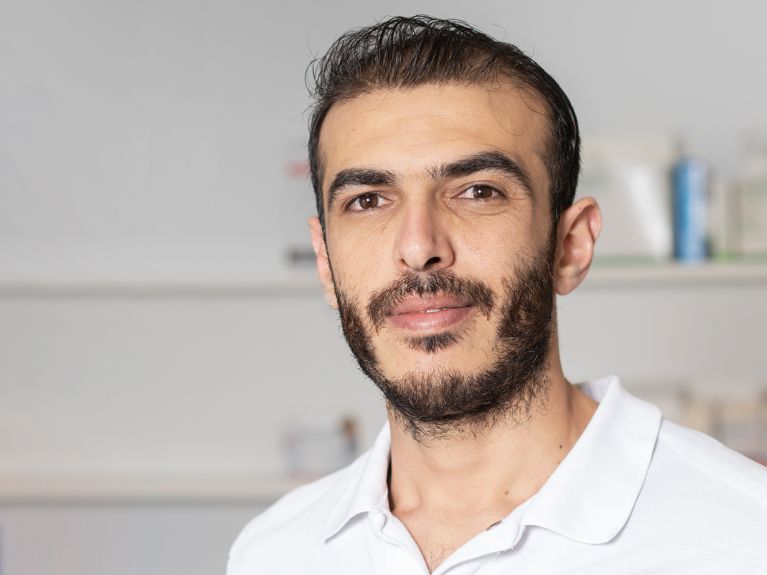 Omar Al Saleh is well on his way to getting one of those jobs. He has completed his nine-month initial qualification course and is now in his first year of training. At the beginning, he was constantly walking around the hospital with pen and paper in his hands. He says: "I had to learn two languages: German and the medical language." The 32-year-old has experience of the practical work from a hospital in Aleppo – under far more dramatic conditions. Placing cannulas for infusions, treating wounds, taking blood samples – you learn fast in wartime when a new emergency comes up every few minutes. What matters most to Omar Al Saleh, however: "Now I can do something again and work hands-on." He is building on previous experience and establishing a new future.
Arabic language skills as a plus
Winfried Hohenhorst, who is supervising the young man in his training, is confident. "We can easily imagine having him help with minor operations soon." In the meantime, Al Saleh has also mastered the German language and the medical vocabulary. The fact that he can also speak Arabic is a plus for Hohenhorst. "We get a lot of patients here with foreign roots, and whenever Omar Al Saleh can exchange a few words with them in their native language, it puts the patients at ease and helps us a lot."
Matthias Benn from the Medical Association also sees this as an advantage of the project: "We have more and more patients with a migration background. When a doctor's practice can bring additional language skills and cultural competence into the team, that's a benefit." In this way, what began as an opportunity for refugees also becomes an opportunity for people who have been living in Germany for longer.