Many helping hands – 
initiatives for refugees
All over Germany, volunteers, government ministries, organisations, foundations and associations are helping incoming refugees. The number of projects is huge. Here is a selection.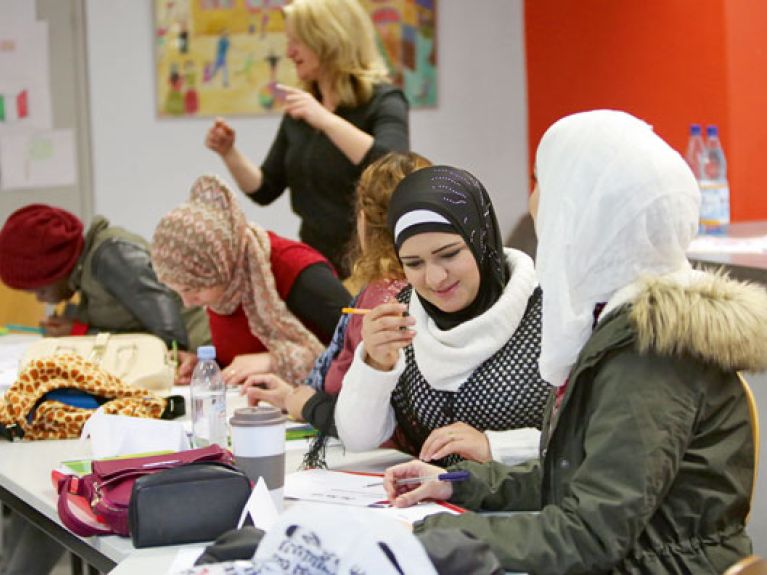 Work
Welcome Pilots
Bakers, roofers, carpenters: some refugees have good qualifications. How can companies and refugees get together? The Welcome Pilots scheme ­initiated by the Federal ­Ministry of Economic ­Affairs helps refugees make contact with small and medium-sized ­companies.
KfW grants
The KfW Foundation is supporting 14 business startups with a programme called Ankommer ("Arrivers"). All the startup teams aim to promote the integration of refugees into the labour market. Each grant is worth 12,500 euros.
Education
Welcome classes
The principle of compulsory education also applies to refugee children in Germany. In Berlin the children start by learning German in "welcome classes". When they have mastered the new language, they join regular school classes.
START scholarships
Many young refugees would like to gain school qualifications. Hertie Foundation START scholarships support them in this aspiration and enable refugees to take up a range of educational opportunities.
Higher education
Information for studies
The DAAD website "Information for Refugees – Studying and Living in Germany" is aimed at refugees who have arrived in Germany and would like to begin or continue a course of study here. The site has been translated into ­Arabic, Dari, Pashto and Urdu and provides an overview of the main topics that are relevant to studying in Germany.
Academic 
Experience Worldwide
Students from Germany and graduates from all over the world meet as equals at Academic ­Experience Worldwide. The core of the platform, which is based at the Goethe University Frankfurt, is a tandem programme involving students and asylum seekers. The aim is to integrate highly qualified refugees into the higher education landscape.
Scholarships in the 
region
In 1992 the Federal Government launched the 
Albert Einstein German Academic Refugee Initiative (DAFI). It enables particularly gifted refugees 
to study at a university or college in the region.
Assistance for ­researchers
The Philipp Schwartz ­Initiative offers new ­opportunities for persecuted scholars. Launched by the Federal Foreign Office, the Alexander von Humboldt Foundation and other partners, the programme helps ­German universities and research institutions take on foreign researchers for a specific time.
Silent University
Refugees can teach other refugees at the Silent University. The first institute was set up in London in 2012. In the meantime there are branches in ­different locations, including Hamburg and North Rhine-Westphalia.
Housing
Decentralised ­accommodation
Refugees and local residents live as direct neighbours in Mülheim an der Ruhr. Whenever possible, refugees are housed in apartments spread across the city. This has had a positive influence on social cohesion.
Refugees welcome
The Flüchtlinge Will­kommen online platform finds shared housing for asylum seekers. Refugees live alongside hotel guests at Augsburg's Grand ­Hotel Cosmopolis, which also offers artists' studios and a café in addition to the hotel rooms. The aim is to integrate refugees ­into the community.
www.fluechtlinge-willkommen.de
Language
Goethe-Institut ­initiatives
The Goethe-Institut ­organises various programmes for refugees abroad. For instance, a reading-aloud project for children has been launched in Jordan and a mobile music school set up in Lebanon's Bekaa Valley. In Turkey there are puppet theatres. The aim is to enable young refugees to better cope with their fears.
Phrase book
Refugees and helpers at the University of Leipzig have put together an ­online phrase book of important terms. Tapes of typical situations at government offices or the doctor's surgery can be played as audio files in several languages.
www.miteinander-phrasenbuch.de
Language 
ambassadors
Learning from other students is sometimes ­particularly instructive, which is why some schools now have "language ambassadors". The students spend their free periods in classes made up mostly of refugees and help them to learn German.
Interpreter pool
A pool of interpreters has been built up at Mainz University. Students and lecturers help refugees in their meetings with 
social services.
Volunteer teachers
Refugees get on best in everyday life if they can speak German. Voluntary language teachers are giving refugees ­German lessons in many cities.
Multimedia
DW telenovela
Love, intrigues, studies and working life: Deut­sche Welle's telenova "Jojo sucht das Glück" (Jojo Looks for Happiness) is as multifaceted as many people's daily lives. The show also provides information about Germany and gives an impression of what life is like there.
Welcome app
Help in an emergency, facts about different cities, advice on the asylum procedure – all of these are available on smartphones with the Welcome App Germany. It can be downloaded free of charge in German, English and Arabic.
Goethe-Institut tools and programmes
The Goethe-Institut helps refugees to learn German with free interactive tools that include a word trainer, a vocabulary app and an online self-study programme.
News for refugees
The radio channel Funk­haus Europa broadcasts a five-minute news ­programme for refugees twice a day at five to twelve. It offers a wide range of information in Arabic and English ­– ­including news about the current situation in ­Germany, practical tips on health, law, integration and voluntary initiatives as well as reports from the refugee route.
Heimfocus magazine
Readers of Heimfocus find out how refugees see the world. The magazine is published quarterly and is supported by the NGO Pro Asyl, the City of Würzburg and other partners. Heim­focus does not only report on refugees, but also has them do some reporting themselves. The magazine was founded by journalist Addis Mulugeta, who fled to Germany from Ethiopia at the end of 2009.
Health
Medinetz
Magdeburg-based med­ical students are offering consultations for refugees in an initiative called Medinetz. The volunteers advise the patients and arrange appointments for them with specialists, who then treat them anonymously and free of charge.
Help from Malteser 
International
The Malteser Migrants Medicine organisation can be found in 14 German cities. People ­without valid residence status or health insurance can find a doctor here to carry out initial examinations and ­provide emergency care.
www.malteser-migranten-medizin.de
Trauma therapy
Trauma therapists all over Germany are helping refugees come to terms with their experiences. The Psycho-Social Centre for Refugees in Düsseldorf provides support for approximately 400 people a year.
Everyday life
Start with a Friend
The Start with a Friend initiative brings together Berlin citizens and ­refugees. The tandem partners explore the city together, talk or learn German and help in ­dealing with the author­ities.
Integration course for women
The Federal Office for Migration and Refugees (BAMF) offers an integration course especially for women. Female refugees and migrants learn German in up to 960 lessons. The curriculum ­also covers knowledge of everyday life and insights into Germany's legal system, culture and history.
Aachen Hands
The volunteers from the Aachen Hands organisation provide ­important support for young refugees by "adopting" unaccom­panied refugee minors. They help in everyday life, provide educational support and act as guides to the foreign ­culture.
Do it!
A Wuppertal-based ­project called "Do it!" goes one step further. The helpers act as vol­untary guardians for ­unaccompanied refugee ­minors. They make sure the children attend school and have age-­appropriate accommodation; they also take care of health and legal issues.
Learning how other people cook
Refugees and course participants prepare dishes together as part of the Über den Tellerrand initiative. Cooks show how a set meal is prepared in their home country. The courses are also about getting to know other cultures.
Events and excursions
Whether it's a visit to the cinema or an outing to a children's party, the Hamburg-based 
jal ALB association 
organises excursions: 
a ­welcome distraction from everyday life 
for refugees living in ­temporary accom­modation.
Football initiative
The German Football ­Association is supporting professional and amateur clubs that take on refugees with a special ­programme called "1:0 für ein Willkommen".
Culture
Welcomegrooves
The Welcomegrooves project helps refugees learn German in a mu­sical way. The six online lessons feature laid-back background music and are currently available in 24 languages. The project was supported by more than 70 volunteers from the fields of music, language and text, 
design, technology and social media.
Dance of joy
Refugee children stage their very own "dance of joy" in the Freudentanz project organised by Munich-based social worker Eva-Maria Weigert. Dancing lets the young refugees learn to act out their feelings and overcome their fears. They are taught in a playful way to respect each 
other and to develop a ­feeling of self-worth.
Discovering art
Their pictures are ­resplendent with many colours. KRASS is a ­Düsseldorf-based association that enables young artists to do their ­creative thing in a mobile studio. Every week, ­artists, art therapists and volunteers visit six refugee centres with donated materials. By painting pictures, the young refugees learn to process traumas and to confront what they have experienced.
Open studio
Turkish-born artist, art teacher and art therapist Hasan Deveci opened his studio for young painters for the first time in ­September 2014. The aim is to enable Syrian refugee children to express what they have seen and to process it with the help of painting.
Legal advice
Refugee law clinics
Many refugees can't ­afford a lawyer. Alter­natives have therefore ­developed at some ­German universities, where students offer free legal advice for ­refugees in refugee law clinics. For example, they accompany people to appointments with ­official authorities. The up-and-coming lawyers also assist their ­clients with official legal correspondence or ­review legal situations. Around 20 such law clinics currently exist in Germany, and many more are being established.