"Generating additional impact"
Julia Münch is the new secretary general of the Japanese-German Center Berlin (JDZB). She believes that new formats are the best way to intensify exchange.  
Interview: Martin Orth / 13.11.2020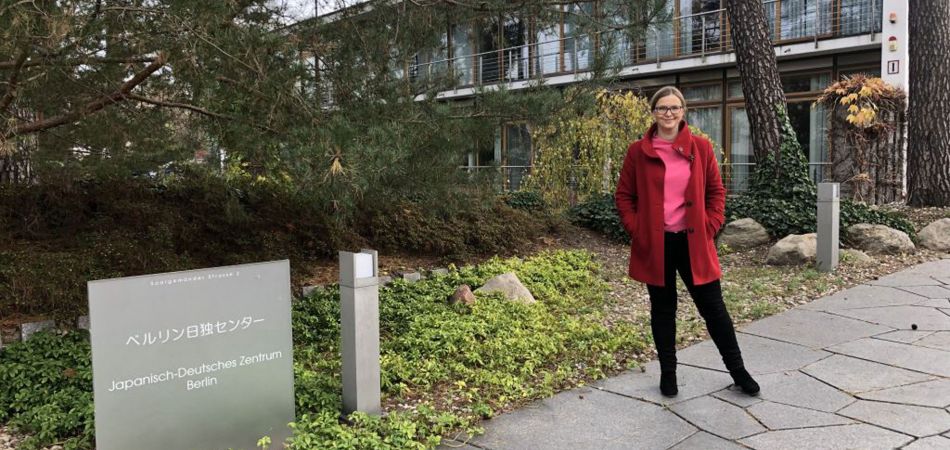 ---
Julia Münch has a degree in Japan studies, business studies and psychology, as well as a PhD in business administration. Her most recent position was as managing director of the Japanese-German Business Association (DJW).
---
Dr Münch, you took up your office as secretary general at a time when the German view of Asia is dominated by China. How would you describe the current state of German-Japanese relations?
Japan and Germany are partners on an equal footing. We have a long tradition of very good bilateral relations, diplomatic contacts having been initiated nigh on 160 years ago. We work closely together in many areas: in business, academia, culture, politics and civil society. For example, there are more than 100 friendship associations in both countries, we have town twinning programmes and there is lively exchange between universities and schools, as well as in sport, music and for instance the art scene. Further opportunities were generated when the Economic Partnership Agreement between the EU and Japan came into effect in 2019. At a time full of political uncertainties, protectionist tendencies and a world order that has become skewed, it is perhaps more important than ever to cultivate and build on our strategic partnership of values.
We maintain an active presence in the virtual sphere.
Julia Münch, secretary general of the Japanese-German Center Berlin (JDZB)
Japan is similar to Germany in many respects and could be an ideal partner. Where do you see the greatest potential?
The potential of our cooperation is manifold. Through an "alliance for multilateralism", Japan and Germany can send out a strong signal, especially when it comes to shaping a rule-based world order. We cooperate for example in international organisations such as the World Trade Organization and the World Health Organization, and in the G7 and G20, and are both committed to the 17 Sustainable Development Goals of the United Nations. And of course we can also learn from and with one another on many other levels.
This is also why there are so many different exchange programmes. The JDZB organises for example a "German-Japanese Young Leaders Forum", a "Junior Experts Exchange Program" for young researchers, and three specialist programmes for young people in employment and training, for young volunteers, and for child and youth welfare professionals. In addition, it runs the JDZB "Science Youth Program" and arranges for German school students to take part in the Japanese Super Science High School Student Fair.
Nonetheless, people in the two countries often have trouble finding common ground. Where are the biggest obstacles?
Apart from the geographical distance, intercultural differences are often cited as a barrier. Obviously this has a lot to do with language, and with different communication patterns on both sides. Whereas we in Germany like to express ourselves fairly directly, much has to be "read between the lines" in Japan. Furthermore, outsiders often find the complex web of relationships in Japan rather confusing. It is therefore worth investing some time at the beginning in establishing and cultivating contacts. I for one am delighted that we are coming quite a bit closer together thanks to the increasing use of digital collaboration and online meetings!
Which goals have you set yourself as JDZB secretary general?
It is a great honour for me to have been appointed to serve a renowned institution with such great potential. The JDZB is a bilateral centre that is generously supported by the governments of both countries and by the Berlin Senate. We have wonderful offices with outstanding event facilities, spacious exhibition rooms, a well-stocked library and a Japanese garden. Governing bodies made up of high-level and influential experts from the German-Japanese scene, plus a dedicated team of nearly 25 permanent employees from both countries, all work together to provide a range of ambitious services.
My job will be to make the JDZB ready for the future, leveraging the existing potential as well as possible. We want to be a central forum for encounters and to generate additional impact even beyond our site in Berlin-Dahlem. To this end, we are currently developing new formats and creative cooperation and business models, and maintain an active presence in the virtual sphere. I want the JDZB to be widely perceived as a central port of call and hub for shaping our bilateral relations, and for us to inspire many people to engage in Japanese-German cooperation.