At home in four languages
German is still one of the most important European languages. For the 14-year-old Elisa Lena from Brussels, German is one of four languages that she speaks and uses quite naturally on a daily basis.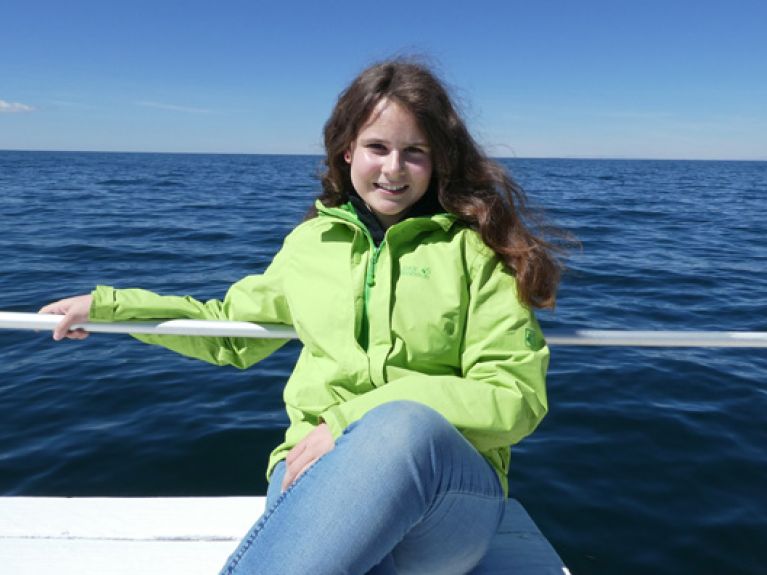 Elisa Lena speaks German, her mother's language, just as well as Italian. She can roll the "r" like her relatives in Italy, her father's native country. Which of the two languages does she prefer? She can't say, replies Elisa, shakes her curls and laughs. She enjoys speaking English just as much, and has been familiar with French since nursery. Elisa feels at home in four languages. She can switch effortlessly from one to the other. "If I can't think of a word, then I try to paraphrase it," says the 14-year-old pupil. She was born and grew up in Brussels. Here, at the heart of the European Union (EU) with its 24 official languages, you hear a lot of idioms. Belgium alone has three official languages: French, Flemish and German. But not in all families is multilingualism as rigorously practised as an Elisa's family. 
German is still one of the most important European languages. Until the first half of the last century it was the language of science, medicine and psychology. In literature and the humanities German is still hugely important. Worldwide, around 130 million people speak German as a first or second language, and more than 15 million people are learning German. Most of them live in Europe. According to a study by the Goethe-Institut 9.4 million people there were learning German in 2015.
Nowhere as popular as in Poland
The positive image of Germany, the country's stable economic situation and the excellent options for training and further training are decisive factors in motivating people to learn the language. Especially in non-EU countries like Bosnia and Herzegovina, Macedonia, Serbia and Turkey there is an increased interest. But the demand for German courses is also increasing in EU member states – especially in the Netherlands and in Spain. However, nowhere is German as popular as in Poland. In all, 2.3 million people are learning German there, and 2.1 million began at an early age.
One reason for these positive figures is Germany's own intensive efforts to make learning German attractive and provide interesting offers such as exchange programmes and scholarships. In 2008 the German Federal Foreign Office launched the initiative "Schools: Partners for the Future" (PASCH), which it implements in cooperation with the Goethe-Institut, the German Academic Exchange Service (DAAD) and the Educational Exchange Service of the Standing Conference of the Ministers of Education and Cultural Affairs of the Länder. The PASCH network numbers over 1,800 schools. In the national education systems the 159 Goethe-Instituts support almost 600 schools, which have expanded German instruction or even newly introduced it. The network also includes 142 German Schools Abroad, of which 44 are in Europe.
Promoting mutual understanding
The ambitious goal of the EU countries is that in addition to their mother tongue all EU citizens should speak two foreign languages. This agreement was reached in 2002 in Barcelona by EU heads of state and government. The idea behind it: to cultivate the diversity of languages in Europe and promote mutual understanding. Even though these figures are likely to be difficult to achieve – in 2012 only one in four Europeans spoke two foreign languages – several countries are working hard at achieving this aim and their schools teach several languages. For example, pupils in Luxembourg, Finland, Malta, the Netherlands, Estonia, Italy, Cyprus, Romania, Iceland, Lichtenstein, and Macedonia speak at least two languages. The European average is 1.6 languages. So those EU officials responsible for multilingual matters would presumably be more than thrilled with Elisa Lena's language skills.
In 2012 children in Germany learned an average of 1.3 languages. In 2015/2016 over 7 million pupils attended English lessons, and around one and a half million learned French. But in recent years Spanish has become increasingly popular. While in 2002/2003 only 150,000 pupils learned Spanish, in 2015/2016 over 400,000 pupils attended Spanish lessons. Many students find Spanish easier and like the fact that it is not only spoken in Spain, but also in many countries of South America. Consequently, they tend to drop French as a second foreign language. FranceMobil/mobiklasse.de is a light-hearted project aimed at pupils in Germany and France and seeks to spark an interest in learning the respective other country's language. After all, over 50 years ago the Élysée Contract established friendly relations between Germany and France, and they are keen to maintain their close ties.
A conglomeration of languages in the schoolyard
From the first day onwards her parents spoke German and Italian to her, relates Elisa Lena. In addition, she attends the German branch of one of the so-called European Schools in Brussels. There she is largely taught in German, though history, geography and religion are taught in English. She also attends French and Italian lessons there. Founded by the EU member states, the European Schools offer their pupils a multilingual and multicultural education from primary school onwards and are largely reserved for the children of parents working in the European institutions. In Brussels there are four European Schools with several thousand pupils. In the schoolyard you hear a colourful conglomeration of languages. But English is the language used in class, relates Elisa. After all, it is the language of young people, she says.
© www.deutschland.de