The citizens' initiative Pulse of Europe
The citizens' initiative Pulse of Europe is committed to fighting for the European community. People are already taking to the streets in around 20 cities – and the numbers are increasing all the time.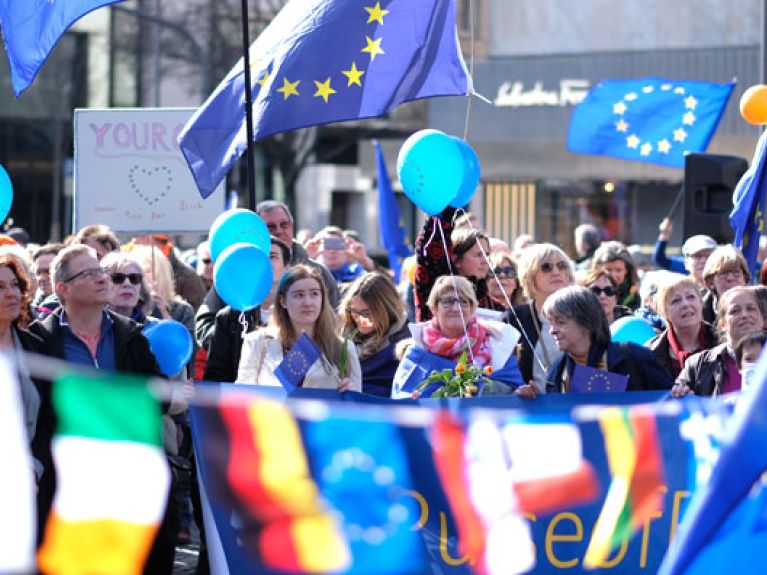 Germany. Since the beginning of 2017, their cheerful faces – daubed in blue and yellow – have been appearing on Germany's streets every Sunday: the supporters of Pulse of Europe, they are committed to the European idea and in many cases also paint the European flag on their faces. They are protesting against unilateral nationalistic tendencies in the European community and criticise the Brexit vote and the policies of the right-wing populist parties in Europe. 
No intention of waiting
It is true that the heart of Europe has been weakened by such political radicalisation. Nonetheless, Pulse of Europe has no intention of waiting until Europe's heart flatlines. This is why the initiative is demanding that the European idea be resuscitated without delay. "Presidential elections are going to be held in France on 23 April 2017, and in the autumn of 2017 the Bundestag election will take place. We want to help ensure that a united and democratic Europe still exists afterwards", the initiators explain on their website.
Many are joining
And many people are joining them. In Frankfurt am Main, where the movement was founded by a lawyer named Daniel Röder in January 2017, the demonstrations began with 200 participants. By March 2017, more than 1,500 Europeans were already demonstrating here regularly. They meet every Sunday at 2 pm to stand up for European values such as respect for human dignity, the rule of law, freedom of opinion and action, tolerance and respect. The movement's supporters are also trying to mobilise people in Hamburg, Berlin, Stuttgart, Celle, Passau, Halle and Erfurt, as well as in other European capitals such as Paris, Brussels and Amsterdam. Pulse of Europe is already in contact with cities in Austria, Portugal and Great Britain, too.
"Ode to Joy"
The pro-European movement unites people from all social strata, regardless of their ethnicity, politics or religion. The gatherings sometimes end with the participants singing the European anthem "Ode to Joy" in several languages.