The United Nations University on the River Rhine
Bonn is one of the outstanding sites of the United Nations University.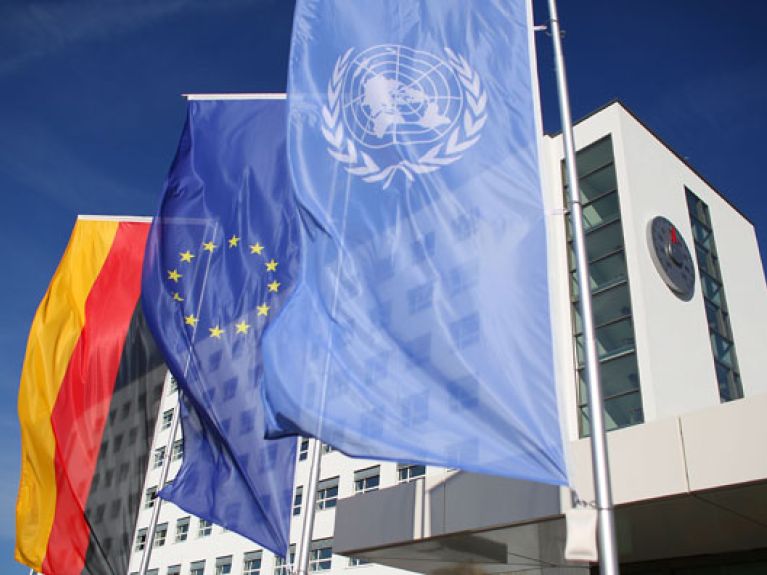 The United Nations University (UNU) has set itself no less a challenge than to find solutions to the current and future problems of humankind. All over the world, it has hundreds of academics researching natural disasters and environmental protection, poverty and development aid, war and peace missions – work that has already been underway for more than 40 years. Previously, the academic arm of the United Nations (UN) was regarded first and foremost as an internal think tank with its headquarters in Tokyo and branches in New York, Paris and Bonn. Since the autumn of 2013, however, things have changed: together with the University of Bonn, the UNU has jointly developed a Master's degree course in "Geography of Environmental Risks and Human Security". This is the first joint Master's degree established by a state university in cooperation with the UN institution. "It marries academic study with applied research that is embedded within the UN system", explains Professor Jakob Rhyner, UNU Vice Rector in Europe, "giving rise to an excellent mix." This gives students the best possible preparation for a career in international organizations, he continues.
The UNU plans to grow in Europe and Africa from its Bonn base
This further raises Bonn's profile as Germany's United Nations city and establishes it as an international centre of research, science and scholarship. What is more, some of the programmes and institutes of the United Nations University are based at the UN campus on the River Rhine, such as the "Institute for Environment and Human Security" (UNU-EHS). Tasked with researching society's vulnerability to natural and human-caused environmental hazards, it is one of around a dozen institutes and programmes of the United Nations University worldwide. At the heart of the Bonn site is the United Nations University Vice Rectorate in Europe (UNU-ViE), the only one outside the UNU headquarters in Japan. The aim is to strengthen the presence of the United Nations University in Europe – for this "global university" plans to grow, particularly in Europe and Africa, allowing solutions to the problems facing humankind to be explored more quickly
© www.deutschland.de