Solidarity with Ukraine
The Russian war against Ukraine has changed the world. Here you can find out how Germany supports the people in Ukraine.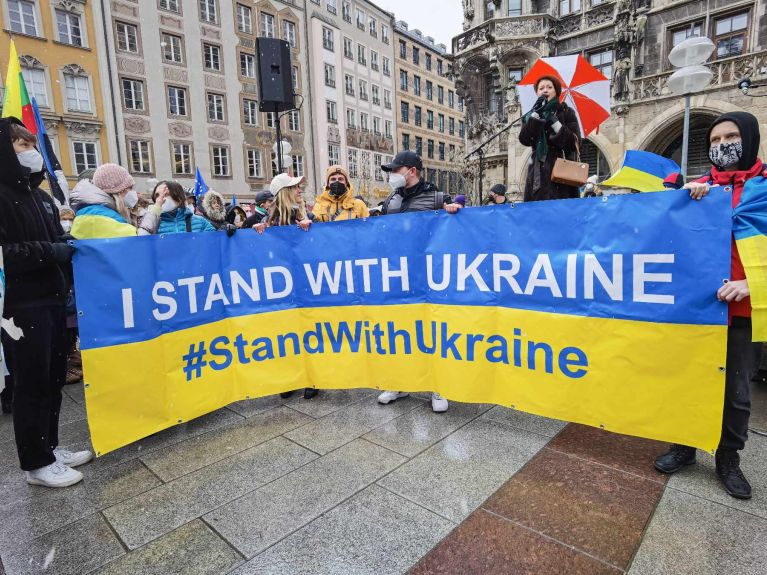 On 24 February 2022, Russian troops marched into Ukraine aiming to conquer the country according to the will of Vladimir Putin. This plan has failed so far, thanks to the resistance of the Ukrainian army and population. Russia is waging its war with inhumane harshness – also targeting Ukraine's civilian population.
The humanitarian situation is steadily deteriorating as a result of persistent Russian attacks on the civilian infrastructure during the winter. According to the United Nations (UN), more than four million refugees from Ukraine have found shelter in the EU, including about one million in Germany. The Federal Republic of Germany has so far supported Ukraine and its neighbouring countries with more than one billion euros in aid for refugees.
Second-largest donor country after the United States
Chancellor Olaf Scholz called this war a turning point for the world and declared Germany's solidarity with Ukraine. After the United States, Germany is the second-largest donor to Ukraine, if we include its contribution to EU support. The European Union and its member countries provided nearly 52 billion euros in military, financial and humanitarian aid up to November 20, 2022.
German civil society is also strongly committed. Many people are taking in refugees, others are helping in associations or communities. Over the last six months, monetary donations from the public and businesses have totalled 321 million euros via the members of the umbrella organization 'Deutschland hilft' alone.
Extensive military support
Ukraine's army is receiving massive support from Germany. Up to now, more than 2 billion euros worth of armaments have been delivered, including 14 self-propelled howitzers 2000, five Mars rocket launchers and 30 Gepard anti-aircraft guns. Seven more Gepards have been pledged. In addition, there are 50 Dingo MRAP vehicles, bridge-laying tanks and armoured recovery vehicles. In addition, military equipment ranging from technical equipment, medical supplies, winter clothing, special vehicles, drones and ammunition to thousands of anti-tank and anti-aircraft missiles have been put at Ukraine's disposal, as has one of the most advanced air defence systems in the world, IRIS-T SLM. As soon as they become available, 34 more howitzer systems and more IRIS systems, among other items, are to be delivered in 2023.
An up-to-date overview of German aid can be found here.
An up-to-date and detailed overview of the military assistance is available here.
You would like to receive regular information about Germany? Subscribe here: