«A real future course»
German Chancellor Angela Merkel praises the Paris climate deal and calls it a roadmap to reason.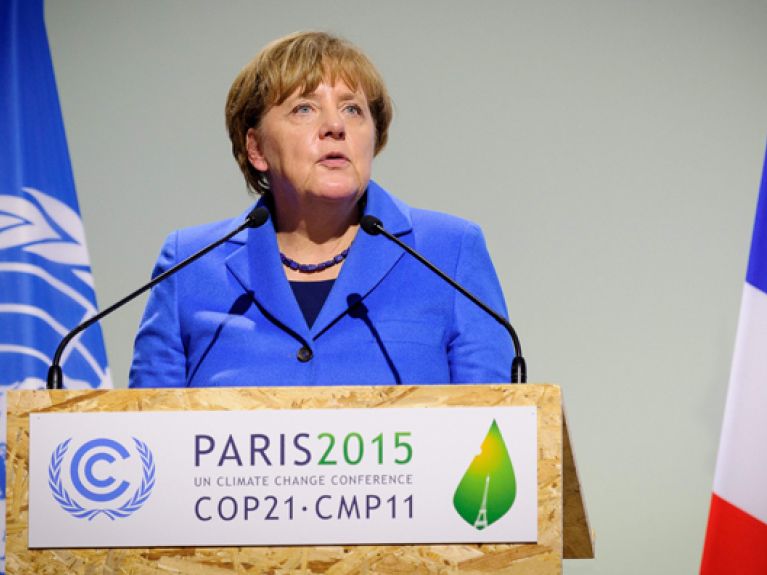 Karlsruhe, Germany (dpa) - German Chancellor Angela Merkel on Sunday praised the climate deal agreed by world leaders in Paris as providing an opportunity for the future of humanity. "This is a real future course for the world in the direction of energy transition, a course for the world in the direction of reason considering the changes in the climate," she said ahead of a party conference in the south-western city of Karlsruhe. There was "the opportunity that billions of people can have no fear for their future if the commitments are also really fulfilled," she said.
It was important that "the community of nations right now in these difficult times, when we are at war with terror, when many people have to leave their country to escape war, terrorism, and also climate change, that we send out a signal of reason in such times." The agreement reached in Paris at the weekend committed the world to keeping the rise in average global temperatures below 2 degrees above pre-industrial times, with a more ambitious target of 1.5 degrees included in the text. After two weeks of intense negotiations, and more than two decades of international talks aimed at setting out a plan to keep man-made emissions from reaching dangerous levels, the announcement of the agreement by French Foreign Minister Laurent Fabius was met with long applause, embraces and tears.