Volunteers in the fight against Ebola
Germany is supporting the fight against the Ebola epidemic in West Africa by sending financial resources and personnel – private initiatives are also helping.
21.11.2014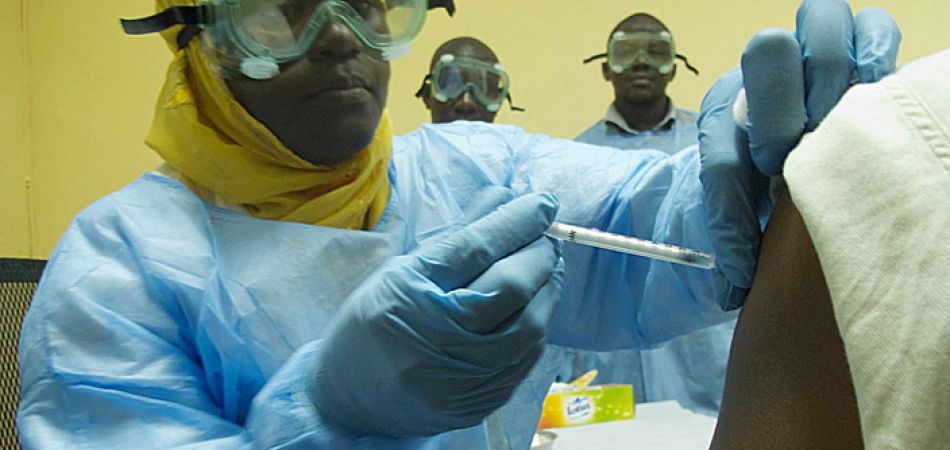 Nicolas Aschoff, Simon Scheiblhuber and Till Eckert, medical students from the University of Witten/Herdecke in North Rhine-Westphalia, had planned an Ebola isolation ward in Makeri, Sierra Leone, as part of their university course. When they left Germany, the Ebola virus had not yet crossed the borders into Sierra Leone. But it advanced to "their" hospital during their stay. When everyone else fled, they stayed put. An interview with Nicolas Aschoff on their project.
Mr Aschoff: what are the most important aspects when planning and creating places for treating Ebola patients in an existing hospital?
First of all you have to win the confidence of the staff. We had to do a lot of persuading – and train the nurses. What's more, the hospital had only three doctors and they were terribly overworked.
What are the biggest difficulties in combating the disease in Makeri?
The biggest problem is fear. You have to keep on motivating the nursing staff to go into the isolation wards – and of course take part yourself. However, nobody has ever become infected on our ward. Being careful when you take off your protective clothing after work is your life insurance policy. The trouble is, we keep on running out of chlorine for disinfection, and deliveries of replacement protective suits are also often late.
How many members of staff are needed to treat an Ebola patient?
Three nurses plus one cleaner who is responsible only for hygiene and disinfection. This is the person with the spray bottle with chlorine water on their back. Food supplies are organized by the patients' families.
How many people have been helped in the ward that you and your fellow students set up?
More than 20 patients. People who are infected with Ebola are actually easy to treat because you can only administer liquid, food and drugs against the symptoms. You don't need specialists to do that. Our ward is currently being extended. Afterwards, there will be enough space to help dozens of patients. We're in the process of collecting donations for the project.