"Ready for take-off in six hours"
Volunteer aid worker Marc Winzen tells how the Federal Agency for Technical Relief (THW) provides international emergency aid.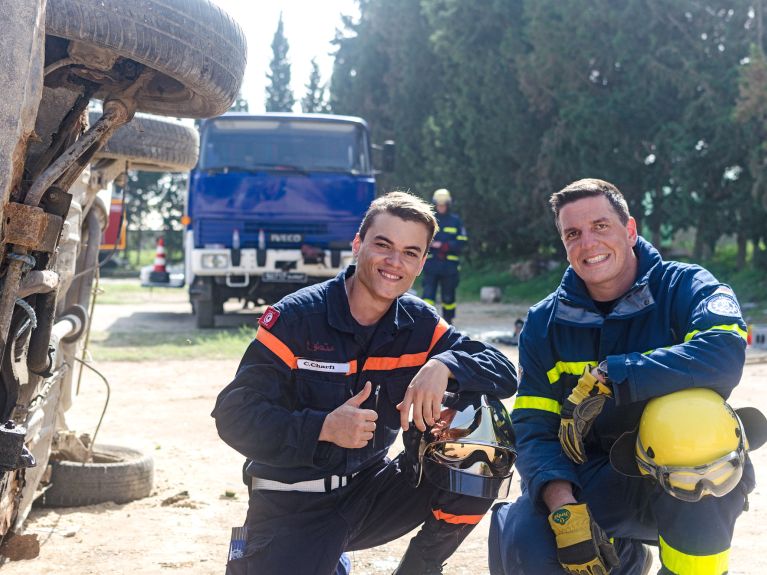 Germany.  After earthquakes and floods, you often see men and women in blue overalls with the letters THW providing assistance in crisis zones. They belong to the Federal Agency for Technical Relief (THW). This is Germany's voluntary civil-protection organization. The Rapid Deployment Unit for Salvage Operations Abroad (SEEBA) and the Rapid Deployment Unit Water and Sanitation Abroad (SEEWA) are always on the alert to provide immediate international emergency aid. 99 percent of the THW helpers are volunteers – a total of around 80,000 women and men. One of them is 29-year-old Marc Winzen from Montabaur.
Mr Winzen, your suitcases are packed. Where are you going this time?
I'm flying to Jordan for a week. The THW has been helping the authorities there to develop voluntary structures modelled on the THW since early 2017. Colleagues at the General Directorate of Jordan Civil Defense had already been on a basic course in Germany on training volunteers. Now they are passing on their knowledge with our support.
How often have you been deployed abroad?
My first foreign mission was in 2014 during the floods in Bosnia. In 2015, I helped Sierra Leone set up treatment centres and camps for the fight against Ebola disease. I've been to Tunisia every year since 2014 at the Office National de la Protection Civile. There, too, we have built up structures like now in Jordan. One striking aspect there was the high proportion of women among the trainees.
What skills do you need to be deployed internationally?
Either you need professional expertise – as an electronics technician, for example. Or you go through a comprehensive training course at the THW. That's what I did, and since 2011 I've been a member of the 200-strong Rapid Deployment Unit for Salvage Operations Abroad. If a country files an official request for assistance, I have to be at the airport ready for take-off within six hours. When there has been an earthquake, every hour counts.
A lot of work for a voluntary activity …
That's right. In 2017 I clocked up over 1,500 volunteer hours. That's the equivalent of more than 180 working days – on top of my regular job. Fortunately, my employer supports me. He receives compensation for the loss of earnings. But you can also do fewer hours for the THW. Any kind of volunteer help is welcome.
Federal Agency for Technical Relief (THW)