Protecting and enabling women
Women in particular are severely affected by conflicts and natural disasters, yet they are the key to development. Three examples of aid from Germany.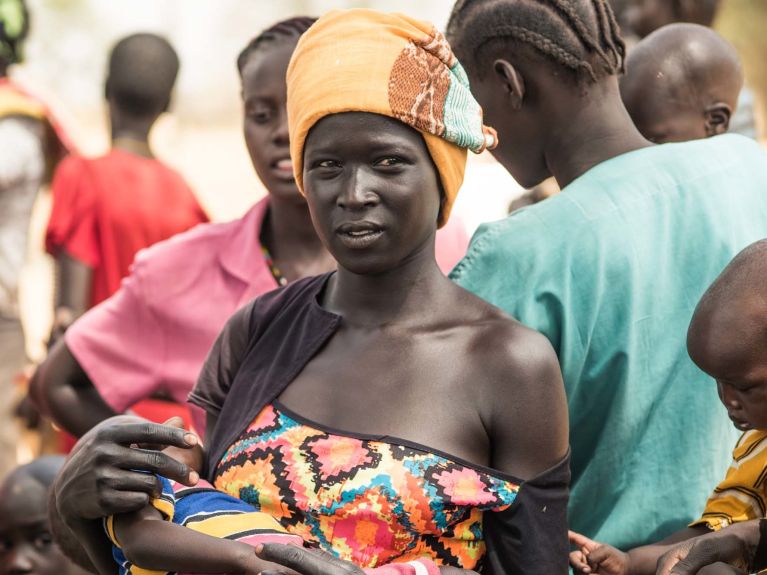 Mothers of disabled children in Uganda
In Uganda a disability is often regarded as a stigma. Following the birth of a disabled child, a husband will often leave his wife who is then marginalized by society. The organization Malteser International is giving them a perspective by supporting the self-help group Suubi Lyaffe (our hope) in the capital Kampala. Children with disabilities are receiving individual support and treatment. Their mothers take turns to look after the children, and in their free time they can gain further vocational training.
In a country where there is almost no support for people with disabilities, this project is designed to protect women and promote the inclusion of children with disabilities.
Education for Roma women in Serbia
Europe's largest minority people are Roma. They are marginalized or excluded in many countries. Roma women (Romnja) are doubly affected by discrimination. Because most Roma women have only completed primary school education, they are forced to work under precarious conditions. That's why the organization Solidaritätsdienst International (SODI), with its headquarters in Berlin, is supporting their education in the Serbian city Požarevac. SODI is enabling graduated Romnja to work in neighbourhood centres which offer advice on education and training opportunities and help with job placements. These centres are an active example of how the cycle of discrimination and poverty can be broken.
Hygiene for refugee women in Bangladesh
The world's largest refugee camp is in Bangladesh. 900,000 Rohingya have fled from Myanmar to escape persecution and violence. More than 70 per cent of these refugees are women and children. In order to protect them from sexual and physical violence, Care Deutschland has set up seven shelters for women and girls at the Potibonia Camp in the south of Bangladesh. The shelters also provide them with medical and socio-psychological support.
In addition to this, the aid organization operates medical centres and sanitary facilities, educates trainers for courses in hygiene and supplies hygiene packs.
You would like to receive regular information about Germany?
Subscribe here: