100th anniversary of the battle of Verdun
Federal Chancellor Merkel and the French President Hollande will be in Verdun at the central remembrance ceremony.
25.05.2016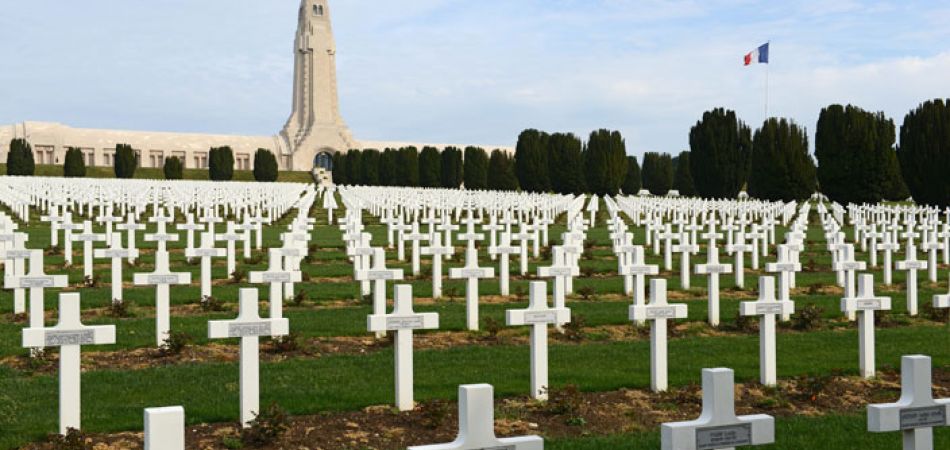 During World War 1, there were 2.3 million soldiers from France and Germany fighting in and around Verdun. 300,000 members of the armed forces were killed in the battle that lasted almost ten months. More than one million soldiers were injured or remained missing. Although far more soldiers lost their lives during the battle of the Somme, Verdun became the symbol of the tragedy and senselessness of trench warfare.  However, Verdun is also seen as the place of German-French reconciliation. It was here that the French President François Mitterrand and Germany's Federal Chancellor Helmut Kohl joined hands in a historical gesture reaffirming reconciliation between the two states on the 70th anniversary of the outbreak of World War 1. Now, one hundred years after the battle of Verdun, Federal Chancellor Angela Merkel and President François Hollande will be renewing this gesture at the central remembrance ceremony on 29 May 2016.
Production by Volker Schlöndorff
The ceremony is the climax of a series of events. It is being staged by the famous German film director Volker Schlöndorff ("The Tin Drum"), who lived in France for many years and has often focussed his work on recent German history and the causes of National Socialism. At the core of his remembrance production is a choreographed performance by 4,000 German and French young people round the Douaumont Ossuary at the Verdun Memorial with its vast military cemetery. It is not a question of showcasing pomp, ritual or the military. "We want to show the human dimension; each and every person who fell at Verdun was a human being," says Mr Schlöndorff. Marc Bogaerts of Belgium is the choreographer. The ceremony will also include the orchestra that was co-founded by the conductor Daniel Barenboim, the West-Eastern Divan Orchestra, in which Israeli and Arab musicians play side by side.
The Memorial, which was originally inspired by French Verdun veterans, has been completely redesigned for the anniversary. It now puts a central emphasis on German soldiers as well, making it into a German-French centre of remembrance. The Remembrance Ring, which was completed last November, alphabetically unites all of the names of those who lost their lives, and no longer separates them according to their nationalities.