Angela Kane, a leading woman at the United Nations
The German diplomat Angela Kane holds one of the highest positions as United Nations High Representative for Disarmament Affairs.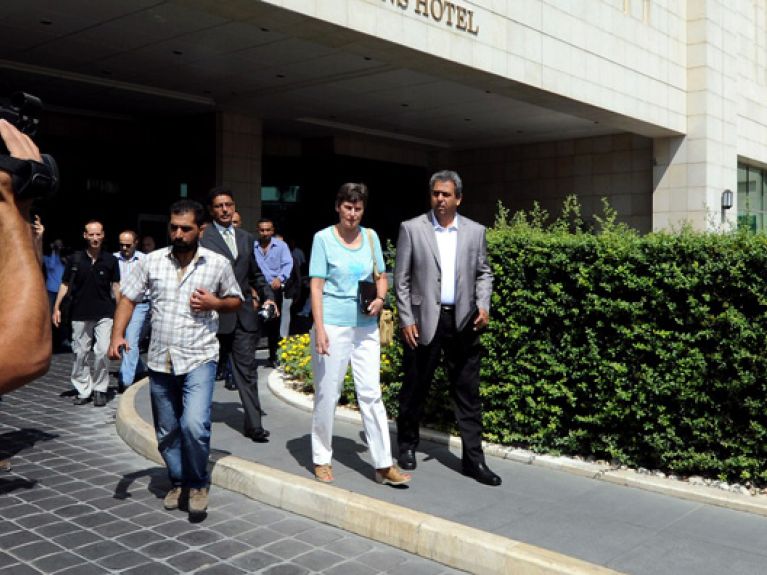 When the eyes of the world turned towards Syria, they also turned towards her: Angela Kane, a German leading diplomat with the United Nations (UN). Up to now, despite her career with the community of nations, she has tended to work rather quietly behind the scenes. But the poison gas attack in August 2013 close to the Syrian capital Damascus and the question of the perpetrators brought her into the public eye. Ms Kane has been the UN's High Representative for Disarmament Affairs since 2012. And as such she headed the UN mission that went to Syria to secure evidence following the chemical attack. She repeatedly appeared on television whenever stations reported on the mission's progress.
Angela Kane was born in 1948 in Hamelin, Lower Saxony. She studied in Munich and the USA. She joined the United Nations early in her career after gaining her first experience at the World Bank. Over the years she occupied various positions with the UN and assumed increasing responsibilities. Before the UN Secretary General Ban Ki-moon appointed her as High Representative last year, she served for four years as Under Secretary General for Management which included responsibilities for personnel and finance. In addition to this, she organized the building modernization of the UN headquarters in New York. Prior to that, she served as Assistant Secretary-General for Political Affairs which also involved the areas of conflict prevention, resolution and disarmament.
Ms Kane gained overseas experience as the Secretary General's Special Envoy for the UN Mission in Ethiopia and Eritrea (UNMEE), as well as in the Democratic Republic of the Congo, Indonesia and Thailand. Her main area of focus now is the fight against arms, not only chemical weapons: "I believe that progress is possible," said Angela Kane on her appointment as High Representative, "and it has to be possible. The price of failure is too high, and the benefits of success are absolutely clear. We owe this progress to the many people who, every day, every hour, every minute, are the victims of illegal small arms."
United Nations Day on 24 October