Democracies condemn sham referendums
Germany and many other countries claim that referendums on joining Russia, to be held in eastern Ukraine, are illegal.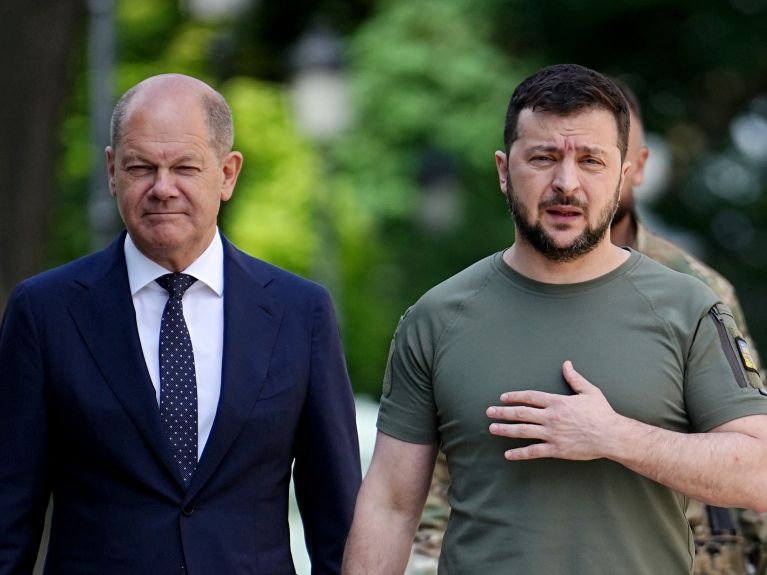 The votes on joining Russia, to be held in several regions of Ukraine, have been unanimously condemned by Germany and many other countries and organisations. They are viewed as sham referendums that violate international law, and international recognition is ruled out. An overview of the plans and reactions of Ukraine's western partners.
Where and when are the votes that have been condemned as sham referendums to take place?
Voting is to take place from 23 to 27 September in the internationally unrecognised "people's republics" of Luhansk and Donetsk in the east, in the southern area of Kherson and in the Zaporizhzhia region. Russian President Vladimir Putin has declared his support for the votes in the occupied territories. This approach is reminiscent of the similar manner in which Russia annexed the Ukrainian Black Sea peninsula of Crimea in 2014. The referendum there was not recognised internationally either.
The so-called referendums that are planned now, without the consent of Ukraine and without international supervision, are prompting concerns that the Russian government will view any attacks on Luhansk, Donetsk, Kherson and Zaporizhzhia that happen after the sham referendums as attacks on its own national territory.
What is the German government's response to the plans?
Federal Chancellor Olaf Scholz and Foreign Minister Annalena Baerbock have used very clear language to condemn the votes. Such sham referendums will never be accepted, Scholz said, adding that they could "offer no justification for Russia's intention, namely to take its neighbour's country or parts of its territory by force". Scholz emphasised: "In the world we live in, law must prevail over violence and violence cannot be stronger than law."
Foreign Minister Baerbock criticised the referendums as a "mockery" of Ukraine and of the United Nations, saying that the international community would make it clear "that we can never accept a so-called referendum at gunpoint".
How are other countries and organisations reacting?
Many western democracies immediately condemned the announced referendums. Besides Germany's Chancellor Scholz, the plans were criticised by US President Joe Biden, French President Emmanuel Macron, EU foreign affairs chief Josep Borrell and the Turkish foreign ministry, among others. "We have the full support of our western partners," said Ukrainian President Volodymyr Zelenskiy.
The Organization for Security and Co-operation in Europe (OSCE) described the so-called referendums as illegal and a breach of the law of armed conflict. OSCE Chairman-in-Office and Polish Foreign Minister Zbigniew Rau, OSCE Secretary General Helga Schmid and other leading representatives of the organisation declared that the results would have no legal effect.