"The world community at the crossroads"
Germany's Permanent Representative to the United Nations, Antje Leendertse, talks about key tasks for the UN.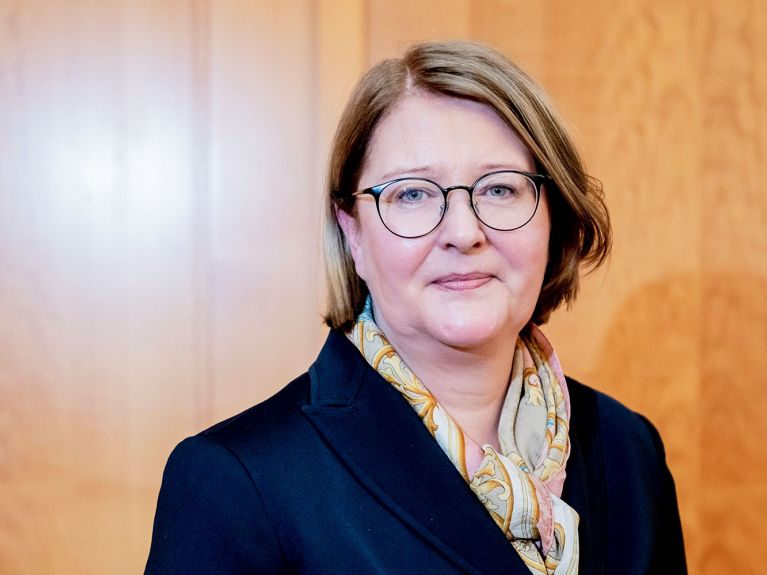 Ambassador Antje Leendertse has been Germany's Permanent Representative to the United Nation in New York since September 2021. Here she talks about the key challenges facing the UN and Germany's role in necessary reforms.
Ambassador Leendertse, what issues does Germany attach particular importance to in the United Nations, and what ones does it particularly want to promote?
Germany remains a pillar of the United Nations. That is our aspiration and compass. It is indispensable that the UN is capable of acting and finding solutions to all major challenges. Unfortunately, the international community is currently standing at many crossroads: there is the Russian war of aggression against Ukraine, which flagrantly violates the UN Charter's prohibition of the use of force. The Covid-19 pandemic, despite progress, remains a threat to global health. And over all, the black clouds of the climate crisis loom. The threat of loss of livelihoods, war and disease are not abstract problems, but affect millions, even billions of people very concretely, especially in poorer regions of the world. Food and energy are becoming luxury goods there, hunger crises are already a shocking reality. So we don't have to look for urgent topics; they force themselves upon us.
What future do Germany's multilateral aspirations have in a world that is once again increasingly divided?
I don't want to talk about a "new division": the majority of the problems I have just outlined concern humanity as a whole. The fact that in this situation Russia is using a neo-imperial war to create shortages of resources and engaging in propaganda and polarisation makes it all the more bitter. But look at the UN General Assembly, which condemned this conduct with a clear two-thirds majority. Maintaining this unity is a central task. When a few powers shake the principles of the UN Charter and the rules-based order to their foundations, the world organisation needs our full backing more than ever. And we need the United Nations.
Are reform steps also necessary?
Of course, this system is far from perfect and is rather a permanent construction site. Perhaps most conspicuous are the dysfunctionalities of the Security Council, which is blocked on essential issues by the right of veto and whose composition only imperfectly reflects the realities of today's world. Together with many partners, whether within the framework of the EU or with Japan, India and Brazil, Germany is pushing for modernisation. This will not happen overnight, but we have to take many steps in the right direction and show staying power.
Are there important issues that are being pushed aside too much by current developments? How is Germany countering this?
The call is clear: don't narrow your gaze solely to the battle zone in Europe. We take this concern very seriously, especially from our partners in the Global South. The yardsticks of our credibility include our willingness to help shoulder the global costs of adapting to climate change and our cultivation of sustainable energy partnerships, our commitment to health and vaccination justice, humanitarian emergency aid and active crisis prevention. Last but not least, I'm convinced that consistently standing up for human rights every day also sharpens our eye for hidden crises.
You are the first woman to represent Germany at the United Nations in New York. Is this a sign?
That you're asking this question is perhaps a sign that we still have room for improvement in matters of equality and gender justice, in spite of all the progress we've made. In any case, I'm happy to see how many strong women represent their countries at the United Nations. And how many of my male colleagues embrace feminism without hesitation. The fact that the German government is vigorously pursuing a feminist foreign policy is another reason that we are also a much sought-after progressive force in New York.