Stolen childhood
The International Day against the Use of Child Soldiers takes a stand against exploitation: where children are especially at risk.
08.02.2018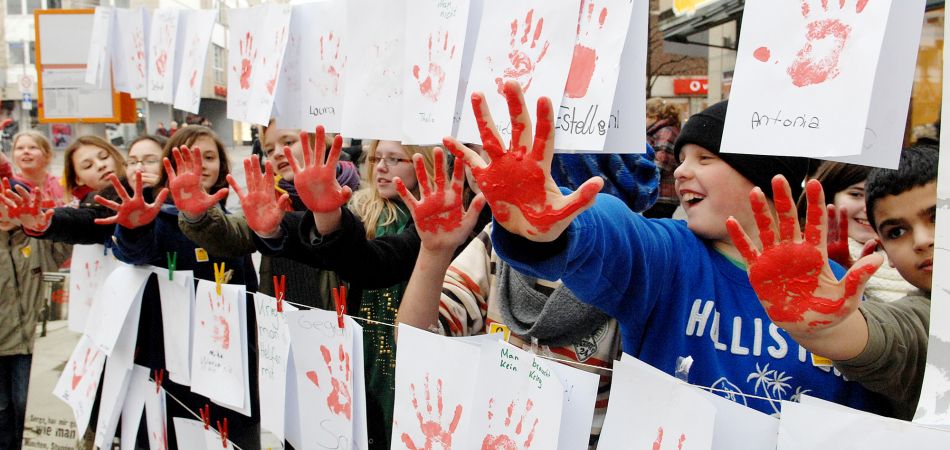 Germany. The Red Hand has become a sign of solidarity: on 'Red Hand Day', people all over the world demand an end to the use of child soldiers. Ralf Willinger is Children's Rights Officer at terre des hommes. Together with other non-governmental organizations, this children's charity initiated the campaign more than ten years ago.
Mr Willinger, the issue of child soldiers no longer seems to be as present in the public perception as it used to be. Is this because there are fewer child soldiers?
Unfortunately not, on the contrary. Our current estimates speak of 250,000 child soldiers worldwide. There are no reliable figures. The best basis for information is the Report of the Secretary-General of the United Nations (UN) on Children in Armed Conflicts, according to which the problem is growing in many countries.
The longer conflicts last, the more children are recruited.
Ralf Willinger, terre des hommes
Do you have an explanation for this?
The longer conflicts last and the more they escalate, the more children are recruited, simply because there are no longer enough adults. They are either dead or have fled. Somalia, Colombia and Afghanistan are examples of this development.
Where is the problem particularly serious?
Somalia set a new depressing record of 1,915 children recruited in 2016. There were also massive increases in Syria with 851 cases, and in Yemen with 517. And these are only the cases that have been verified by the UN. The real figures are much higher.
Up to what age is a person classified as a child soldier?
The Paris Principles define a child soldier as being below the age of 18. Germany has also signed up to these principles. We therefore consider it problematic that there are 17-year-old soldiers in the Bundeswehr (German Armed Forces), even if they are not sent to war zones. In other countries, it's difficult to insist that an age limit be adhered to if even Germany doesn't do so.
How does terre des hommes campaign worldwide against the exploitation of children as soldiers?
We have concrete projects aimed at preventing recruitments, for example in refugee camps in northern Iraq. We are also involved in reintegrating former guerrillas in Myanmar and Colombia. The German Alliance on Child Soldiers, consisting of ten non-governmental organizations, pools all available information and brings it into the public domain. We draw attention to the issue with campaigns like the annual 'Red Hand Day', so that it's not forgotten and politicians are persuaded to act. One urgent demand is to halt arms exports to crisis regions.
Interviewer: Helen Sibum
International Day against the Use of Child Soldiers (Red Hand Day) on 12 February
German Alliance on Child Soldiers